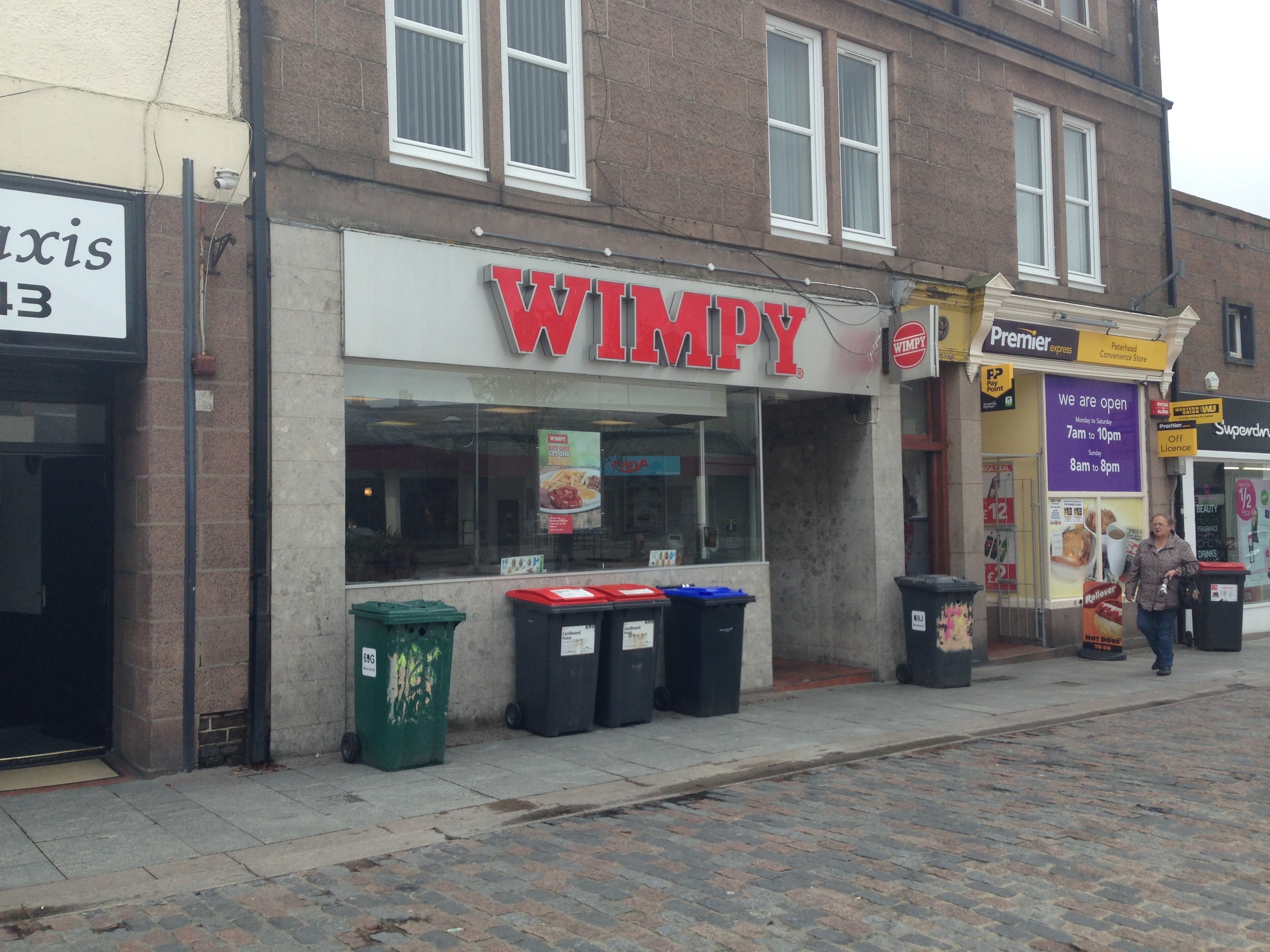 A fast food chain is facing legal action after a six-month-old baby was burned by bleach at one of its north-east restaurants.
Little Amber Seddon was left with scorched skin after she had her nappy changed in the toilet of Peterhead's Wimpy.
The youngster screamed in agony when she was placed on a toilet work top which had been recently cleaned with chemicals.
The bleach singed her hair and burned the clothes she was wearing.
Last night, mum Lauren Bird said she was thankful Amber wasn't more badly hurt – but furious at the restaurant for putting her at risk.
Wimpy bosses apologised and said they were awaiting the outcome of an investigation into the incident.
Miss Bird said there was no warning of a potential hazards in the venue, which had no child-changing facilities.
And the auxiliary nurse claimed staff at the fast-food chain offered no help – with one worker even asking her if she still wanted the burger she had ordered.
The 27-year-old told the Press and Journal she was taking up the matter with her solicitors in the hope of protecting other children in future.
Miss Bird had visited the Marischal Street diner with a friend and popped to the toilets to deal with Amber's nappy before their meal arrived.
But her plans for a quick change ended in disaster when the infant started crying out in pain.
"There was bleach everywhere," she said. "It was as if the cleaners had gone in and blasted the place with it.
"The workers knew I was going in to change Amber, but no one warned me."
Miss Bird added: "Amber didn't have much hair to begin with, but what was there has been burnt off. You can see the singe marks."
She said she ran out to get help, but the restaurant staff "weren't interested".
"One woman asked me 'Do you still want your food?' It was unbelievable," she added.
Amber was taken to hospital after the incident on Friday and was given a cream to treat her burns.
The clothes she was wearing at the time were also damaged by bleach.
"I've kept hold of her clothes so that I can show them to my solicitor," said Miss Bird. "They were ruined.
"She's doing okay now, but you can still see a red patch on the back of her head. Hopefully, that will go away over time."
Miss Bird added: "The cleaning staff are so irresponsible and careless. People need to be aware because the same thing could happen to them."
Yesterday, Wimpy's UK general manager Simon Woolfenden said he was waiting for the findings of an environmental health report into the incident. "We are taking this very seriously," he said.
"I apologise unreservedly to the family."