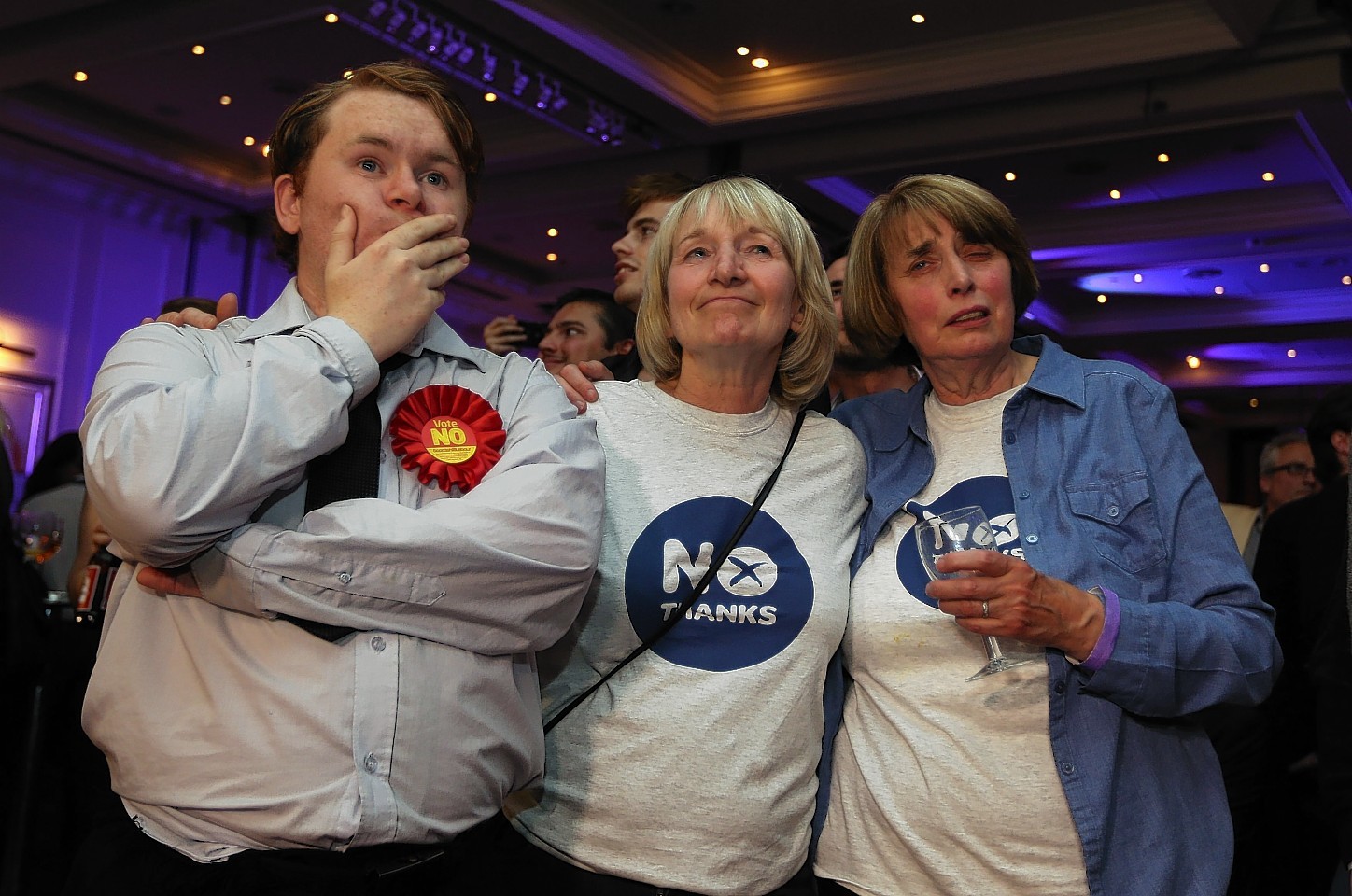 Politicians from the three main pro-Union parties said they were delighted with the No win in the north-east.
Liberal Democrat MP for Gordon Sir Malcolm Bruce said it was "telling" that a large number of people in Alex Salmond's own "backyard" rejected the first minister's independence campaign.
The SNP leader had been expected to make an appearance at the count at the Aberdeen Exhibition and Conference Centre, but did not turn up.
Sir Malcolm said: "It's a terrific result and I think it's a complete rejection of Alex Salmond and the SNP's Yes message, which in my view is totally irresponsible, and I think people have rejected it for that reason.
"I think it's an assertion that we are better together, that people do recognise that we have a parliament which gives us self government over much of what we can do, but at the same time being part of the UK is a huge advantage.
"This is the SNP's backyard, it's Alex Salmond's backyard. He didn't have the guts to come to his own count in his own area because he knew he had been comprehensively rejected."
Conservative MSP Alex Johnstone, said the result showed people's confidence in sticking together for the better.
"The key thing is that we here in Aberdeenshire, along with so many other areas up and down Scotland, have given a resounding vote of confidence in the Union and we can go forward now and continue to enjoy the benefits of this economic recovery that the United Kingdom is now leading the world in," he said.
"We will deliver on the promise of more powers. However, you must realise that one of the key things that needs to be delivered to the Scottish Parliament is responsibility for its own decisions."
Lewis Macdonald, Labour MSP for the north-east, said the win was testament to the hard work put in by Better Together campaigners.
"North-east folk are clear that Aberdeen and Aberdeenshire are better off in a Scotland that's in the union than a Scotland that heads off on its own," he said.
"I think that takes for good the question of Scottish independence off the political agenda. That means that all parties are going to have to come together around a programme of self-government within the Union and the kind of changes that we want to make Scotland the kind of country we want to see."
Yes campaigner Stewart Stevenson, the SNP MSP for Banff and Buchan, said the win for the No camp was "not unexpected".
He said: "It's clear that across Scotland there's a very tight correlation between the votes for No and the economic income and in areas that are not doing so well, they've been voting for Yes.
"We always knew that Aberdeenshire would be a big challenge, but the challenge now is for the No campaign to deliver on the big promises that the three UK party leaders made."
Yes 71,337
No 108,606
Turnout 87.2%