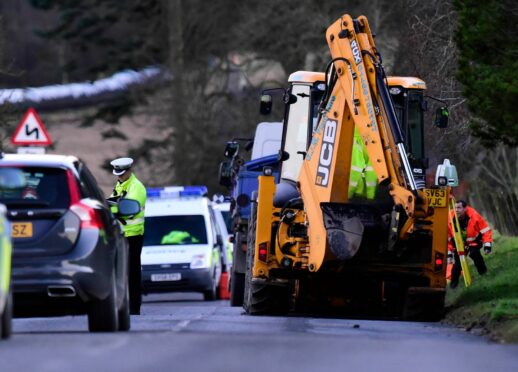 The death of a man who was run over by a workmate's lorry has been ruled an "avoidable accident".
William Black, of Turriff, was working on the B9005 Fyvie to Methlick road near Gight when was struck by a reversing lorry in January 2016.
He was knocked to the ground and crushed by the tipper truck's rear wheel and, despite the best attempts of lorry driver Christopher Penfold and ambulance crews, died at the scene.
Mr Penfold was acquitted of death by careless driving after a trial in 2019.
A fatal accident inquiry, held at Banff Sheriff Court in June heard evidence from Mr Penfold and other members of the six-strong team who were resurfacing the road that day.
Workers hadn't seen risk assessments
During his evidence Mr Penfold said had never been shown the local authority's health and safety guidelines despite working regularly with its labourer.
He described the moment Mr Black was run over and claimed none of his workmates was prepared to help in the wake of the incident.
The inquiry later heard that more than half of the road crew working alongside Mr Black, repairing Storm Frank flood damage, had not received risk assessment awareness training.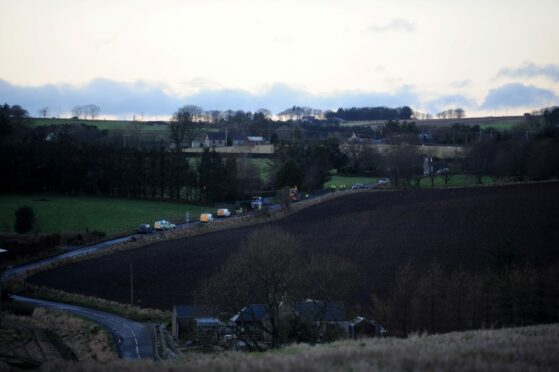 Caught a lift in digger bucket
Labourer Steven Tough, meanwhile, told the inquiry how he, Mr Black and one other workmate were driven up the hill to the site while standing in the front of a "slightly elevated" JCB bucket carrying their rakes and shovels.
Sub-contracted digger driver Gary Murdoch relived the moment Mr Black was hit by the reversing lorry, saying: "I just saw Mr Black beginning to fall, then the lorry wheels were on top of him. I automatically blasted the digger horn and flashed the lights."
A postmortem found the foreman suffered multiple internal injuries and would have died almost instantly.
Almost four months on from that six-day inquiry, Sheriff Robert Frazer has ruled Mr Black's death as a "tragic accident" which could have been avoided if a banksman had been in place aiding the reversing lorry.
Foreman died almost instantly
He also found there were no defects in the system of working other than a failure by the council to make all employees and contractors aware of the authority's risk assessments and procedures over reversing vehicles.
He made no formal recommendations after hearing how Aberdeenshire Council updated its safety procedures in the aftermath of the accident.
In a written judgement, Sheriff Frazer said: "All parties were in agreement that had a banksman been in place at the time the lorry started to reverse then the accident and Mr Black's death might well have been avoided.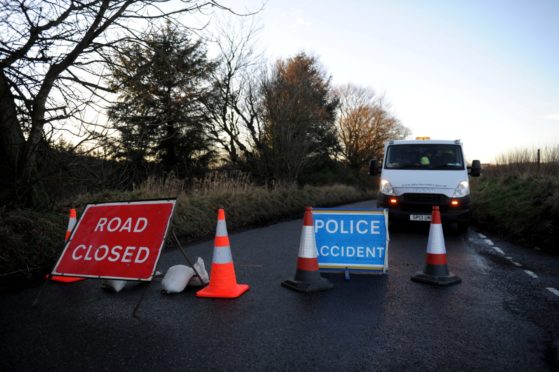 "I consider that the necessary policies and procedures of the council at the time were quite specific and clear in their terms; a vehicle should not reverse at a road works site without a trained banksman being in situ from the start of the manoeuvre to ensure it was done safely.
"In the present case there were two trained banksmen within the team namely, Mr Black and Michael Gerrie, who was operating the roller.
"Mr Black was also the foreman and, as such, responsible for the ongoing health and safety of everyone involved.
"He had received the necessary instructions for the work the day before and had been involved in the initial risk assessment exercise that was carried out.
"He was also a highly experienced roads workman who was very well respected by all concerned.
"I am satisfied that he therefore knew and understood the necessary policies and procedures and was capable of implementing them.
"It is apparent that no explanation was able to be given by any of the witnesses as to why Mr Black chose to walk behind the lorry as he did when it was reversing."
'Well-liked and trustworthy colleague'
He added that the responsibility for appointing a banksman that day had rested with Mr Black and, had that been done, the "tragic accident could have been realistically avoided."
"Unfortunately, no rational explanation can be given for his actions which appear to have been out of character for someone who was well-liked, hardworking, reliable and trustworthy," the sheriff added.
"I will therefore simply finish by joining with all parties in expressing my sincere condolences to Mr Black's friends, colleagues and family for his very sad loss in these most tragic of circumstances."
Aberdeenshire Council's director of infrastructure services, Alan Wood, said: "The tragic loss of Billy is one that continues to be felt by all who knew him.
"Following our investigation at the time, a number of changes were made to our processes, including updates to guidance, enhanced training, an improved risk assessment procedure, and regular and random site audits.
"While there are no formal recommendations given the changes that have already been made, we will take time to fully review the determination to see if any further adjustments to our ways of working might be appropriate.
"The health and safety of our teams across the council continues to be of paramount importance and, more than anything, our thoughts remain with Billy's family."
The findings from the inquiry can be read here.
For all the latest court cases in Aberdeen, as well as the latest crime and breaking incidents, join our new Facebook group HERE.