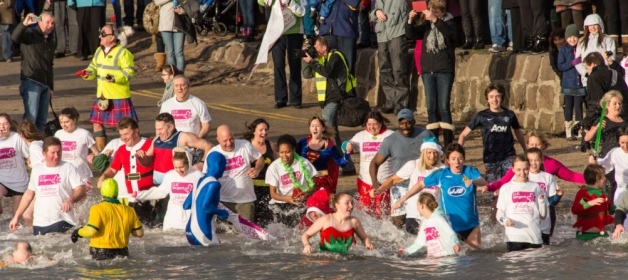 Hardy volunteers are being urged to sign up for an annual dip in the North Sea.
Children's cancer charity Clic Sargent will host their seventh annual dip in Stonehaven on New Year's Day , and are hoping to attract some more brave souls to take part.
Dozens of supporters line the town's harbour walls to watch the event, which this year attracted 80 courageous participants who raised more than £12,000.
Michael Hopkins, who has been part of the fundraiser since its inception, yesterday urged people to sign up to welcome in 2015 by making a difference.
The 31-year-old, whose costumes in the past have included Pamela Anderson and Batman, said: "Getting adventurous with my costumes and pushing the boundaries for Clic Sargent has become really important to me, especially after my mum has been diagnosed with lung cancer.
"She's been egging me on to go for it, but she was mortified when I dressed up as Pamela."
A minimum sponsorship of £100 is required to take part in the teeth-chattering dip, and money raised will go to the aid of children and young people battling cancer across the UK.
Registration is now open to become an official New Year's Dipper by e-mailing holly.taylor@clicsargent.org.uk