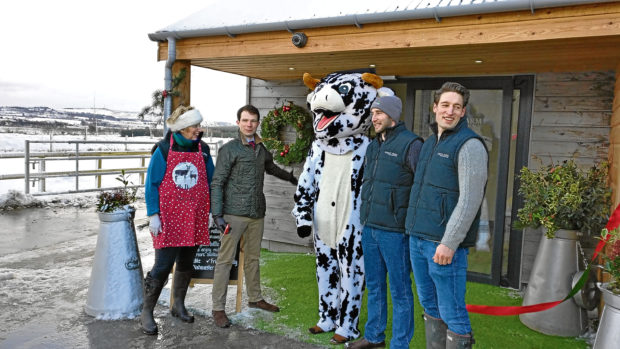 An Aberdeenshire dairy farm has unveiled the country's first milk vending machine.
The self-pouring vending machine provides milk produced to the highest organic standards.
The machine takes coins, notes and contactless payment, and you can fill up either a complimentary plastic bottle or pay £2.50 for one of the farm's glass bottles which can be reused.
West Aberdeenshire and Kincardine MP Andrew Bowie led the official ceremony at Forest Farm near Kinellar.
Mr Bowie was joined by staff and customers to mark the opening with a ceremony on Saturday morning.
He said: "I was delighted to be invited down to open what is a first for Scotland, right here in my West Aberdeenshire and Kincardine constituency.
"I warmly congratulate the team at Forest Farm for leading the way with this self-pouring vending machine.
"I'm sure that this venture will prove to be very popular. There is already a great deal of support and goodwill from the local community.
"There were plenty of visitors stopping by on Saturday to sample the fresh organic milk and I hope that the company will continue to go from strength to strength."