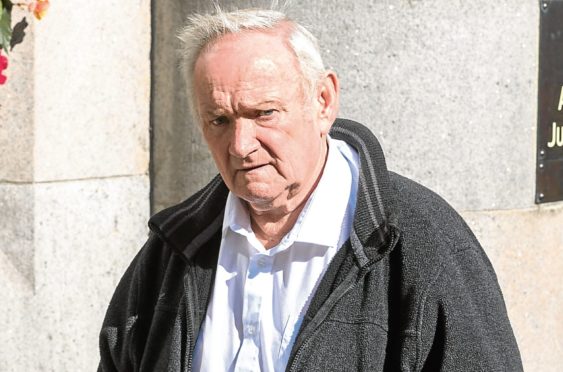 A former company director has avoided jail over a £210,000 fraud that saw him use counterfeit labels to send fish products for sale overseas.
Alistair Thompson, 70, put the labels of two other firms on salmon by-products to bypass Russian regulations limiting the number of approved UK exporters.
As part of his scheme Thompson produced fraudulent labels with the name and identification marks of Shetland Products Ltd and Fraserburgh Freezing and Cold Storage Ltd.
Both were approved to sell salmon products to Russia, and Thompson put the fake labels on items his firm, SEA-PAC Ltd – now in voluntary liquidation – was sending for sale.
Thompson, whose address was given as Lonmay, arranged 12 consignments, weighing 288 tonnes, to be sent – receiving more than £210,000 for them.
He was ordered to carry out 300 hours of unpaid work by Sheriff Andrew Miller when he appeared at Aberdeen Sheriff Court.
He previously admitted forming the fraudulent scheme between February 1, 2013, and January 15, 2014, obtaining £210,250.
His scheme involved an employee removing original labels for the salmon co-products in a consignment at Cleethorpes waiting to be sent abroad, transporting the fraudulent labels to Cleethorpes, and having the employee apply the false labels to the consignment.
Thompson also prepared false health and pre-export certificates for the consignments.
He further admitted buying the consignments of the salmon co-products knowing they were falsely labelled and certified and arranging for them to be exported to Russia, Lithuania and Estonia.
His solicitor, Derick Nelson, said there had been no issue with the fitness of the products – the issue was traceability.
Mr Nelson said his client's actions stemmed from "desperation" and added that he had lost his "good name" and company.
Aberdeen City Council commercial team manager Andrew Morrison said: "The actions of SEA-PAC Ltd in disguising the traceability of the fishery products by fraudulently changing labels and documentation had the potential to detrimentally impact on food safety of consumers as effective traceability is an essential part of food safety requirements.
"It is vitally important products can be rapidly traced if there is a problem and then removed from the food chain in order to protect public health."
A spokesman for Food Standards Scotland said: "This is an incident of food fraud by individuals which has seen those involved brought to justice: it is neither a widespread issue nor representative of the salmon industry in Scotland. Food Standards Scotland will continue to support honest, legitimate businesses."