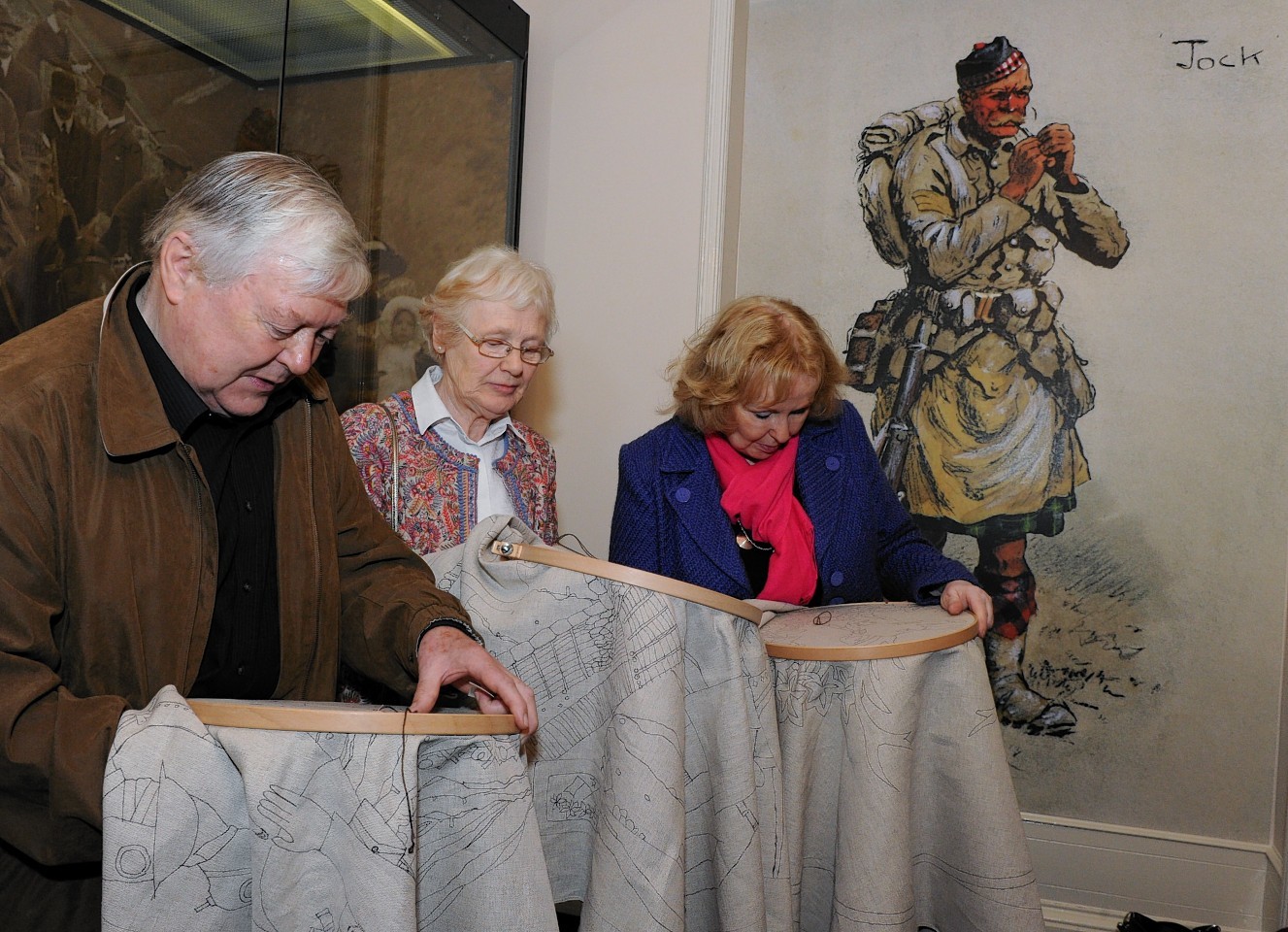 A tapestry depicting the contribution made by the Gordon Highlanders during WWI has been unveiled.
Funded by the Heritage Lottery Fund (HLF), it was designed by Andrew Crummy, the artist behind The Great Tapestry of Scotland.
The idea was conceived by a group of stitchers working on the Scottish tapestry project, and was awarded £9,800 by The Heritage Lottery's The First World War Then and Now fund.
Project manager, Alison Black, said: "Participating in The Great Tapestry of Scotland truly inspired the group to engage with culture, and celebrate their local history in a purposeful and meaningful way.
"Without the HLF grant The Gordon Highlanders Great War Tapestry project would not have been possible. I am really excited to see the panels progress from paper design to stitched fabric."
The design features three panels to recognise and commemorate the Gordon Highlanders' contribution to the war.
Groups have spent 10 months researching this period of the regiment's history, and the final designs have been agreed and transferred on to fabric ready to be stitched.
The first stitch in the first panel was completed by John Barbour, who has played a key role in advising the group on historical accuracy and the central panel's first stitch was made by Dorie Wilkie, stitch co-ordinator of The Great Tapestry of Scotland.
The first stitch of the final panel was made by Patricia Auld, the widow of the late artist Eric Auld, whose painting provided the panel's inspiration.
Colin McLean, head of HLF Scotland, said: "The impact of the First World War was far-reaching, touching and shaping every corner of the UK and beyond.
"With our small grants programme we are enabling even more communities like those involved in The Gordon Highlanders Great War Tapestry project to explore the continuing legacy of this conflict and to help local young people in particular to broaden their understanding of how it has shaped our modern world."
The panels will be stitched by members of the public volunteering their time.
They are due to be completed by September 2015 and will be given to The Gordon Highlanders Museum to educate and inform future generations about the regiment's contribution and achievements during the war.
For more information on the project and how to get involved, contact Alison Black on 01224 611160.