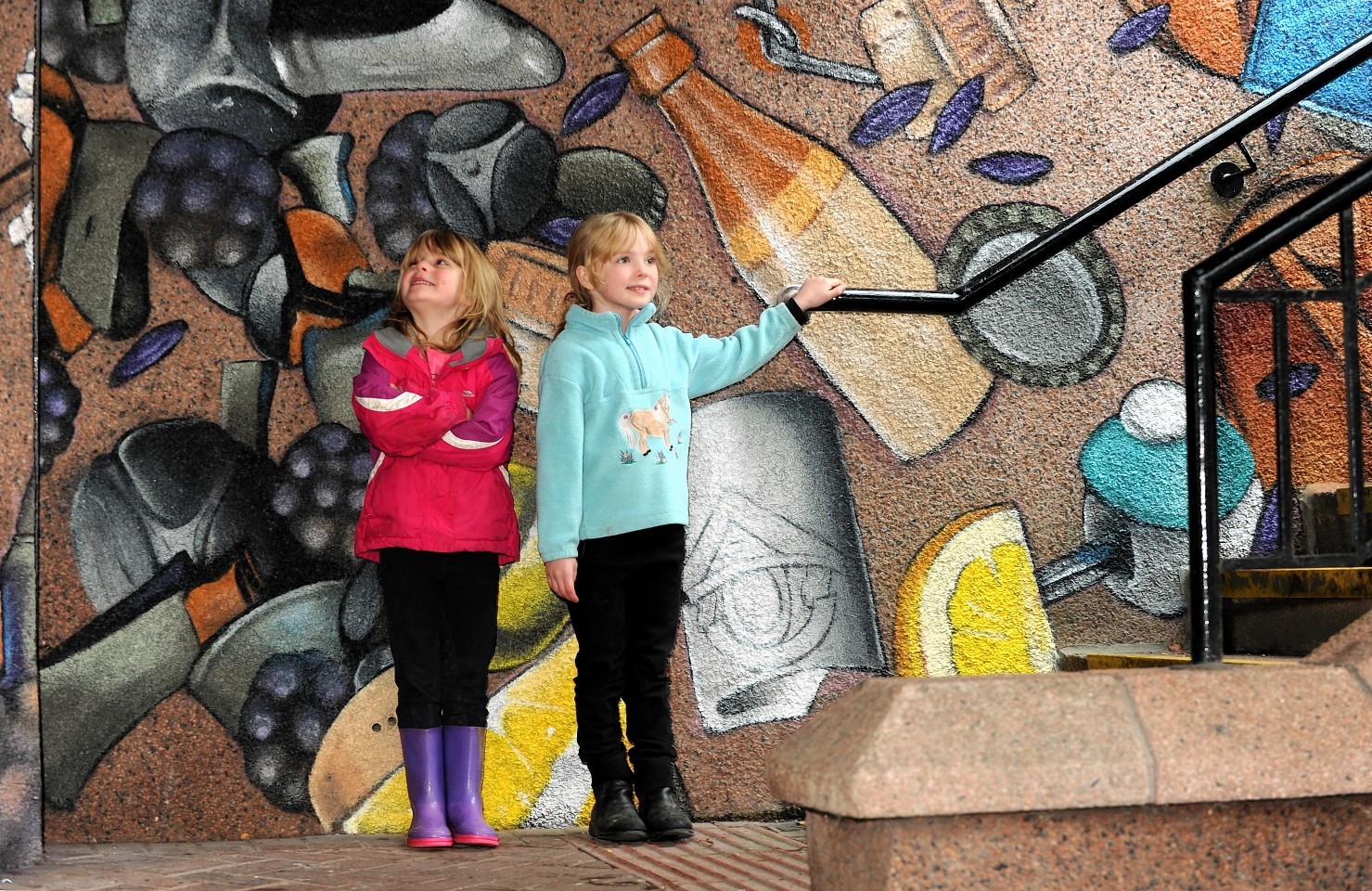 A splash of colour has been added to a Deeside town-centre as part of a £160,000 project to spruce up the area.
Six murals have been created around Scott Skinner Square in Banchory, brightening up the area before the main phase of a rejuvenation scheme gets underway.
Highland artistic duo DUFI – Fin Macrae and Alister MacInnes – were commissioned by Aberdeenshire Council to lead the project last year in response to complaints that the square is underused.
They consulted with residents on what they would like to see, and their plans have since been approved. Companies are currently bidding for the chance to carry out the works, which will include replacing the arch at the entrance to High Street and erecting colourful musical notes and sculptures in the square in recognition of its namesake, Banchory-born musician James Scott Skinner.
In the meantime, Mr Macrae and Mr MacInnes teamed up with five artists to create the six murals, and despite the weather at the start of last week managed to complete them in time for the weekend.
The participants were Aberdeen illustrator and animator Shona Macdonald, Edinburgh-based artists David Faithfull, Natasha Todd and Fraser Gray and Glasgow artist Ben Fist.
Mr Macrae said yesterday: "We've had a positive response from people. Banchory is quite a conservative town, so a street art project, something quite urban, is quite challenge but the response we've had has been positive, particularly from the older population.
"They really like that we've brightened up the area."
As part of the wider project, DUFI also created a brand for Banchory, incorporating a logo, a strap line and a typeface that businesses and groups can adopt to collectively promote themselves.
The logo has modernised St Ternan, who established a small monastery near the graveyard in the town's East Church, while the strap line promotes Banchory as "the place to be".
Mr Macrae added: "During the time we've spent in Banchory, the thing that was most clear to us was the sense of place that people felt. Those who engaged with us really felt Banchory was their home and were really proud of coming from there and said they would return, even if they left."