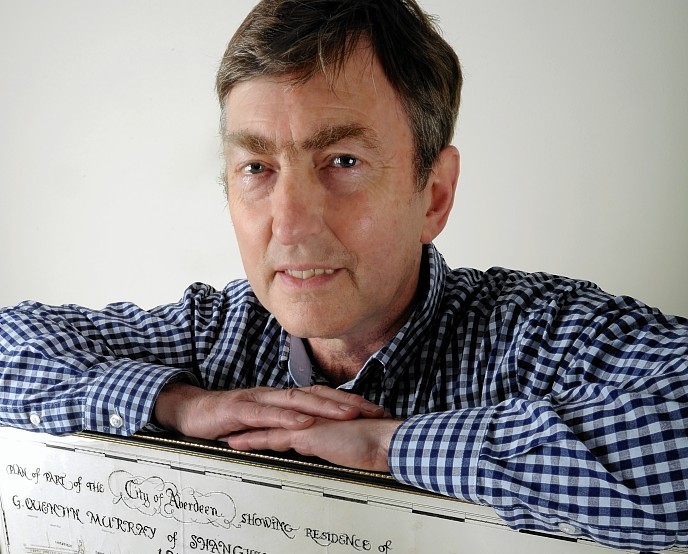 A historical architect's map that shows how Aberdeen's west end looked 144 years ago is to be sold off at a book fair later this month.
The old-fashioned map reveals details of one of the most affluent areas of the city back when it was mostly fields and the Denburn river still flowed openly through the city centre.
The age-old map is being sold by antiquarian bookseller Clifford Milne at a book fair at the Hilton Treetops Hotel on October 26.
According to Mr Milne, the unknown architect created the map as a gift to a wealthy member of the Newburgh gentry.
Mr Milne, 63, said: "It shows a lot of detail about this area of Aberdeen, even down to where all the individual houses used to be, which is pretty unusual.
"What I think happened was this Mr G Quentin Murray of Newburgh wanted a new house built in Aberdeen, and ordered some plans to be made up by this architect.
"After he drew the plans for the house, I think he drew up all the surrounding area of the new house as a present for the owner, it must have been a hobby of his.
"You can see all over the map the houses and fields that became the places and streets we see today, like how Harlaw Academy used to be the Female Orphan Asylum, and not many people would know that Union Grove Gardens was built on the lands of a mansion called Union Grove House."
The Glenburnie Distillery, founded in 1816, can also be spotted in an empty field north of a junction which would go on to become Queen's Cross Roundabout, and Union Glen distillery can be seen on the south-east of the map, just south of where Union Street stands today.
And before Craiginches, Aberdeen jail sentences were served out at Bridewell prison, which used to be situated on Rose street.
Mr Milne continued: "This was before all the houses were built around it, so Bridewell prison was still in use. It was just too small and so it was demolished to make way for Craiginches.
"Aberdeen's history is really important, and this map is guaranteed to sell because of the story it tells."