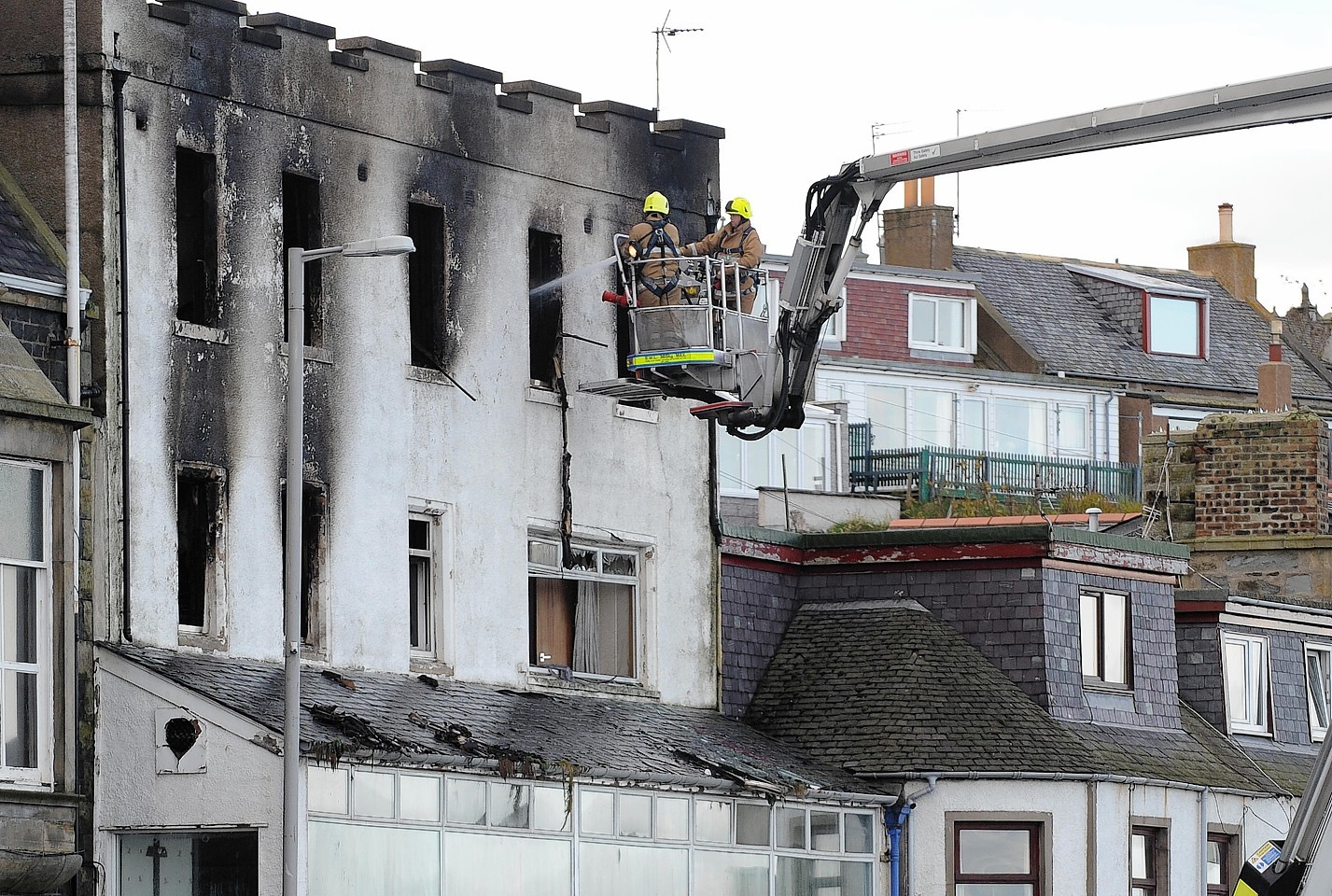 Investigators have said it is still too early to tell if a blaze that destroyed a Macduff hotel at the weekend was set deliberately.
Police and fire investigators began examining the burnt-out shell of the old Highland Haven Hotel yesterday, but were unable to confirm if the fire was being treated as suspicious.
About 70 firefighters were called to the derelict hotel on Shore Road early on Sunday, and worked for several hours to extinguish the flames. They also managed to prevent the fire from spreading to the adjacent town hall.
Yesterday a police spokeswoman said: "Police were made aware of a fire at the disused Highland Haven Hotel in Macduff at around 12.25am on Sunday, October 19. A joint investigation with the Scottish Fire and Rescue Service will be carried out.
"Inquiries are at an early stage, it would be too early to say if it was suspicious or not."
As the investigation got underway, locals said there were questions to be answered about the security arrangements of the hotel, which is currently on the market.
However Councillor Mark Findlater, who is also chairman of the local safety group, called for calm while police carry out their investigation.
He said: "The forensic guys will be in and try to ascertain exactly what has happened. There will be a lot of things up in the air about it, but you've just got to let them do their job to come to their own conclusion about what actually happened."
Ian Williams, secretary of Macduff Community Council, said: "Everybody in the town is now wondering what happens next."
It was not possible to contact the owners of the property, which was once a three-star destination for visitors to the town's waterfront.
The blaze is the third major incident in Macduff that firefighters have been called to this year.
More than 50 firefighters tackled a blaze at a derelict house at Braeheads in April, just days after nearly £200,000 of fishing gear was destroyed in a fire at a storage yard in Mill Street.