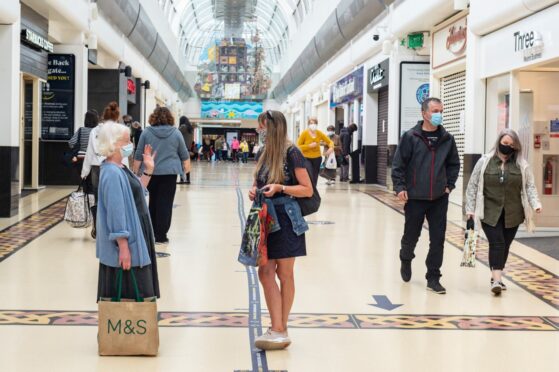 Shopping centres in the north and north-east have not reported the traditional influx of customers on Boxing Day this year, though the changes are not as dramatic as some feared.
Pictures taken in Aberdeen and Inverness showed a shopping landscape that appears to have changed considerably since the start of the pandemic.
Union Street appeared relatively bereft of people for the first day of the post-Christmas retail season, although the fact it fell on a Sunday may have contributed to the no-shows.
On the High Street in Inverness, meanwhile, business owners said many of the customers who would usually be walking into their stores were instead turning to the out-of-town retail park or the internet.
'Many shops hit targets'
However, Jackie Cuddy, the manager of the Eastgate Shopping Centre at the end of the High Street, said retailers there were pleasantly surprised on Sunday.
She said: "Being a Sunday, Boxing Day was expected to be quieter, and in terms of footfall it was but the people out were there to spend.
"Retailers were reporting today that Boxing Day sales had been good and many had hit target.
"Today, as is often the case, was much busier throughout the day.
She said Starbucks had been "incredibly busy" on both Sunday and Monday.
'Steady' in Aberdeen
At the Trinity Centre on Aberdeen's Union Street, meanwhile, footfall the day after Christmas was described as "steady".
General Manager Linda Stewart said: "It was nothing like it used to be years ago, pre-Covid.
"Some people are getting a bit more confidence in coming out, but there's a lot of people not I think.
"And the weather hasn't been that great – it's a bit cold for going shopping.
On a more optimistic note, she added: "We were pretty busy up to Christmas, to be honest I was quite surprised, considering that a lot of shops were closed down like Debenhams in our place."
The Bon Accord Centre in Aberdeen also experienced a busy period in the lead up to December 25.
Centre Manager Craig Stevenson said: "There has been a great atmosphere in what we anticipate being Bon Accord's busiest time of the year.
"The lead-up to Christmas was exceptionally busy. On Boxing Day, we saw many shoppers visiting in an effort to snap up a bargain.
"The safety of our community remains our priority. We have taken several steps to ensure that customers and staff have a safe and enjoyable experience when visiting Bon Accord."
Union Square was unable to provide a statement on their Boxing Day footfall when approached.
Footfall drops across the UK
According to data from retail expert Springboard, shopping footfall on Boxing Day was on average 45% below the pre-Covid level in 2019.
New restrictions in Scotland, Wales and Northern Ireland may have had an impact on shoppers hitting the sales.
The biggest drop in footfall was in Northern Ireland which was 73% below the 2019 level. Meanwhile footfall dropped 63% in Wales and 50% in Scotland.