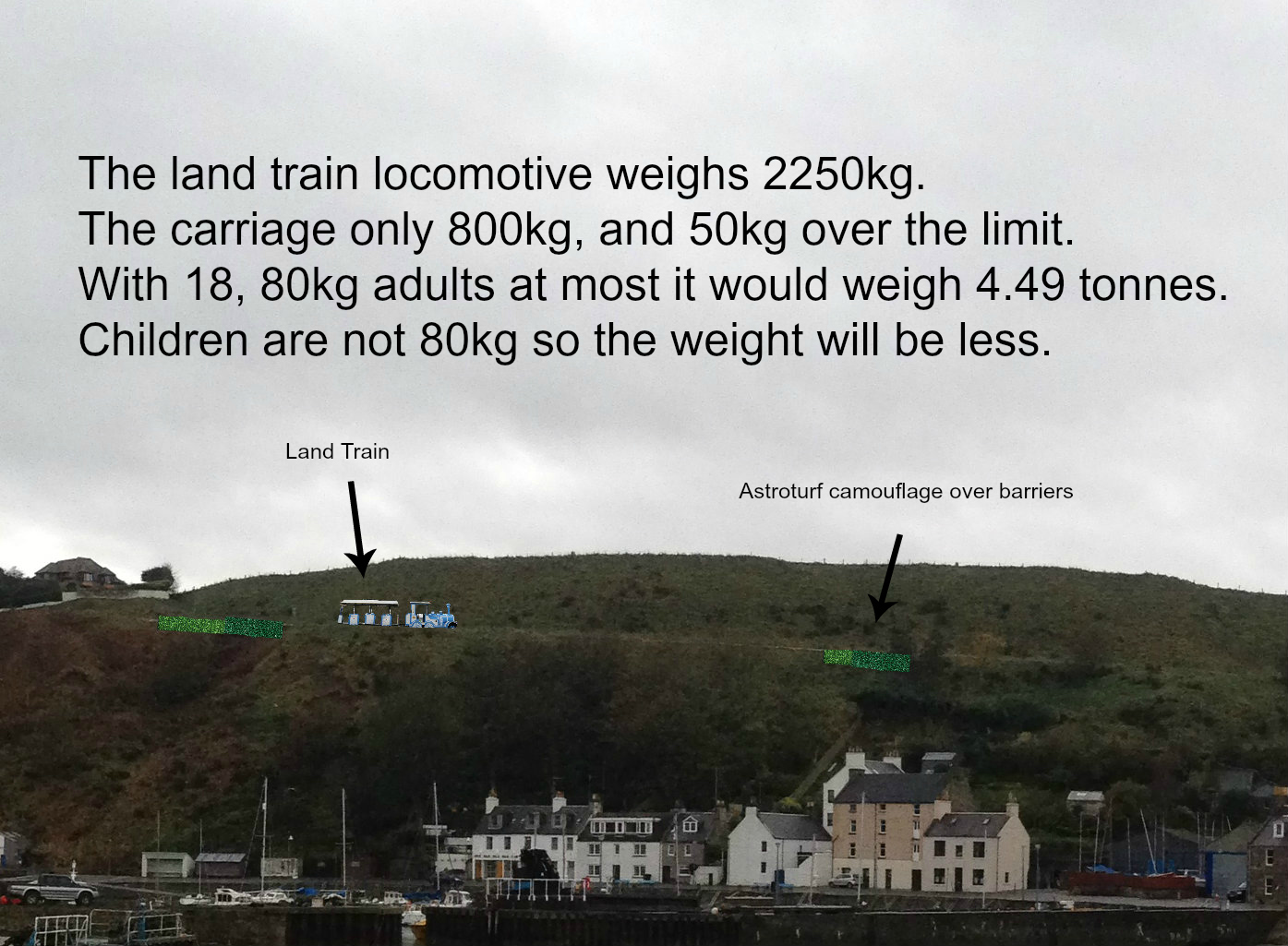 Hundreds of people have signed a petition calling for a tourist road train to be able to use a scenic route into Stonehaven.
The town's Bervie Braes is open to one-way traffic from April to October, and has a three-tonne weight restriction.
The restrictions were enforced after £3.3million of stabilisation works were carried out to repair the crumbling upper slope following a landslip in 2009.
Earlier this year, the Stonehaven Town Partnership launched a road train to take visitors around local attractions, including the open air swimming pool and Dunnottar Castle.
Due to the weight restriction on the Bervie Braes, the train heads to and from the castle via Greenden Road – meaning visitors miss out on the "postcard view" of the harbour and coastline.
Now a petition has been launched calling on Aberdeenshire Council to make an exception for the four-and-a-half-tonne train, with more than 200 people adding their voice within the first few days.
Isabel Munn, project coordinator for the STP, said the train had been a huge success since it was launched three months ago, and urged the council to do what it could to ensure it was even more popular next year.
She added: "On virtually every trip someone will ask why the train doesn't go down the braes and we unfortunately have to tell them the council does not allow it.
"We are aware that a petition has been set up as so many people have mentioned the fact that this is a fantastic opportunity to show off Stonehaven which has been missed."
The group has done various calculations in support of its argument, and these will be submitted to the council along with the petition in the near future.
Train conductor and story-teller Ray McRobbie said passengers were often disappointed when they realised they would not be going along the Bervie Braes after seeing the castle.
He added: "We have to explain that we're not allowed to take them down the Bervie Braes and so everybody misses out on that iconic postcard shot of our town."
Aberdeenshire Council's head of roads and landscape services Philip McKay said the current route had been chosen after previous talks with the STP.
He added: "It is unfortunate that the vehicle chosen by STP is not an acceptable weight, but the weight limit on this road is three tonnes and that is for very good reasons.
"The safety of road users, and those who live below the road, is paramount and restrictions are in place to reduce these risks."