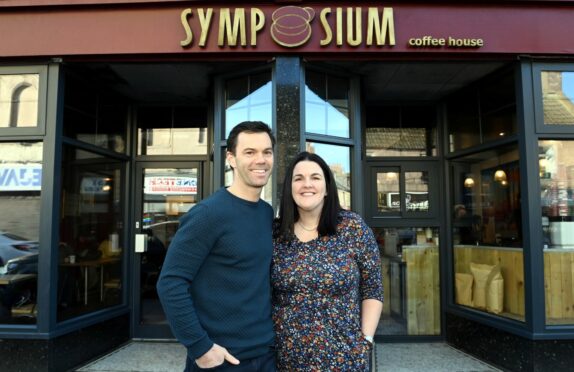 Paul and Wendy Haggath have spent the past 17 years building a coffee empire across the north and north-east with their brand, Symposium.
Despite not being a coffee drinker before 2005, Paul spotted a gap in the market in his hometown of Peterhead for quality espresso-based drinks, and so set out to change that.
Alongside his wife Wendy, 42, the couple created their own signature coffee blend that Paul says "not only has the great aroma we all associate with a good cup of coffee, but also a great taste to match" and opened the first Symposium Coffee House in May 2005.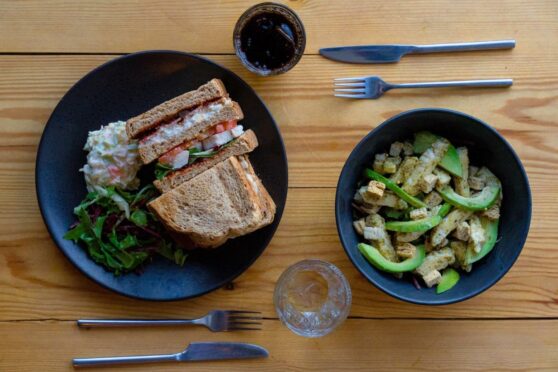 They haven't looked back since, with the fleet growing to include 10 coffee houses based across the region – and more on the way this spring.
Symposium: Where it all began
Symposium's initial aim was to provide great coffee, great food and a great service to the towns and villages in and around Peterhead, which hasn't changed.
But while the ethos remains the same, the business has grown rapidly.
Paul, 45, who studied at RGU and gained a BA in Hospitality, said: "I've always been a people person and felt I had a gift for hospitality and customer service, so I searched for potential opportunities in that field.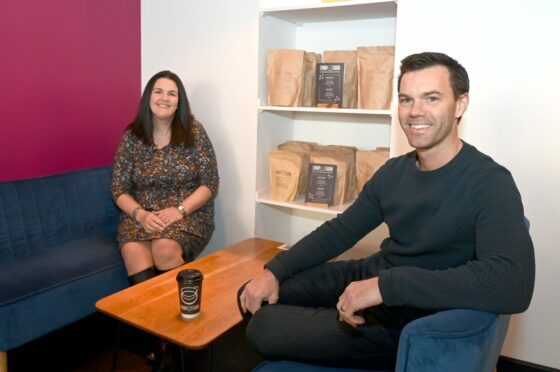 "Around 2004 I noticed there was a gap in the market, so Wendy and I decided to take this opportunity and found a location for our very first coffee house, on Broad Street in Peterhead.
"After having the initial idea I spoke with a friend of mine, Alastair G Wyllie, about creating a logo and brand guidelines for a new concept using the words "Symposium Coffee House".
"A few months later, he presented his idea for the brand and I loved it from the get-go. We have grown so much since our inception, but the branding is still inspired by that original concept."
What's changed over the years?
Symposium's tenth location opened on Seafield Street in Portsoy last August.
Other branches include:
21 Queen Street, Peterhead
The Lido, Scottish Maritime Academy, Peterhead
Asda, Peterhead
Neil Ross Square, Ellon
2 Saltoun Square, Fraserburgh
1b Winding Brae, Longside
Medical Centre and Community Hub, Crimond
Asda, Elgin
There is also a Symposium based in Aberdeen's Marischal Square, however, this is not open to the public.
Paul and Wendy, who have been married for 22 years, recently announced they will be expanding the fleet further in the coming months by opening an eleventh site in Turriff.
Across the locations, there are currently 72 members of staff.
The owners also have media, financial, administration, and shop fittings and design teams, as well as "a great support network of friends and family."
Quality coffee, dishes and home bakes
At the various branches, customers can order high-quality coffee which is roasted in-house at the brand's very own Viewmount Coffee Roastery.
It opened in 2019 and is based in Aberdeenshire.
In terms of food, there's something to suit all tastes on the menu, which boasts breakfast and dinner dishes and everything in between.
Items include toasted bagels, bruschetta salads, fish suppers, homemade brownies and much more.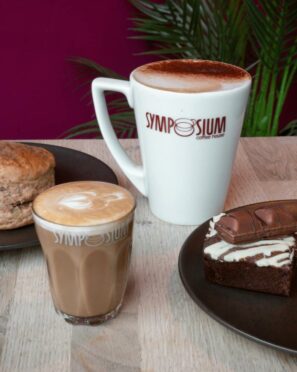 "We love getting the opportunity to work with other local businesses and aim to use local produce in our coffee houses where possible," Paul said.
"Since we roast our own coffee here in the north-east, we understand the work that goes into producing a quality product as a small local business.
"We've spent years perfecting our recipes and processes and we know our customers appreciate the quality of a Symposium coffee, which is made using beans sourced from Brazil, Colombia, Vietnam and Ethiopia."
Wendy added: "Historically, we focused on our signature blend and single-origin decaf coffees, which we serve in all our coffee houses.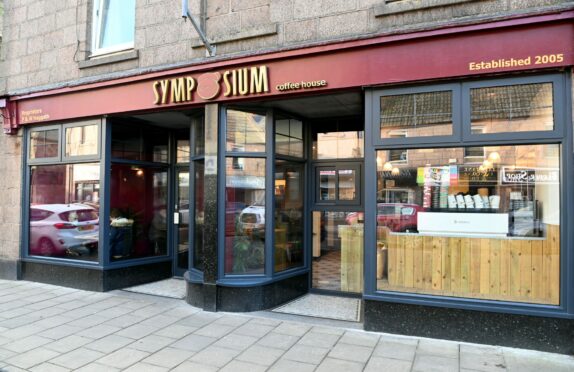 "But in recent years, we started offering a bespoke coffee blend service, providing other businesses with their own unique coffee blend for their coffee shop, restaurant, office or event.
"This gives people the opportunity to select the tasting notes they want for their coffee and has been a very well-received part of our operations."
Over 5,000 customers per week
As for many businesses, the pandemic was a very challenging time for Paul and Wendy and the couple were anxious about the business' future.
"On the first day of lockdown, we had eight coffee houses, with one only having opened six weeks prior (Asda, Peterhead) and around 40 employees," Paul said.
"It was very difficult closing the doors to our coffee houses, and thus essentially our entire business."
The couple decided to promote their online store in order to generate sales, where customers could purchase the brand's coffee to enjoy at home.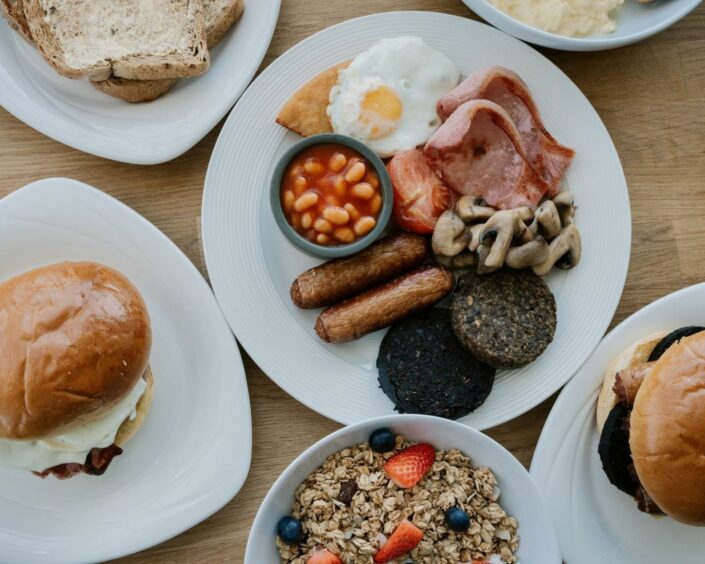 Free delivery was available in Aberdeenshire and Paul was tasked with distributing deliveries.
Despite the obstacles, they went on to open two more coffee houses during the difficult period – Asda, Elgin and Seafield Street, Portsoy.
And Wendy says they currently see "over five thousand customers per week" come through their doors.
"We feel so blessed to be able to show them all that Symposium has to offer. And are so thankful to everyone who has supported us."
Symposium in Turriff
The couple, who have four daughters, three of whom help them at the various sites, went on to say: "Our goal of having 10 coffee houses was once a very far-off dream, and having achieved that we're now setting even bigger goals for the future.
"We're currently in the planning stages for a brand new location in Turriff, which is set to open in spring 2022.
"We also have a few other potential sites in mind for later this year…"
---
For more coffee content…