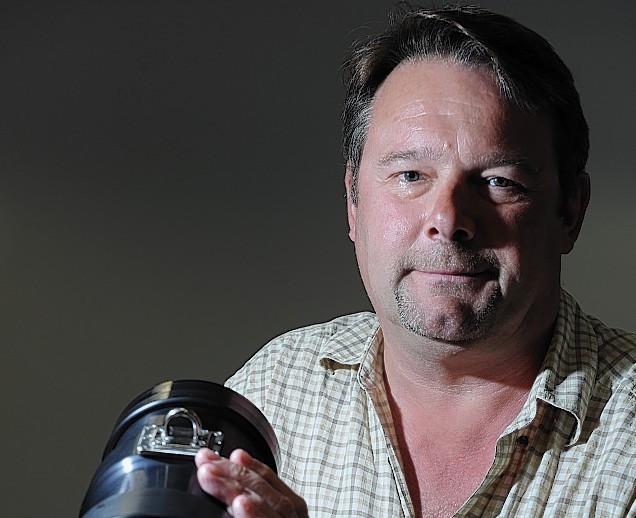 Armed police were called to the home of an oil company boss after he attacked his partner and told his young daughter he was going to kill himself.
Kevin Parker launched a vicious attack on his partner Claire at their luxury home in Aberdeenshire.
He told her she was the type of woman who would drive a man to suicide – before threatening to "blow his own head off" in front of his four-year-old child.
The 50-year-old managing director of Aberdeen-based OceanTools slapped his wife so hard on the head he knocked her off a seat.
And he pulled her hair as the couple ended up fighting on the driveway after Ms Parker tried to flee the house with their daughter.
Armed police were sent to their property during the "heated argument" – which started when Parker returned home to discover his dinner was not ready and his daughter was not in bed.
He admitted assaulting his partner at the couple's home at Hatton of Fintry on August 15 last year.
But after hearing a plea from his lawyer, Sheriff Noel MacPartlin granted him an absolute discharge, meaning no further punishment will be imposed and he will not have a criminal record.
His agent, solicitor David Sutherland, said Parker, who did not appear at Aberdeen Sheriff Court as he was in Dubai on business, would struggle to work abroad again if he had a conviction.
He also said the pressures of running a business, which his client almost lost in 2009, and the breakdown of his relationship over the last six years had caused him to snap.
"One might imagine the toll it took on him," said Mr Sutherland.
The court heard that Parker went out to walk the family dog on the night of the incident and met a friend for some drinks.
Fiscal Depute Felicity Merson told the court that on returning home, he discovered that his house was full of more children, which meant his dinner was not on the table and his young daughter was not in bed.
The couple started arguing and Parker slapped his partner on the head and knocked her from her seat.
"The accused said that she was the type of women that causes men to commit suicide," the fiscal depute said.
"He said to the daughter something along the lines of 'say goodbye to Daddy, it's the last time you're going to see him'."
Ms Merson said Parker suggested he was going to "blow his head off".
"The complainer, concerned at the accused and having never seen him in such an agitated state, contacted the police," she said.
Mr Sutherland said his client had become "extremely successful" in running an oil services company based at Claymore Drive in Aberdeen.
But in 2008, the organisation secured its largest ever contract and did not have the resources to carry out what was expected of it.
By 2009, Mr Sutherland said, Parker risked losing his business, his family home and his entire life savings.
At the same time, the couple's relationship started to fall apart.
"The complainer told the accused that she no longer loved him, no longer liked him and was only staying with him for the sake of their daughter," the lawyer said.
Mr Sutherland said his client had tried everything to keep his family together over the years, including taking them on holidays across the world.
He said Parker, now of 24 The Quay, Newburgh, could not understand what had happened to make the woman he expected to spend the rest of his life turn against him.
"He feels nothing but shame for his actions and has expressed genuine remorse," he said.
"He says he has let himself down.
"He had nightmares about being apprehended by armed police officers and taken from the family home."
Sheriff McPartlin said he would normally only grant an absolute discharge if the background to the case warranted it, and if the violence was minimal.
"This was not minimal by any means," he said.
But he said that taking into consideration the length of time that had passed since the attack, and the fact that the couple were still on speaking terms, it was the most suitable resolution.