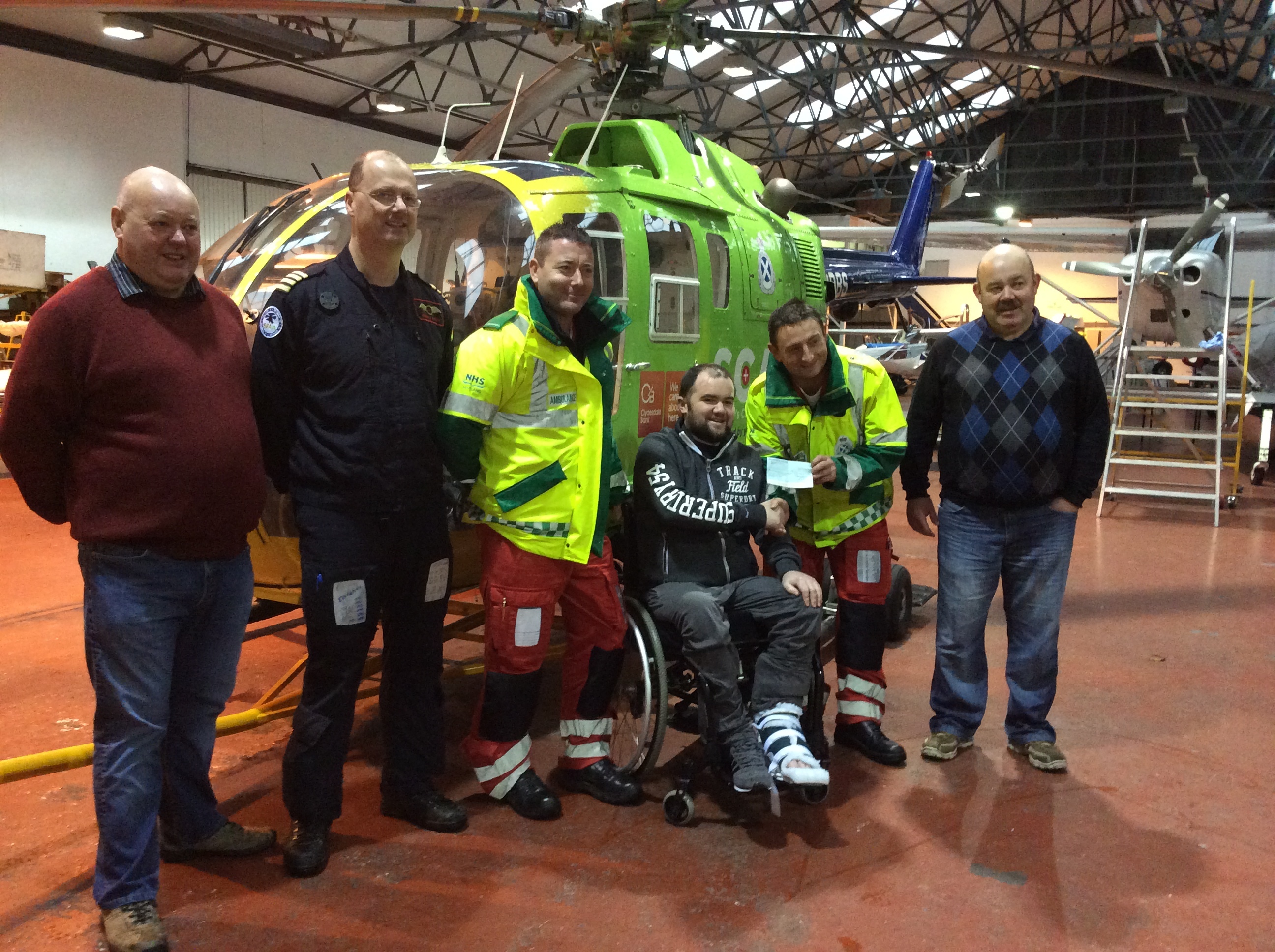 A joiner left paralysed after a freak garage accident will be home from hospital in time for Christmas.
Grant Morrison was blowing up a tractor tyre when it exploded and threw him into the air.
The 23-year-old broke his back in two places when he hit the ground, and also suffered a fractured skull, swelling on his brain, and a broken collarbone, sternum, ribs, right hand and left ankle.
He was airlifted to hospital by Scotland's Charity Air Ambulance (SCAA) helicopter and spent five weeks in Aberdeen Royal Infirmary before he was transferred to Glasgow's Southern General Hospital's specialist Queen Elizabeth Spinal Unit.
He is now using a wheelchair and is aiming to return to his Torphins home for good – just in time to spend the festive season with his family.
The accident happened at Framor Garage in Banchory's Tillybrake Road in April as Grant worked on a tractor restoration project.
His uncle, Mike Morrison, said: "He's still down in Glasgow. His parents, Gary and Jane, are down there and he's into a flat with them for the weekend to see how he progresses and if he's no problems he's hopefully getting home for December 19.
"It would have been a disaster having to travel down to Glasgow over Christmas.
"He was home last weekend for a horse racing night but nobody knew he was coming and the place was just unbelievable.
"We got all his mates there to go to it, it was a good night. It's the first time he's been back."
Grant's family set up fundraising campaign "Grant's Journey – Glasgow-Torphins" earlier this year to help the family during their ordeal.
The horse racing fundraiser was held in Banchory's Scout Hut.
Mr Morrison said they received donations from "family and friends and businesses", including Grant's employer, Aberdeen-based Thistle Windows, and the total raised was £6,400.
The money will go toward the cost of accessibility equipment for the family home and the cost of Grant's physiotherapy.
Mike added: "We're grateful to everybody."
Grant had been working on a project to restore a vintage 1954 Fordson Major tractor with his dad when the accident happened.
After almost seven months away from home, the visit to the fundraiser was his first trip back to Aberdeenshire since the accident.
Mr Morrison, 53, who is part-owner of Framor Garage, added that his nephew was "very determined" to walk again one day.