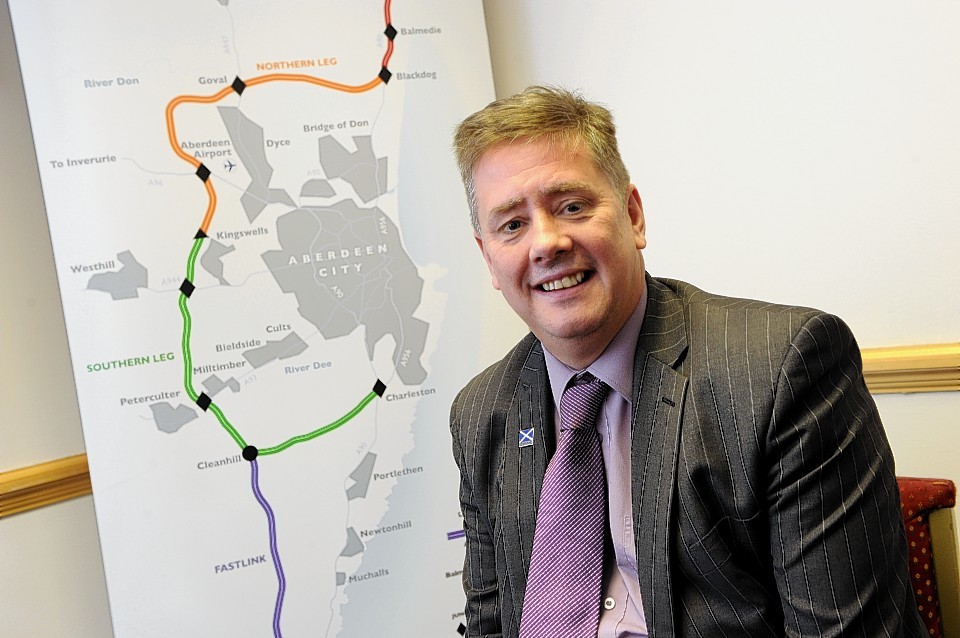 Council leaders have welcomed the announcement that the Aberdeen bypass will be completed an early.
Jenny Laing of Aberdeen and Jim Gifford of Aberdeenshire said local people would be "delighted" that the £745million project would be open to traffic in winter 2017 and not spring 2018 as originally forecast.
But north-east Lib Dem MSP Alison McInnes pointed out that the Scottish Government told the public in 2008 that the Aberdeen Western Peripheral Route (AWPR) would be completed in 2012.
Keith Brown, the new infrastructure, investment and cities secretary, made the announcement in Aberdeen yesterday.
He hinted that the early conclusion of the project, which includes the A90 Balmedie-Tipperty stretch upgrade, could also bring forward improvement work on Aberdeen's Haudagain roundabout – a £26million scheme which will start after the bypass is opened.
Mr Brown said the acceleration of the 36-mile project – which will be delivered by the Connect Roads consortium – was "unprecedented".
Ms Laing, a Labour councillor, said: "Aberdeen City Council has committed up to £75million to this project so I am delighted to hear we have reached this very important stage in the tender process.
"I am sure the people in the north-east will be delighted to learn that this hugely significant project is progressing and that we are another step closer to the delivery of the much-needed AWPR."
Mr Gifford, a Conservative councillor, said it was "very satisfying" that the project had reached this stage.
But Mrs McInnes said: "More than two years on from the 2012 target, it is laughable that the SNP now claim this work will now finish ahead of schedule.
"They have dragged their feet on key local transport works and everyone who spends hours every week stuck in traffic knows it."
Labour MSP Richard Baker said a detailed works timeframe must be set out to show when people could expect to see early completion of specific sections of the route.
"As we know from the government's decision to delay the work at the Haudagain roundabout time is money on these projects and so the sooner it can be completed the better," he added.