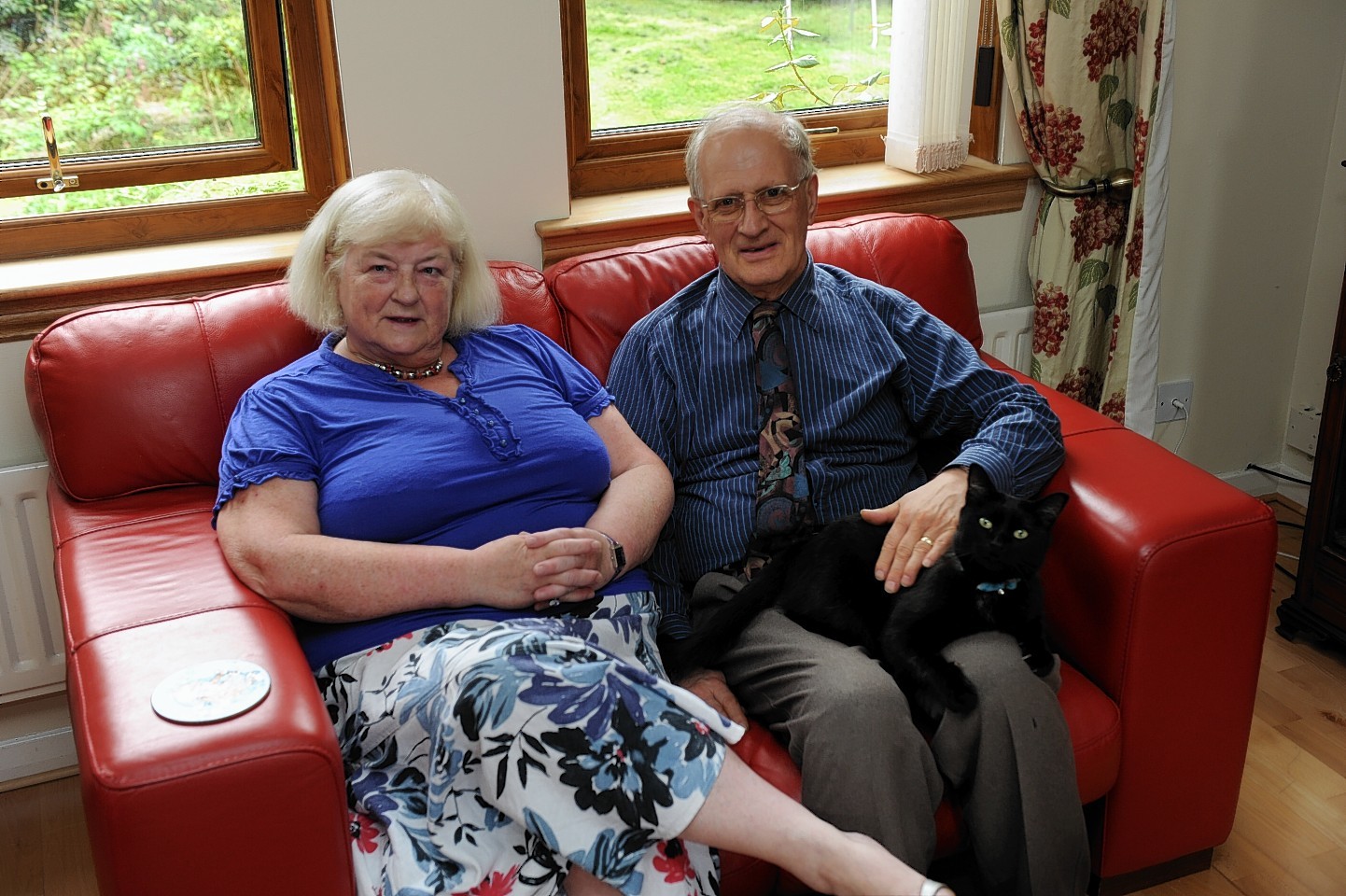 A woman found her dementia sufferer husband wandering along the road after he "escaped" from an Aberdeenshire care home.
Sandy Simpson – who suffers from two types of the debilitating condition – was found by chance by his wife Morag.
The 72-year-old has been living at Pitcairn Lodge at Kirkton of Skene, near Westhill, for the past 15 months.
But his wife said that when she discovered he was being put to bed in his clothes – without any sheets or pillowcases to cover his plastic mattress – it was the "final straw".
She has decided to remove him from the home, which is operated by Birmingham-based Embrace Group.
Mrs Simpson, 64, said that when she called staff at the home after she found her husband in the street, they came to pick him up.
But she claims she never received an apology.
Last night, care home bosses said they took her concerns very seriously and pledged they were taking "immediate action" to investigate.
Mrs Simpson, however, said she was furious at the way her husband had been treated.
She added. "I'm so angry that I'm taking him out of the home on December 20.
"He has just been so ignored, and has obviously gone downhill since going into the home."
Mrs Simpson, of Crombie Circle, Westhill, is separated from her husband but became his main carer after he was diagnosed with dementia in 2012.
She now plans to move him back in with her and employ carers to look after him.
She has visited him regularly at the home, and said she was "distraught" at the lack of understanding and "TLC" shown by staff towards the father-of-two.
She claimed he had been prescribed a heavy sleeping pill after employees complained he was taking all the sheets off his bed, and was suffering from insomnia.
But when Mrs Simpson visited the home she found his mattress bare and her husband in his chair, fully dressed.
She said: "The other night, I went in at 9pm to see what happened at bedtime.
"I waited until everyone else was in bed, and waited and waited for someone to see to Sandy.
"I asked a carer I had never seen before for some bedding. He came back with an ill-fitting sheet. I asked if I could have a pillowcase, and he eventually sent it back with the nurse in charge.
"When I asked where his pyjamas were, the nurse told me he didn't have any, but I sent him in with several sets.
"By this time, the steam was coming out my ears. The staff had told me he would get up and go through to them in the middle of the night, so I asked if he was doing this naked. It was then that she told me he slept in his clothes. How is that acceptable?"
Mrs Simpson said she found Mr Simpson's pyjamas in the drawer and, as she was changing him, discovered he had no pants on.
She also found two unopened tubes of toothpaste in the bathroom, raising questions about his personal care.
Once she had settled him into the freshly-made bed, he slept all night – without the need for a sleeping pill.
"Is it any wonder?" she said. "You've got a demented man sitting in his clothes and in his chair, of course he'll think it's daytime.
"Sandy has no quality of life there. He's got two forms of dementia – they don't seem to understand that he's ill."
Mrs Simpson, a well-known choirmaster in the north-east, claimed staff turnover at the home was high and blamed the oil industry's high wages for tempting carers to switch careers.
She said: "Staff change all the time, and someone like Sandy, who has bad dementia, needs continuity.
"The TLC is sadly lacking. People need to realise how bad it is. The care system is so badly lacking."
A spokesman for Pitcairn Lodge said: "The health and wellbeing of the people we support is our number one priority and we are taking these concerns very seriously.
"Whilst it would be inappropriate to comment on the care needs of an individual, we are committed to ensuring all residents receive the high standards of care they expect and deserve.
"We are taking immediate action to investigate these concerns and are working closely with the relevant authorities."