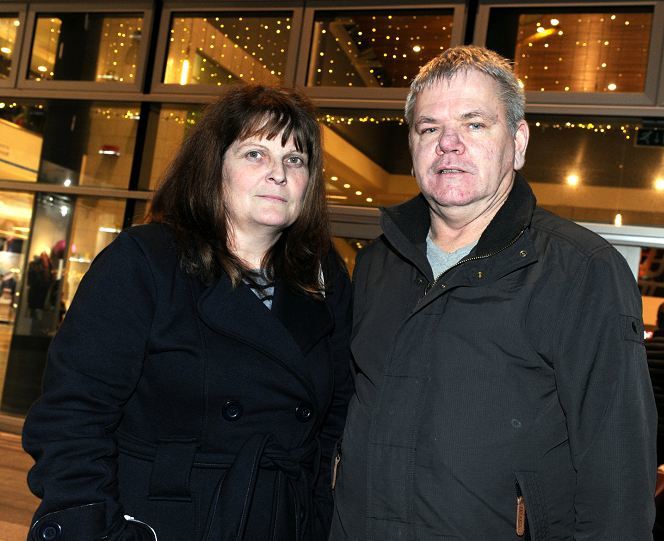 Thousands of people who were in Glasgow's George Square yesterday afternoon were left reeling as they imagined what could have been.
For one north-east couple who got to the square just minutes after the tragedy, they said that someone must have been "looking down on them" to make it out unscathed.
Gordon and Denise McKeith had been visiting Glasgow for the first time when they were caught up in the chaos.
The couple had been staying in the city while Mr McKeith underwent an eye operation, and had travelled south from their home in Aberdeen on Sunday.
After leaving hospital yesterday afternoon, they headed for the city centre and stopped off at a restaurant on Buchanan Street, just round the corner from George Square, for a meal.
The couple planned on visiting George Square before catching their train home, as they been told it was well worth a visit.
Between the bustling shops and the fairground and ice rink set up in the middle of the square, they said the city centre was "heaving".
"There were rivers of people everywhere," said Mrs McKeith.
But on approach to George Square, they realised something was horribly wrong.
"Ambulances and police cars came flying past and there were sirens everywhere," she said.
"The place was in lockdown."
Soon, the severity of the incident started to sink in.
"People were walking past us crying," she said.
"Bags of what looked like Christmas shopping where strewn on the ground.
"Officers were climbing up on ladders and putting up tarpaulin so that the public couldn't see what was happening. There was even a helicopter flying overhead.
"We missed it all by just five minutes. It we hadn't decided to stop on for dessert, we could have been right there."
The McKeith's had been updating their friends and family during their afternoon out on social media, and soon received panicked phone calls from their children – who knew they were heading for George Square – to make sure they were OK.
As the couple returned home last night on the train, they said they could not forget the upsetting and chaotic scenes.
Mr McKeith said that as a lorry driver himself, he could not bear to think what the driver would feel like if he has pulled through.
"I can't stop thinking about the poor families of all those involved," he said.
"It's just three days before Christmas – it's tragic."
Mrs McKeith added: "Someone was definitely looking down on us."