Tinsel won't be the only thing adding sparkle to Christmas this year for two charities.
Vocal coach to the stars Yvie Burnett decided that rather than let her collection of evening dresses gather dust in her attic, she would dust them down and see if anyone could put them to good use.
Earlier this year, using her weekly column in the Press and Journal's YL magazine, she invited good causes across the north and north-east to stake a claim for the glamorous outfits.
Methlick-born Ms Burnett, who works on the BBC's The Voice, said the clothes were not by fancy designers, but had been worn for concerts and singing and were "a bit more glitzy than an average evening dress".
She added: "Last year I donated a box of stuff to Cancer Research in Glasgow for their new flagship store, and they said people snapped it up because it was a bit more interesting than something your neighbour would hand in."
Following a great response to her appeal, Ms Burnett picked two north-east charities – Cornerstone and Far and Wide – to be the lucky beneficiaries.
She also decided that two dresses would go to pupils from The Gordon Schools in Huntly.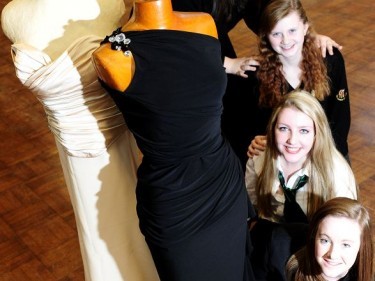 Among the collection were a number of sparkly numbers, some little black dresses and a couple of two-pieces, plus two outfits from her celebrity pal, singer and TV personality, Jane McDonald.
Denise Chambers, corporate fundraiser for Cornerstone, said the charity was delighted to have been chosen and land a second windfall from a celebrity in a matter of weeks.
She said: "Our finance director Lynne Robertson saw Yvie's column and then brought it in on the Monday morning.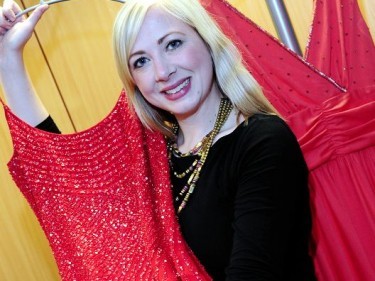 "It was weird because a few weeks earlier Michelle Mone had tweeted that she was giving away evening gowns to charities and the first ones to get in touch could get a dress.
"Our chief executive, Adele Harris, tweeted straight away so we got a dress from Michelle. Then Yvie came along with a similar offer two or three weeks later so it was quite funny."
Ms Chambers said they planned to pick a few of the dresses and auction them at a glitzy event they are holding in March, called Fizz Friday, along with Michelle Mone's dress.
The event will be held at the Copthorne Hotel in Aberdeen on March 27 from 5pm. Tickets cost £25 and include canapes and a glass of bubbly. During the night there will be stalls plus a number of catwalk shows.
The event will raise money for children's services and specifically a pilot programme called Connections, which aims to give support to children aged 14-16 in the Aberdeen and Aberdeenshire areas and help them become more active on a social and personal level.
The rest of the items will be sold in the charity's pop up shop at 346 George Street, Aberdeen, which will be open from March 8-14 and will raise money for a minibus to help residents in Aberdeenshire.
Ms Chambers added: "Both Yvie and Michelle are quite inspirational women, they are always beautifully presented when they are photographed.
"For us, anything that we get and don't have to pay for ourselves we are extremely grateful for. We can take the money generated from these dresses and transform it into something that will change people's lives."
Meanwhile Ms Burnett's dresses are already adding a bit of glamour to the window of the Far and Wide charity shop in Stonehaven.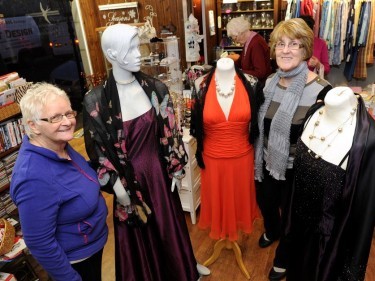 Shop manager Barbara Maclean said it was her colleague, Kathleen Smith, who had noticed the appeal in YL and was very excited to be able to put the dresses in the shop.
She added: "We are a Christian charity and any money raised goes to Christian projects all around the world so we are hoping to raise as much as possible from these dresses."
Ms Burnett said: "I think our own occasion wear has special memories for us and we hold on to it longer than we would a pair of jeans or a jumper.
"My evening dresses have been worn to a vast array of different occasions from singing in classical concerts to attending drinks receptions.
"It's always nice to get dressed up and I thought it would be nice to donate cocktail and evening wear because we quite often wear it only once so it's sometimes a lot of money to fork out for one night.
"Hopefully the people wearing them will have memorable times wearing them like I did."
Anyone who wants to find out more about Cornerstone's Fizz Friday event should contact Katie Watters on 01224 256023 or e-mail katie.watters@cornerstone.org.uk.