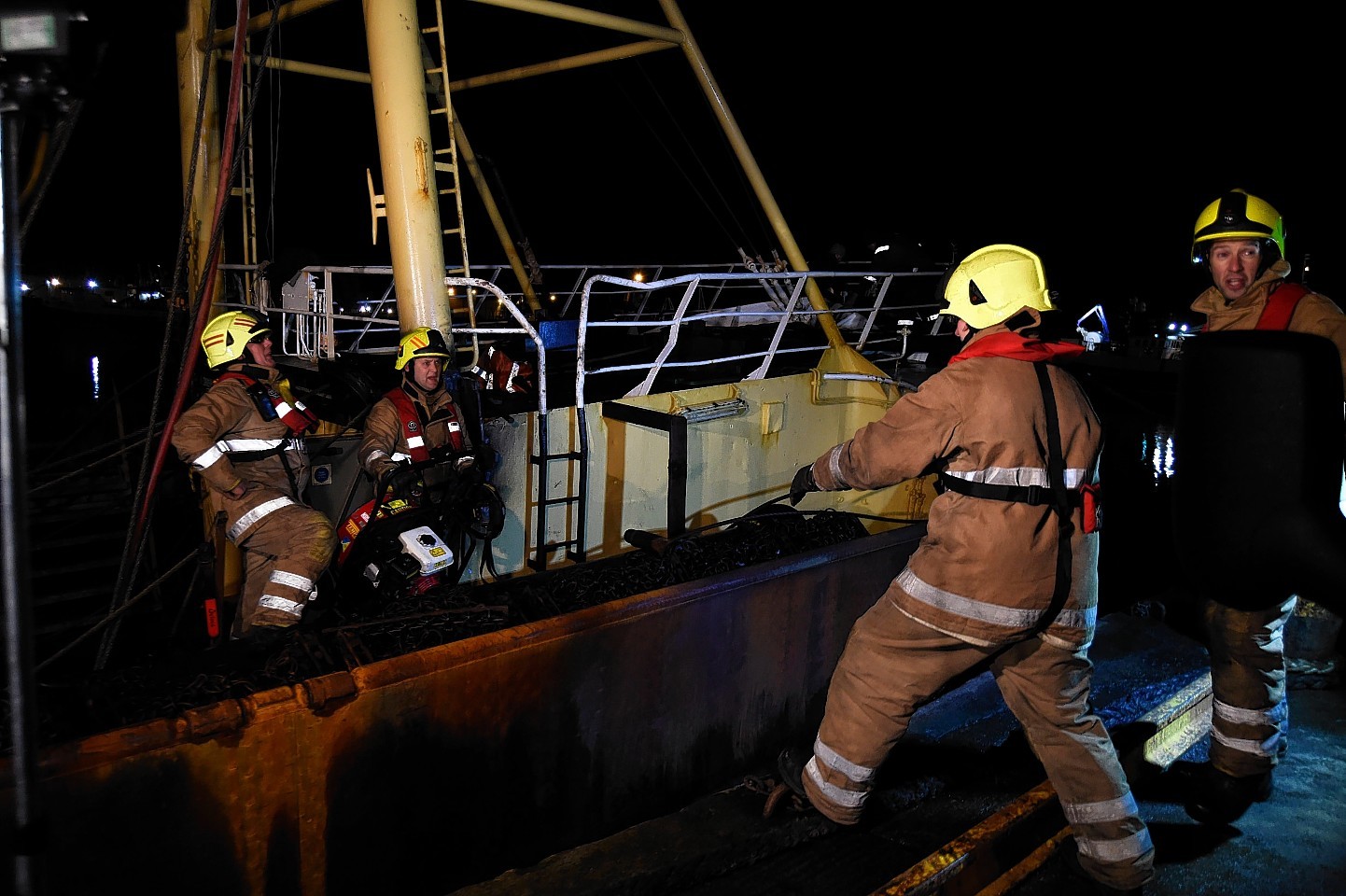 Firefighters battled a blaze at a north-east harbour this evening after welding gear sparked a fire on a fishing vessel.
The tyre fender on the Grimsby-registered trawler Cornelis-Gert Jan caught fire while the vessel was moored in the Faithlie Basin.
The fire broke out at 5.07pm with 17 firefighters tackling the blaze from the south breakwater.
A witness at the scene said workmen had been using welding equipment near the Belgian-built vessel and that a spark from the equipment ignited the tyre blaze.
The owner of the Cornelis-Gert Jan, a 39-yard long North Sea trawler, alerted the emergency services.
A Scottish Fire and Rescue Service spokeswoman said: "Three appliances were in attendance at the fire which started at 5.07pm.
"The fire was extinguished with one hose reel jet. Breathing apparatus and a thermal camera were also used."
The fire was under control by 5.47pm last night. No one was seriously injured in the incident.
A Coastguard spokesman said: "We were notified but we were not involved in putting out the fire.
"It was the fender of a vessel, rather than the vessel itself, which had caught fire. The fire brigade were able to extinguish the blaze."
The Fraserburgh Coastguard team did attend the scene of the incident and liased with the fire service.
Firefighters remain on the scene this evening, working to ventilate the vessel and using thermal imaging to ensure the rubber material in the fender had cools safely.
Last week three fire crews tackled another dramatic blaze in the north-east port after a shed fire.
One man was rushed to hospital and several homes in the town's Charlotte Street were evacuated when a motorbike owned by resident Douglas Sandison exploded in a shed.
Mr Sandison was dragged from the burning shed by good Samaritan neighbour Darren Dimmick who called the emergency services.
Mr Sandison was taken to Aberdeen Royal Infirmary to be treated for smoke inhalation. No one else was injured in the incident.