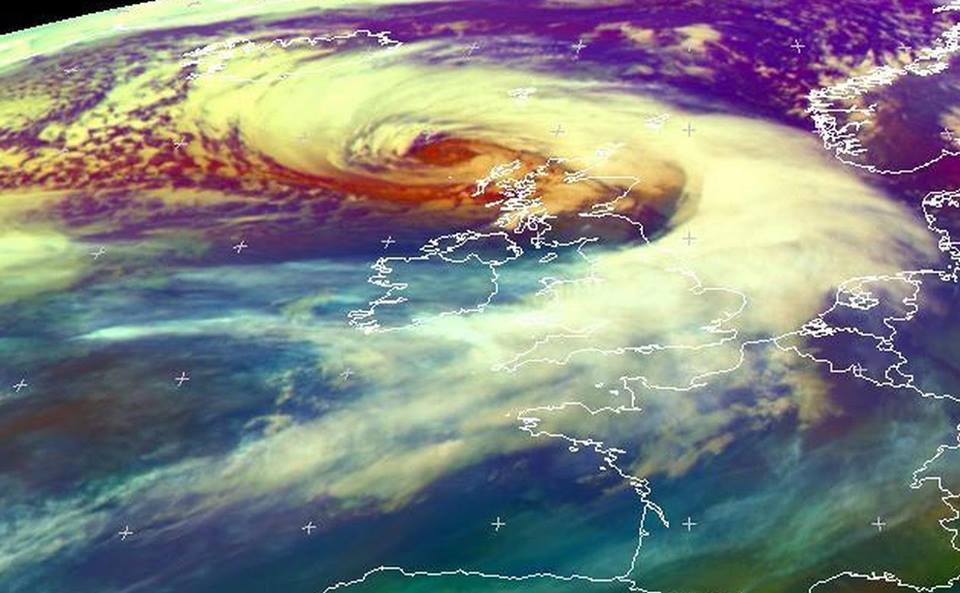 More than 29,000 homes in the north and north east remain without power with hot food being delivered to the elderly and those most in need.
Thousands of people in the Highlands have been told they face a second night without electricity as harsh weather continues to hamper the work of engineers.
Fallen trees, high winds and snow are impeding work to restore connection in a large number of cases.
Dornoch, Helmsdale, Golspie, Connon Bridge, Cromarty, Munlochy and Kingussie are amongst areas where householders will not be back on the grid tonight.
The Isle of Skye has also been hit with homes in Portree, Uig, Dunvegan and Glendale without power tonight.
SSE welfare and food vans were at 4pm waiting for a police escort over the Skye Bridge in order to reach the most vulnerable customers.
Also, McGinty's fish and chip shop in Fortrose has been praised for delivering hot food to elderly customers.
The British Red Cross has also been aiding customers in need.
The Scottish Government's resilience committee met today to discuss the response.
Deputy First Minister, John Swinney said: "Our primary concern is for the welfare of those who have been left without power as a result of the severe weather this week, in particular those who have been left without electricity for over 24 hours.
"The utility companies are doing an outstanding job in working to restore services in the face of hugely challenging weather conditions and I am grateful to all those who have been working tirelessly to get systems back up and running."
He added that some areas were at risk of flooding in the early hours of the morning, which was also a concern.
Difficulty in restoring power came as the north continued to be battered by strong gusts of winds throughout the day, with snow also impacting on the response.
A top wind speed of 101mph recorded on Shetland at 9am.
Gusts of 60mph were recorded on the Buchan and Moray coast this morning, a Met Office spokesman said.
Snow flurries have been reported across the region, with heavier falls reported in Elgin and west Aberdeenshire.
The A939 between Cock Bridge and Tomintoul is now closed due to wintry conditions.
In Western Ises, 6,143 homes were without power tonight with 3,647 properties on Skye also affected. More than 3,000 homes around Dingwall were also facing the start of a third day without power.
On Shetland, 2,012 properties were in darkness,
Around Dunoon, there were 1,034 properties hit with 532 homes in Elgin and Huntly also waiting for power to be restored.
More than 7,300 homes in Invernesshire are without electricity tonight.
A spokeswoman for SSE said that 83,000 homes had had power restored since the storm hit on Thursday night.
Welfare vans serving hot drinks and snacks, plus mobile phone charging points, are in the areas worst affected this morning.
A statement from Scottish Hydro Electric Power Distribution said heavy snowfalls and ice overnight had made some roads impassable and access to the network difficult.
Engineers had worked through the night where it was safe to do so, it added.
Alan Broadbent, Director of Engineering, explained some of the challenges now facing technical staff: "Our electricity network was battered continuously by hurricane winds for eight hours on Thursday night and during much of Friday. This has weakened it in places, which caused more power cuts overnight. I know an apology may not be much comfort for our customers who have been without power, but I would like to reassure them that we are doing all we possibly can during extremely treacherous, challenging and severe weather conditions."
He said that 1,000 staff were on the ground with a further 200 drafted in yesterday from SHEPD's sister company in England.
A spokesman for the Met Office in Aberdeen said that the strong winds would ease over the course of the day, although strong gusts were still likely.
He said top wind speeds in Aberdeen this morning were 53mph while in Peterhead 58mph were recorded at 6am.
A top speed of 66mp was recorded in Orkney.
He said some snow had fallen in the Braemar area with flurries likely in other parts of Western Aberdeenshire, Moray and Aberdeen.
As winds eased, conditions would be bright with temperatures of approximately 4 degrees Celsius through the region.
Shetland Coastguard said no major incidents had been reported but that a number of vessesls were sheltering down the east coast.
Police in Inverness said it had dealt with a number of fallen trees, particularly on the A32 at Moy Bridge.
Firefighters were also called this morning to the Sound petrol station at Lerwick to secure a petrol pump amid fears it could blow away.
Crews fastened the pump with ropes, a spokesman for Scottish Fire and Rescue said.