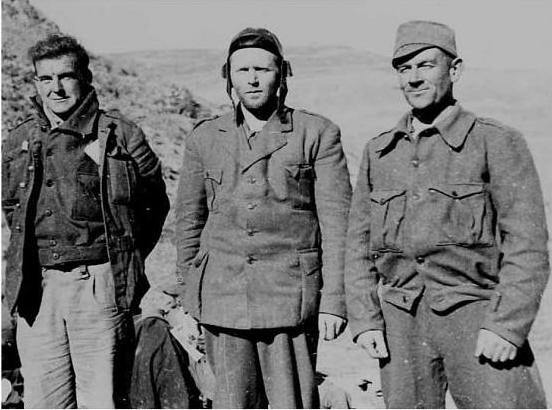 A memorial group set up to honour the memory of the men from Britain and Ireland who left their homes to fight in the Spanish Civil War will hold its annual meeting in Aberdeen this year.
The International Brigade Memorial Trust (IBMT) event will feature tributes to the 19 men from the north-east who left their loved ones behind and made the perilous journey to the conflict more than 1,300 miles away.
Five of the fighters failed to return from the war, which was fought between 1936 and 1939.
They included Archie Dewar and Tom Davidson, who are remembered in a poignant but little-known memento in the city.
Mr Dewar was 28 when he was killed in the battle of Ebro on March 17, 1938.
Mr Davidson died shortly afterwards on April 3 during the battle of Gandesa, aged 33.
Their bodies were wrapped in the flag of the Spanish Republic before being buried in Spain.
However, the flag, which still has traces of the men's blood on it, was sent back to the granite city and spent the next five decades at the former Communist Party office on Urquhart road – hidden away behind a wardrobe.
It wasn't until 1985 that it was finally rediscovered and given its new pride of place at the Trade Union Congress office on Adelphi Lane.
Tommy Campbell, regional industrial officer for the Unite union, is organising the gathering, which is happening from October 16-18, on behalf of the IBMT.
He said: "All Aberdonians should be honoured that men like Tom and Archie left behind their families to fight for something they felt was right.
"We're in discussions about getting a replica flag made and hopefully the city council will fly it over the Town House over the weekend."
Aberdeen councillor Neil Cooney, whose uncle Bob fought in the war, is a supporter of the idea.
He said: "I think the families of Tom and Archie would feel honoured and proud. These gallant men bravely gave their lives in what was really the prelude to World War II."
Gordon Dewar, 49, the grandson of Archie, said it would be a "touching gesture".
He said: "To see the flag flying would be a great tribute. It's only what they deserve after what they did."