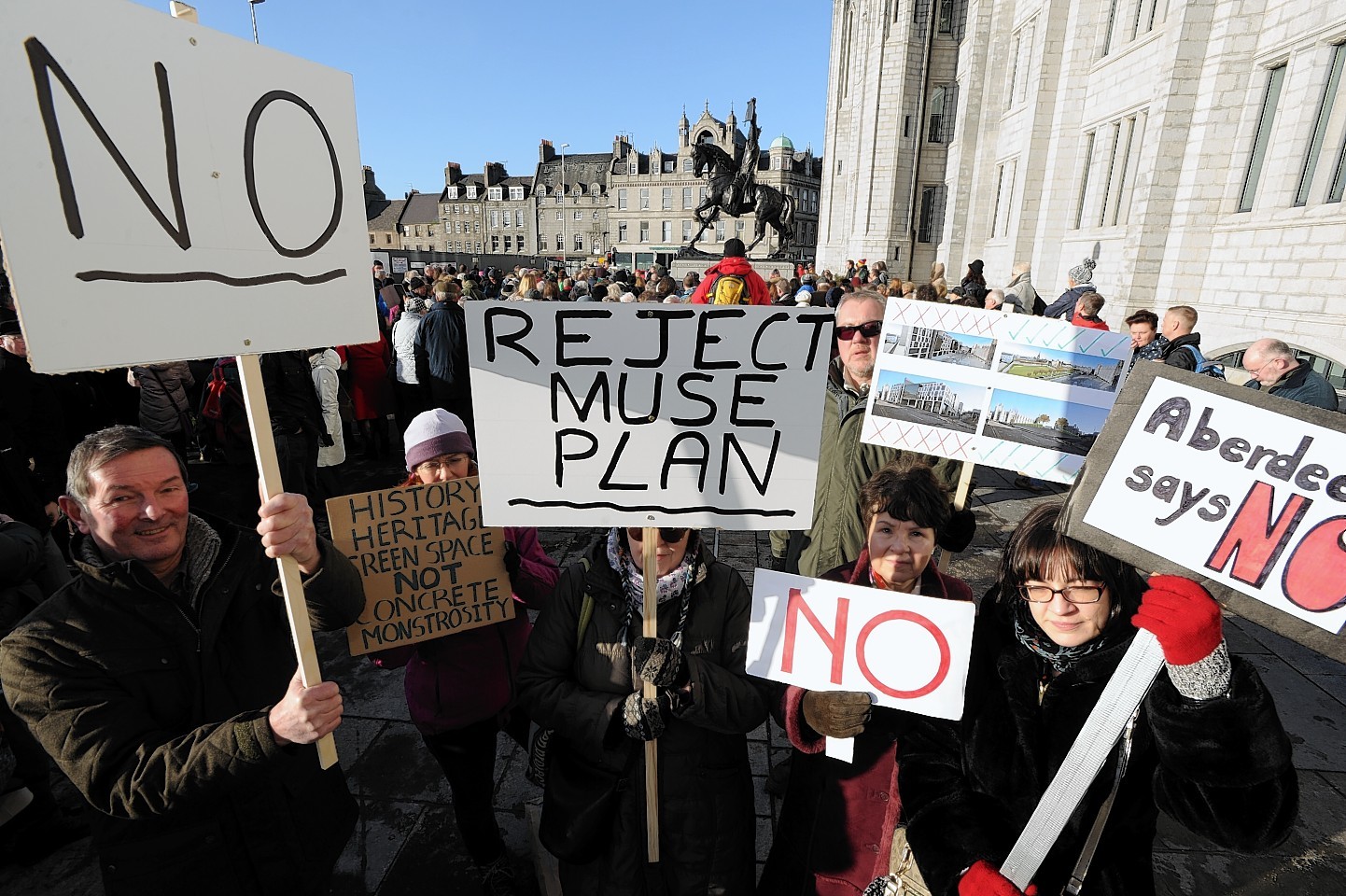 Aberdeen City Council would not face a £100million penalty if it shelved the controversial Marischal Square development, an opposition leader said yesterday.
Finance convener Willie Young had claimed last month that there would be a substantial cancellation fee if the office, hotel and restaurant scheme was scrapped.
But yesterday the council's SNP group leader, Callum McCaig, said information he has received proved the Labour councillor's statement was proving to be "complete and utter nonsense".
He added: "Either Willie Young is misleading the public on this matter or he doesn't know what he is talking about.
"It would appear there will be no cancellation fee."
It is understood the local authority could face legal action if the scheme is scrapped, however.
Planning permission is already in place, and developer Muse has agreed a deal with hotel giant Marriott to take on part of the Broad Street site.
Mr McCaig also offered some word of encouragement to protestors who staged a demonstration at the site on Saturday.
He added: "I think the pressure that is being put on the administration by the public is enormous.
"We might be beginning to see a change of mind from some members of the administration if this keeps up."
Last night, finance convener Willie Young said he stood by his previous comments.
The council also outlined more than £100million worth of profits that could be made over the next 35 years from the development.
The includes an initial £10million the council will receive for the site, rental income, and the potential value of the development when it reverts to public ownership at the end of the 35-year lease period.
Deputy council leader Marie Boulton added: "Ambitious cities like ours have choices and the full council decided, after public consultation, to embrace the future and develop a space that has a number of complementary uses.
"We heard last week that the developers already have strong interest from businesses eager to take the space."
In response to recent media coverage of 3D images showing how the site could look, council leader Jenny Laing added: "The city council has a duty to use public money wisely and that is why we took the step of bringing in a partner to get the best deal possible for the city centre.
"Not only will we, and visitors to our city, have a covered area to enjoy the view of Marischal College but we will also have a sheltered space with good views of Provost Skene's House."