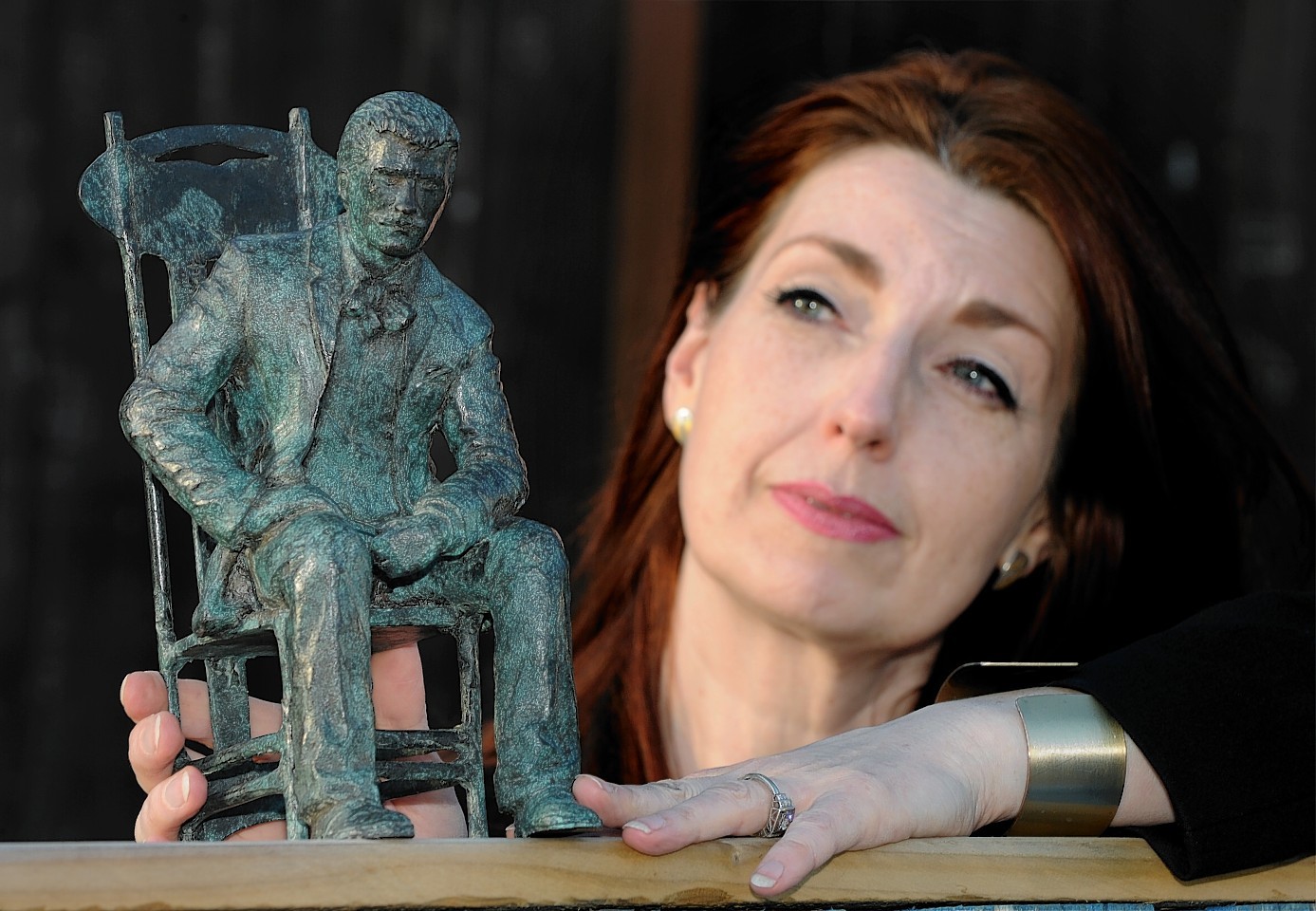 A sculpture by the man who forged The Kelpies is to be auctioned off in aid of a much-loved Aberdeenshire arts centre.
Andy Scott has donated his maquette of artist Charles Rennie Mackintosh to the sale at Woodend Barn in Banchory.
Most famous for his giant equine heads at the Forth and Clyde Canal, Mr Scott said he was "delighted" to support the arts centre.
The bronze statue will be the most coveted lot at the fundraiser on Saturday and has a reserve price of £6,500.
The event will celebrate Woodend Barn's 21st anniversary and will feature a special performance from patron Dame Evelyn Glennie.
The sculpture's acquisition was secured by Lorraine Grant, the director of Woodend Barn, who is an old friend of sculptor Mr Scott.
Ms Grant said: "It really is the centrepiece to the auction in terms of the status of Mr Scott and the subject, with Charles Rennie Mackintosh one of Scotland's most iconic artists.
"It is a one-off piece that reflects the very best of Scottish art and design and we hope it will do very well at the auction."
The fundraising event has been christened Pull Up a Chair to reflect both the need to buy new seats for the venue and the inclusive, friendly nature of Woodend Barn, Ms Grant said.
The seats have been purchased thanks to Creative Scotland funding, but the auction will continue to generate cash for the centre.
Woodend Barn needs to raise at least £120,000 a year to meet its match-funding requirements.
Ms Grant said: "We hope the money raised will allow us to welcome more people to Woodend Barn. We want to really open up what we have to offer here and give the best possible experience to our visitors."
Mr Scott said he hoped his contribution would go a long way to support Woodend Barn.
He said: "In difficult economic times, arts organisations are increasingly under pressure to get bums on seats yet maintain artistic credibility and integrity, something which Woodend Barn certainly does.
"I am delighted to contribute him to this worthy cause and I hope he fetches a good sum for the organisation at the auction."
To place an advanced bid, e-mail katrina.dunbar@dunbar-eandm.co.uk by 5pm on Saturday.