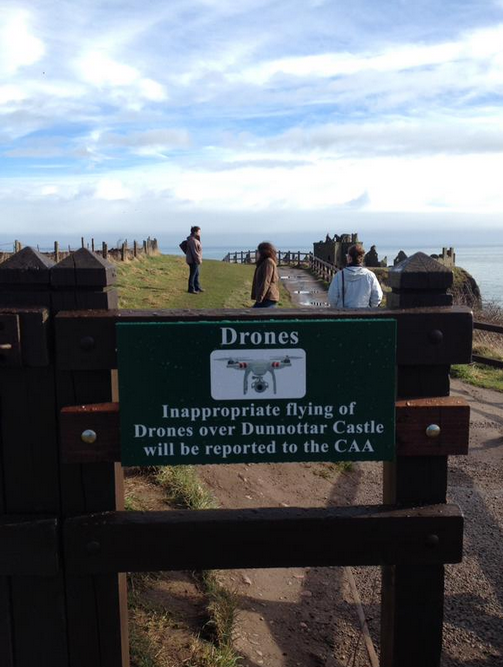 Dunnottar Castle has seen off its share of invaders in the past, but now bosses at the north-east landmark have taken steps to protect it from a very modern aerial menace.
Signs have gone up at the cliff top attraction, warning that "Inappropriate flying of drones over Dunnottar Castle will be reported to the CAA (Civil Aviation Authority)".
The move follows complaints from visitors to the 15th century ruined fortress south of Stonehaven.
Stuart Young, chief executive of Dunecht Estates, which owns the castle, insisted his team simply wanted drone enthusiasts to show some responsibility.
"Nothing has been banned," he said.
"We have seen an increasing use of drones at Dunnottar and an increasing number of complaints from visitors about them being buzzed, effectively.
"We haven't put up the sign to stop people's fun. At the end of the day this is a visitor's attraction that's open to the public for 361 days of the year, and if that's the feedback we get from our visitors we need to respond to that."
A CAA spokesman said it had not received any complaints of drones flying near Dunnottar Castle. However, he added that no aircraft can be flown within 50m (164 feet) of a building, or over private land without the landowner's permission.
The spokesman said: "As with any complaints we would look at the available evidence and make a decision on whether it merited a full investigation.
"We have prosecuted people for flying unmanned aircraft in breach of regulations. We would need evidence like video footage."
William Bird, a drone pilot and owner of Inverurie-based professional aerial photography company Fennel Media, said there were already strict guidelines for the use of the devices – and ways to get round them – and urged Dunnottar chiefs to consider the bigger picture.
"You could just take off from someone else's land with permission, or from sea, and you can always just film around the castle itself as it is on a peninsula, as long as you don't get too close or directly above it," he said.
"But I think that drones are a very powerful tool and the industry is worth millions to Britain.
"Videos and pictures of our amazing castles can really drive tourism, but instead we're messing about worrying about whether we should fly over a castle in the middle of nowhere or not."