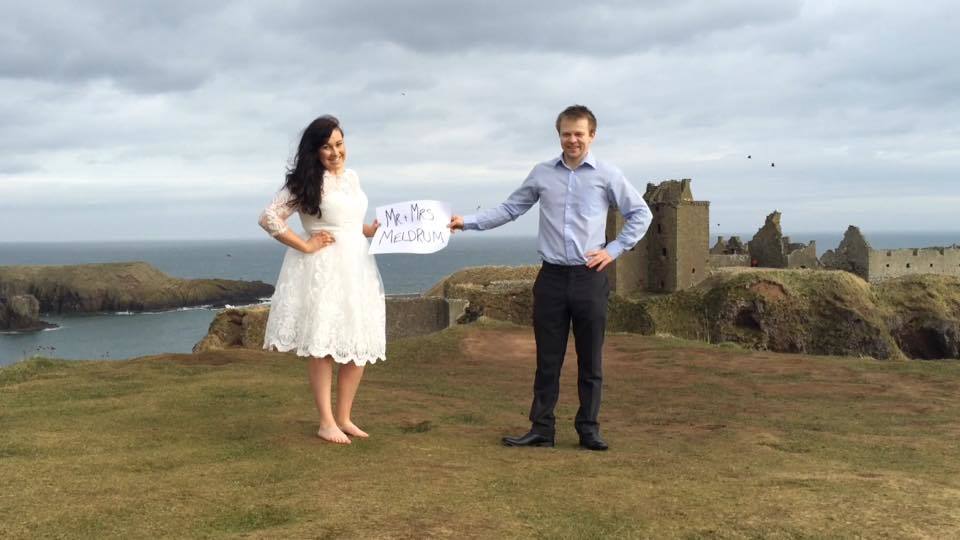 Two childhood sweethearts have proved that third time is indeed lucky by finally tying the knot – in secret.
Megan and Craig Meldrum got married last month, and stunned friends and family only found out when they posted a series of fun pictures taken at Dunnottar Castle in Stonehaven.
Megan fell for classmate Craig when she met him in first year at Banchory Academy, and they quickly became a couple.
But after a year together the youngsters split up, although managed to stay friends throughout school.
They rekindled their romance in 2009, but shortly afterwards Megan got the chance to spend a year at a business school in Paris as part of her politics and management course at the Robert Gordon University.
Again they went their separate ways, but were reunited last year – and have now made their vows to make it last forever.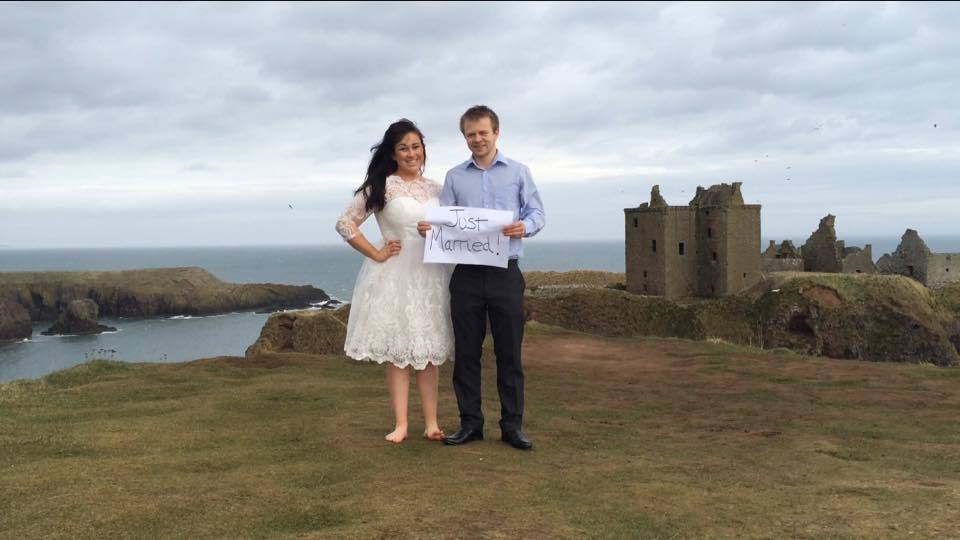 Megan, a constituency assistant for Aberdeenshire West MSP Dennis Robertson, said: "Craig's best friend and my best friend are getting married in September, and he asked her for my number last year. She wasn't sure, and asked if he was sure it was a good idea to try again, and made jokes about it being third time lucky, but we met up and that was it.
"All our friends have been really supportive and said it was inevitable we would end up together again."
The couple, who now live in Stonehaven, had spoken about getting married and even went shopping to pick a ring together but joinery technician Craig, 25, who is originally from Banchory, wanted to propose properly.
In January, he went out and mysteriously told Megan – and his four-year-old son Finn, from a previous relationship – to come and find him in half an hour.
Spying the ring box in the house, she dismissed the idea he could be plotting a surprise proposal and went looking for him.
When she eventually found him on the beach, she was thrilled to see he had written 'marry me' in bamboo sticks, which he set on fire.
"It was very romantic," the 24-year-old, who is originally from Durris, said. "Craig had already asked my dad's permission, but he didn't think the proposal would come so soon.
"It was more important to us to be married than have a wedding, so we chose to do it privately."
The pair got married on March 26, and are now looking forward to celebrating with their loved ones at a party next month.