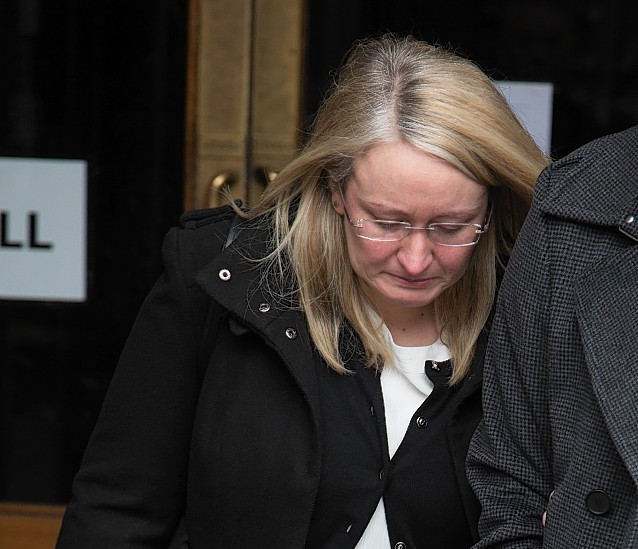 Two top scientists were killed when a motorist pulled out in front of another car on the north-east's busiest road.
Elizabeth-Anne Dixon's careless driving set off a chain of events which caused the fatal smash on the A90.
Julian Dawson and Stewart Rhind both died after a black Saab 9-3 estate collided with the silver Vauxhall Astra they were travelling in.
Saab driver William Spiers was forced to swerve on to the wrong side of the dual carriageway when 35-year-old Dixon pulled out in front of him on the Aberdeen-Dundee route.
Dixon appeared at Aberdeen Sheriff Court yesterday and admitted causing the two men's deaths by careless driving.
She admitted pulling out from the central reservation on the A90 when it was unsafe to do so.
She was close to Fordoun when she drove into Mr Spiers' path.
He was forced to take "evasive action", causing him to swerve out of her way, cross the central reservation and enter the northbound carriageway.
His vehicle then struck the car Dr Dawson and Dr Rhind were both passengers in.
Two air ambulances, four ambulances, two rapid response units, three fire crews and police were sent to the scene, but the pair could not be saved.
They had been on their way back to Aberdeen with colleague Geoffrey Elliot at the time of the crash on March 8, 2013.
Mr Elliot, who had been driving the Astra, and Mr Spiers were also injured in the smash, which happened just north of the Powburn junction.
Dixon's vehicle was not directly involved in the collision.
Yesterday, Dixon admitted she drove without due care and attention and without reasonable consideration for other road users when she pulled out on to the southbound carriageway.
She accepted that she drove out from the central reservation when it was "unsafe to do so".
Dixon, of 3 Chapelbank, Burnett Street, Auchenblae, Laurencekirk, will be sentenced next month.
Dr Rhind – who was world-renowned for his work on animal reproduction – and environmental biogeochemist Dr Dawson both worked at the James Hutton Institute agricultural research centre.
Father-of-two Dr Rhind, of Westhill, worked internationally and had collaborated with teams in the US and Australia on animal research issues in the months leading up to the tragedy.
His death was described as an "immense loss to Scottish and world science".
The 61-year-old's wife, June, and daughters, Joanna and Sarah, said he had "shaped their worlds" while a former mentor described him as a "stimulating chap" and a "tremendous scientist".
Dr Dawson completed his PhD at Aberdeen University before going on to work on a broad range of soil and water-related research projects.
The 42-year-old, from the Aberdeen area, later joined the James Hutton Institute as an environmental biogeochemist, focusing his research on biogeochemical and hydrological processes in riverine catchment systems.
His family described him as a "wonderful man", while former colleagues at the university's plant and soil science department said he was an "inspiration".