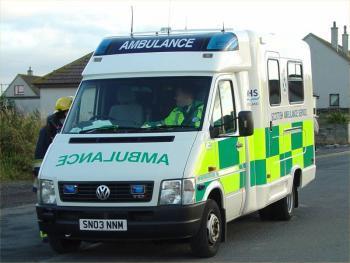 Health chiefs have launched an investigation after a six-year-old boy with serious breathing problems was forced to wait four-and-a-half hours for an ambulance.
Aidan Davidson was admitted to his local health centre following a severe asthma attack. Although doctors were able to stabilise his condition with oxygen, he was referred to Aberdeen for further treatment.
An ambulance was called to transfer Aidan, but his mother Charleen has raised concerns about the delay and the Scottish Ambulance Service (SAS) has now apologised to the Davidsons for any distress they suffered.
Last night a spokesman for the SAS said: "We are looking into the concerns raised by Mrs Davidson regarding her son's transfer in January this year and are sorry for any anxiety caused by the delay."
Early indications suggest a transfer request was put in by staff at Peterhead Community Hospital at 5.51pm and an ambulance arrived four hours and 32 minutes later to transport Aidan to Royal Aberdeen Children's Hospital.
The spokesman continued: "During that time the patient was in a safe clinical environment and Ambulance Control was in contact with the hospital to advise of the delay and check that his condition was clinically stable.
"In these situations the call can be upgraded to a higher priority on advice of the attending clinicians."
Aidan's case came to light as part of a campaign launched in the north-east's biggest town by local man Stephen Bruce.
After raising concerns about ambulance response times in the area, he was inundated with stories from other residents.
He passed a dossier of cases to ambulance chiefs and is hoping to hold talks with them soon.
Last night Mrs Davidson, from Peterhead, said she wanted some good to come from Aidan's ordeal.
"He was a six-year-old boy with breathing problems and we had never been through anything like that with him before so it wasn't a pleasant situation to be in," she said.
"I wasn't complaining about the paramedics and staff, it was more about highlighting shortages in the ambulance service."
The SAS has recently recruited five new staff for the Peterhead area.