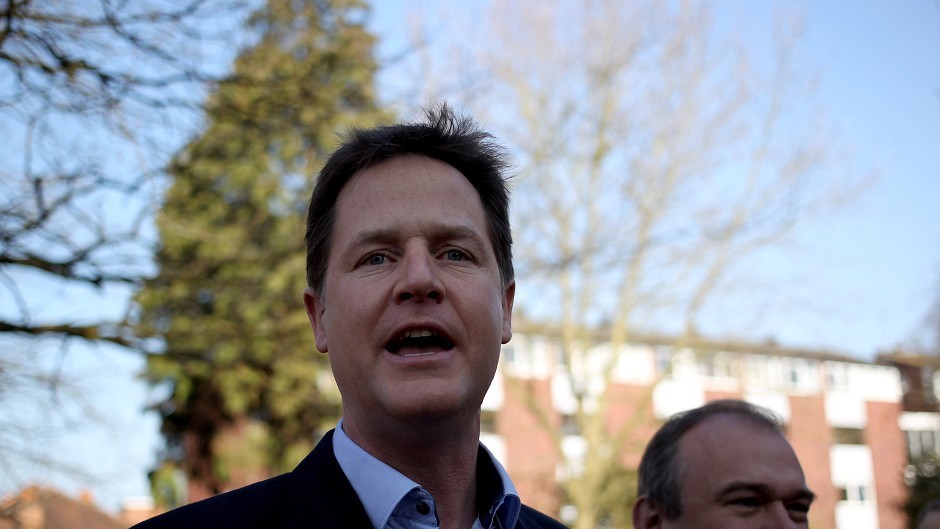 Nick Clegg will arrive in the north-east today to make a desperate plea directly to Labour and Conservative voters to help save his candidates and block the SNP.
The Liberal Democrat leader will claim that it is a straight fight between his party and the Nationalists in 11 Scottish seats.
The constituencies include Gordon, Orkney and Shetland, Inverness, Nairn, Badenoch and Strathspey, Ross, Skye and Lochaber, Argyll and Bute, West Aberdeenshire and Kincardine, and Caithness, Sutherland and Easter Ross.
The unusual call for his opponents' supporters to vote tactically follows recent polls showing all of these Lib Dem seats are poised to fall to the SNP, with the possible exception of Orkney and Shetland.
Mr Clegg will today visit Gordon, where his party his attempting to fend off the challenge from Alex Salmond, and West Aberdeenshire and Kincardine, previously represented by Sir Robert Smith, who faces a fight with both the SNP and the Tories.
The deputy prime minister will say: "In 11 Scottish seats, you face a simple choice: do you want an SNP MP or a Liberal Democrat MP?
"In these seats the Liberal Democrat candidate is the only one that is in a position to beat the SNP.
"So if you are someone who is considering voting for the Conservative or Labour candidate, my message to you is this: lend us your vote and we can stop the SNP winning in your constituency."
He will also attack the SNP over its plans for full fiscal autonomy.
"The SNP are not the party of Scotland, they are the party of debt. They want to borrow more and more money – an eye watering £180billion – and their plans for full fiscal autonomy will cost the people of Scotland £7.6billion," he will say.