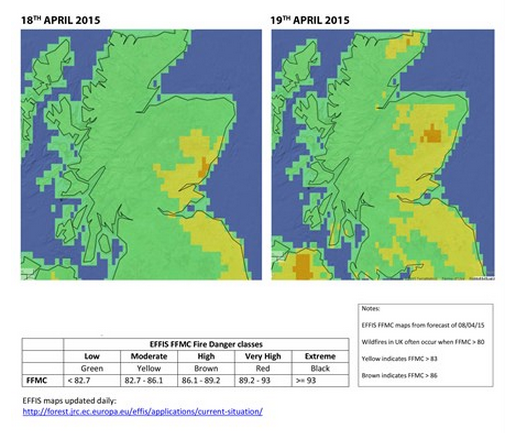 Wildfire warnings have been extended across much of the north and north-east of Scotland following another week of warm, dry weather.
The Scottish Fire and Rescue Service (SFRS) and the Scottish Wildfire Forum (SWF) have put the region on moderate to high alert for the weekend.
It follows a string of incidents in recent days, including a blaze which burned through a forest near Banchory's Raemoir Hotel on Wednesday night.
Firefighters in Moray took more than three hours to bring a gorse fire, near Cummingston, under control on Monday
And on Saturday a wildfire that had been blazing near Dornoch for three days was only extinguished after it started to rain. By then it had burned more than 3,200 acres of heather, gorse and trees.
In a statement yesterday, the SFRS said: "We are now well into that time of year when the risk of wildfire is at its highest and SFRS is already working closely with land managers and appealing to tourists and communities to help reduce the number of fires in a bid to protect the countryside and its residents.
"SFRS and SWF are reminding the public to be extra careful during this period of heightened risk and not to carelessly dispose of smoking materials, ensure BBQs are properly extinguished and try to avoid setting campfires.
Andy Coueslant, the chairman of the SWF said: "We continue to raise awareness in an effort to reduce the number of wildfire incidents across the country.
"Information and advice is readily available about preventing countryside fires on the SFSR website and in the Scottish Outdoor Access Code.
"SFRS wants people to act responsibly in a countryside environment, such as properly disposing of smoking materials to prevent these fires happening in the first place."