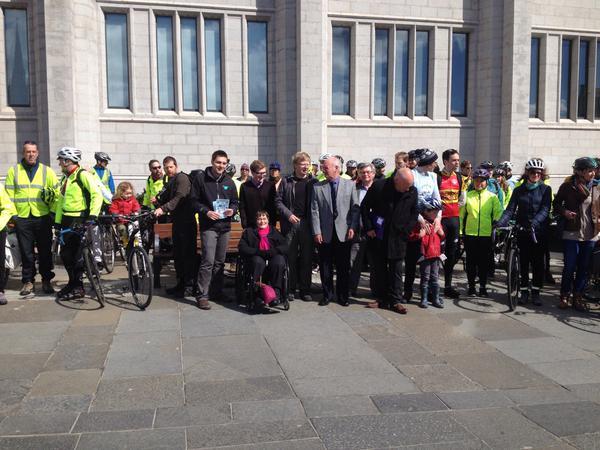 Cyclists took to the streets of Aberdeen today as they campaigned to make Scotland's roads safer and more accommodating for bikes.
Almost 90 cyclist are said to have spanned the city as part of the "Pedal on Parliament" campaign which aims to put pressure on the Scottish Parliament to make the country more cycle-friendly.
It comes just hours after a 27-year-old cyclist was taken to Aberdeen Royal Infirmary with leg injuries following a collision with a white Ford Focus at Aberdeen's Queen's Cross roundabout.
The participants rallied outside Marischal College at the end of the cycle around the city, where they met with councillors including Gordon Townson, Ian Yuill and Ross Thomson.
Today I supported @aberdeenCF #pedalonparliament great to see such a fantastic turnout of local people pic.twitter.com/9thcuLpyrv

— Ross Thomson MSP (@RossThomsonMSP) April 25, 2015
Great to see all party support for #pedalonparliament in #Abetdeen @annebegg @RossThomsonTory pic.twitter.com/EZNqOTzmRn

— Ian Yuill (@IanYuill) April 25, 2015
Great weather for those cycling today. Sad i couldnt join with my bike due to workig all day #aberdeen #cycling #bike pic.twitter.com/cgkktcu3fH

— Xanthe Bod (@xanthebod) April 25, 2015
Pedal on Parliament Aberdeen. #POP2015 #pedalonparliament pic.twitter.com/cgR9LByfVo

— Aberdeen Cycle Cam (@ABZ_Cyclecam) April 25, 2015
It was organised by the Aberdeen Cycle Forum in solidarity with the fourth ever Pedal on Parliament demonstration being held in Edinburgh today, which ended at the Scottish Parliament building.
The campaigners says that people in Scotland are being put off cycling on our roads due to safety concerns, and that not enough is being done to change this.
They also argue that the environmental, economical and health benefits of cycling needs to be promoted more by the government.
Beautiful day to #PedalOnParliament pic.twitter.com/tUlXJKrBn9

— Michael MacLeod (@MichaelMacLeod1) April 25, 2015