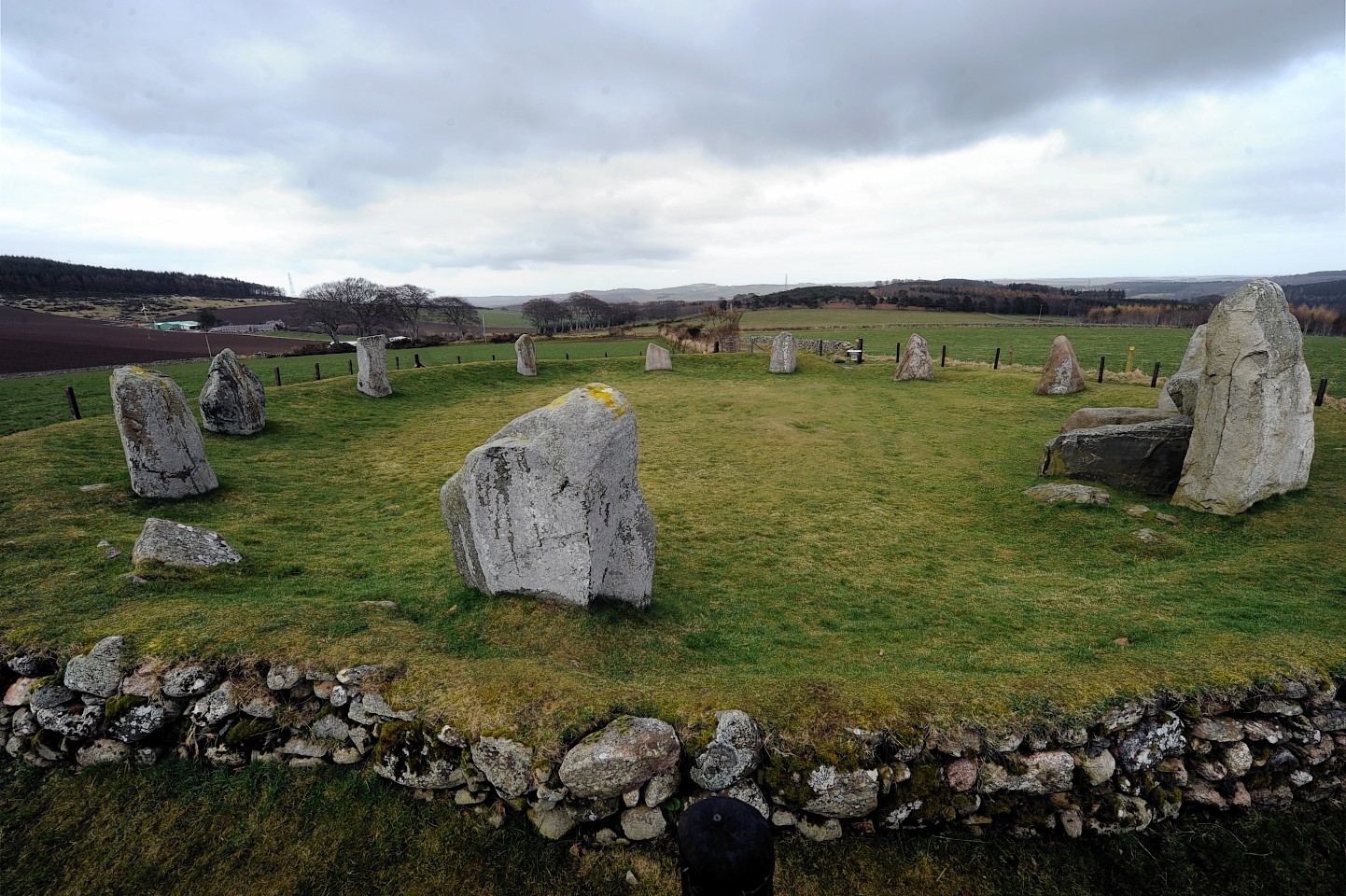 A rural retreat has come on the market in Aberdeenshire with an extraordinary selling point.
Easter Aquhorthies Farm comes complete with one of Scotland's most impressive recumbent stone circles.
The 65ft diameter ring of ancient stones is included in the £1,345million asking price for the Aberdeenshire farm, situated two miles from Inverurie.
Easter Aquhorthies Stone Circle is thought to be one of the earliest built in the north-east.
Believed to date back to the third millennium BC, it consists of 11 upright stones.
Lying horizontally flanked by the two tallest stones, each up to 8ft tall, is the alter or recumbent stone .
But the original reason for erecting these monuments to our Bronze Age ancestors remains shrouded in mystery.
Some believe the north-east's recumbent stone circles were used to host human sacrifices, or that they mark the sites of burial grounds or the earliest astronomical experiments.
Gordon Noble, senior lecturer in archaeology at the University of Aberdeen, said: "Recumbent stone circles are a distinctive feature of the landscape across Aberdeenshire and north-east Scotland.
"The Easter Aquhorthies Stone Circile is one of the best preserved examples of the 100 or so stone circles we have records of.
"Only a few have been excavated in recent years, but often we have found evidence of cremation pyres.
"Building the recumbent stone circle is often the last phase in construction of a prominent monument to the dead as a way of sealing off the site.
"It's definitely something to be proud of having in your garden."
Even though the stones are on private property, they are a scheduled monument of national importance and are accessible to the public.
Historic Scotland confirmed that any change in ownership of the land would not affect the status of the site or the public right of access.
The modern five-bedroom farmhouse, built in 1992, overlooks the Don Valley, is set in 127 acres of rural land.
It is for sale as a whole or in up to five separate lots.
There is also a traditional U-shaped granite steading with planning permission for four homes and a greenfield site with planning approval for three new houses.