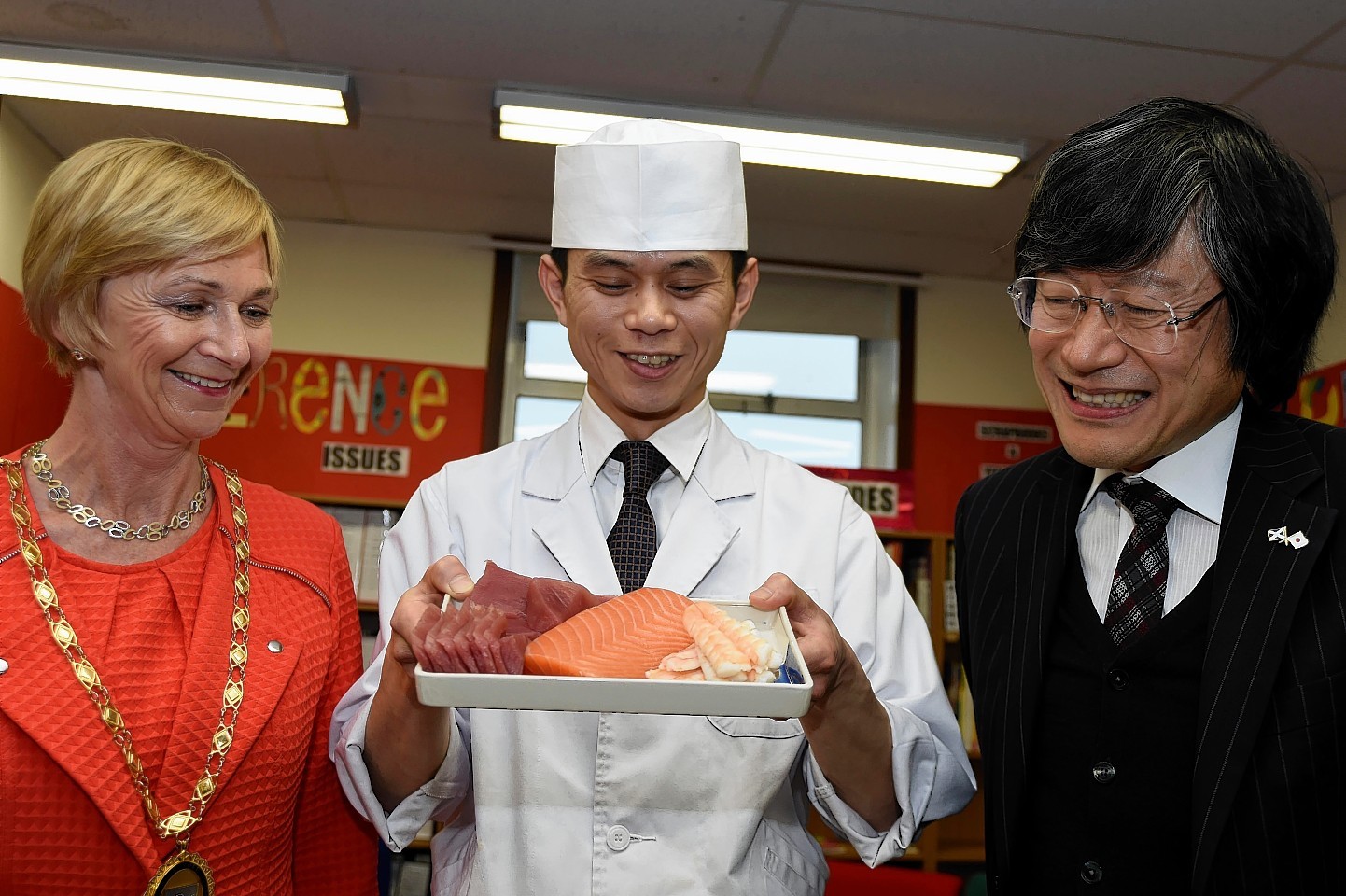 The consul general of Japan has said that he hopes to gap the bridge between his country and the birthplace of one of its most famous citizens.
Hajime Kitaoka was speaking during a visit to Fraserburgh Academy yesterday, where he shared some insights into how the Scottish Samurai – Thomas Blake Glover – is remembered today.
Glover, who was born in Fraserburgh in 1838, moved to Nagasaki in his early 20s and played a crucial role in the industrialisation of Japan.
The entrepreneur helped to found the shipbuilding company which was later to become the Mitsubishi Corporation, and to establish the Japan Brewery Company, which later became the Kirin Brewery Company.
Mr Kitaoka brought his personal sushi chef to Fraserburgh Academy yesterday and pupils were shown how to prepare several raw fish dishes.
Throughout the day students embraced other aspects of the culture of the far east by taking part in Japanese language and origami classes.
Mr Kitaoka said: "This is my third visit to Fraserburgh and I have been very much impressed by a deep affection and enthusiasm for Japan by the people of Fraserburgh.
"Fraserburgh is very close to Japan, but at the same time is very far from Japan. It's sort of a contradiction – close because of it being the birthplace of Thomas Glover but, geographically, is so remote. How to reconcile these contractions, that is my job.
"Fraserburgh is very important for Japan. In Japan we have the Glover Garden and it is visited by more than one million visitors each year – everyone in Japan knows Thomas Blake Glover was born in Scotland."
Yuki Hamasaki, the consul's chef, prepared two classic styles of sushi – Maki Zushi where rice and fish are rolled together then sliced into round pieces and Nigiri Zushi where pieces of fish are served on top of small portions of seasoned rice.
Provost Jill Webster added: "We're delighted to welcome to Fraserburgh and Aberdeenshire the Japanese consul general.
"I think the pupils have been very much enjoying Japanese words and the language, it broadens their approach and helps them understand the association between Fraserburgh and Japan."