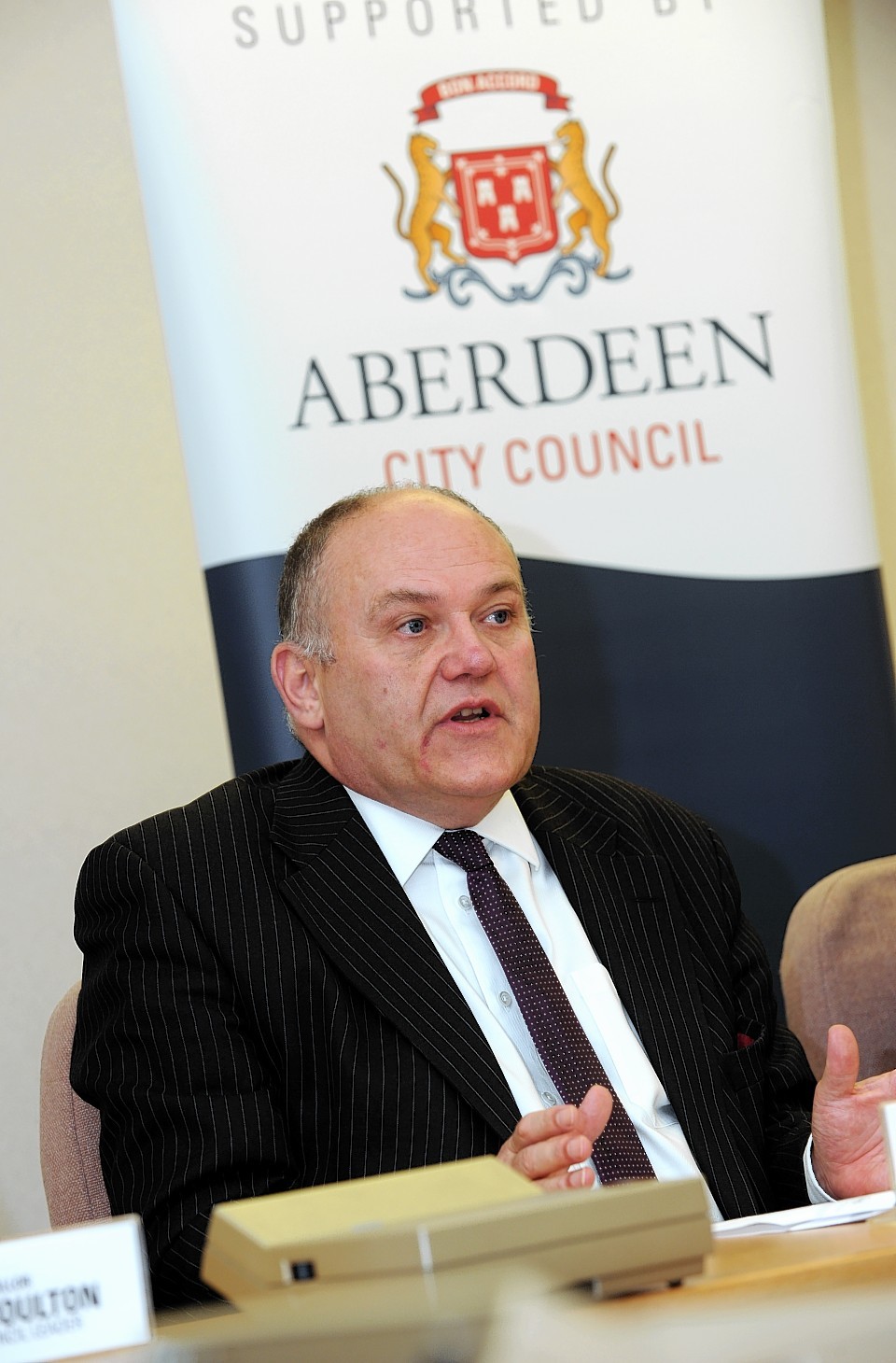 THE plot to oust Barney Crockett as council leader was hatched while he was thousands of miles away representing Aberdeen in Houston, the Press and Journal can reveal.
Sources close to the councillor claim he was betrayed by his friend and political ally – finance convener Willie Young – who is understood to have orchestrated his departure.
He will officially be replaced by councillor Jenny Laing this morning.
In an exclusive interview last night, Mr Crockett admitted that he had been "naive" in placing his trust in certain colleagues.
<iframe id="buto_iframe_jwPrl" src="
http://embed.buto.tv/jwPrl
" width="640″ height="360″ frameborder="0″ scrolling="no"></iframe>
"It came as a surprise and in my view it isn't Labour's finest hour – it could have been dealt with in a very different way," he said.
"I was unaware of any misgivings about my leadership."
Mr Crockett spent last week in America with 300 north-east business leaders attending the Offshore Technology Conference (OTC) in Houston.
It was there that he received a call from Mr Young telling him that his time at the top may be up, and that he could face a challenge at the group's annual meeting, which was held on Monday night.
There had been growing disquiet among his colleagues regarding the amount of time he spent away from the town house as he sought to mend his administration's links with business – links which were shattered when the City Garden Project was blocked.
But Mr Crockett made no apology yesterday for the way he spent his time in charge.
"I will continue to be convener of enterprise and continue to drive that 'business aware' agenda that the council should have, while being regretful about the way things have played out regarding the leadership," he said.
"But I don't think it is the right message to send out about the city having the fifth leader in five years. I think the key message we have tried to bring to the council is one of stability."
Asked whether Mr Young had orchestrated his departure, Mr Crockett said: "I don't want to bring emotion into it. I have never asked for loyalty – either in the past or now – because I don't think that is the right way to do it.
"I think that these things can be dealt with in a longer term and more constructive way than it has been done. But what's done is done.
"I made a promise to myself when I took the job that every decision I took would be governed by what is best for the city, not for my own political gain. People might be sceptical about hearing that from a politician.
"The evidence I would put forward for that is I knew the Japan trip (Mr Crockett drew criticism last year after he flew to Japan to attend a conference for 90 minutes) would not reflect positively for me politically, but I made that decision on what was best for the city.
"The business community has come to appreciate my stance, coming from a very difficult conflict when we came in.
"I think I have tried to bridge that gap and I think I have been successful in working with business to do that. I'm quite surprised that was the motivation behind the change."
He added: "I think I am naive in terms of I take people very much on trust, always, which may not be normal for a politician. But I take pride in that."
Another flashpoint of Mr Crockett's tenure came when the administration "banned" Scottish ministers from council premises after First Minister Alex Salmond visited a school during a by-election campaign.
It was suggested yesterday that Mr Crockett's departure would help draw a line under the simmering tensions, but he insisted he was not behind the rows.
But he said that once the "storm" had settled, he would be very sad to be leaving office.
"It is an emotional thing to lose the leadership of a great city. Obviously, I love being the leader and I will continue to serve the city in any way I can," he said.
"That's politics. It was a close partnership that I had with Willie, but I only entered politics in my 50s, so I am not a career politician and I can deal with these things in a dispassionate way.
"I just have to accept it."