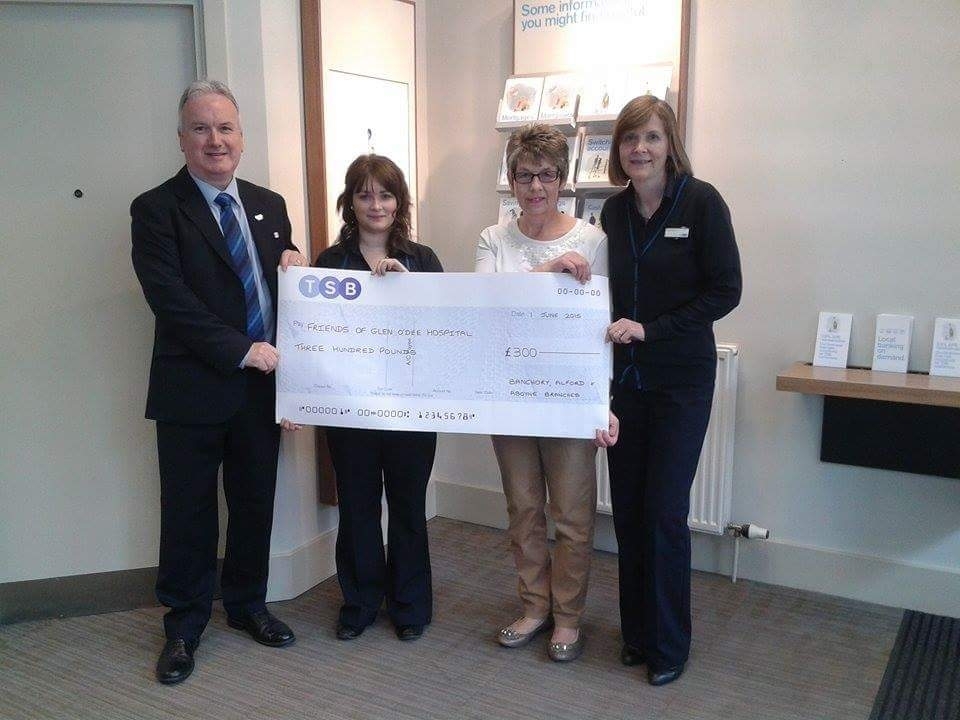 A group which supports an Aberdeenshire community hospital has been given the backing of its local bank.
The Friends of Glen O'Dee in Banchory has been announced as TSB Bank's first local charity partner for the Banchory, Alford and Aboyne area.
The new partnership was marked by the donation of £300 by TSB Banchory manager, Neil Hunter, to charity champion, Karen Shepherd.
The hospital will now benefit from fundraising activities in the Deeside area and will involve bank staff volunteering to aid the friends group.
Treasurer at Friends Of Glen O'Dee, Agnes McKenzie, said: "We are delighted to have been selected as TSB's local charity partner.
"The money raised will help provide home comforts for patients who are staying at the hospital and help provide much needed equipment.
"The money donated is well used to provide care and support for those who need it, and their families. It's also fantastic to see TSB recognising and supporting local charities in Banchory."
Mr Hunter said: "I'm delighted to announce Friends Of Glen O'Dee as our first local charity partner in the Banchory area.
"Friends Of Glen O'Dee do some amazing work in the area and it was really important to us to pick a charity partner that gives so much back to the community.
"We can't wait to get our fundraising off the ground and work together to make a real impact locally."