The 1,000-tonne crane that will be used to lay Aberdeen's new congestion-busting bridge was pieced together yesterday.
The giant machine was due to begin lifting the first steel beam that will form the £18million third bridge crossing of the River Don today.
However, it was feared last night that the adverse weather conditions could delay the construction schedule.
Enormous 60-tonne L-shaped beams were delivered to Aberdeen last month, as long-awaited plans to ease gridlock for tens of thousands of north-east motorists finally take shape.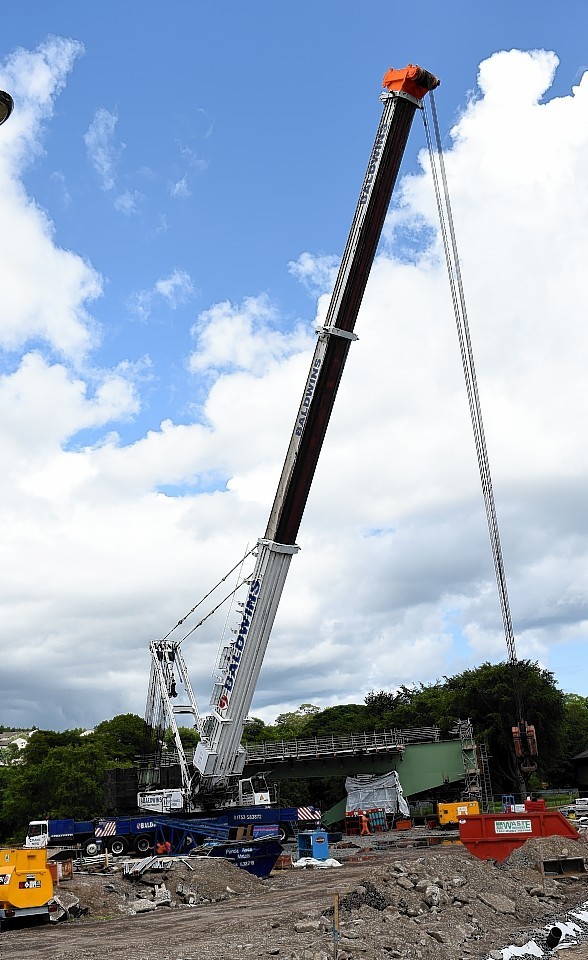 The project requires the construction of two bridges, the first of which will be over the Mill Lade at Grandholm Village, while the second will span the River Don.
A team from Balfour Beatty, the main contractors, has constructed a viewing area on the south side of the river, on Gordon's Mills Road.
Work on the bridge started in September, and is expected to be finished early next year. It will feature two footpaths, a cycleway, and two lanes for traffic.
Conservative councillor Ross Thomson has been a major backer of the third Don crossing project.
"We've got this massive crane which is going to lift the steel beams into place, although I think it's weather dependent," he said.
"It's obviously a sign of the great progress that's been made with the construction of the bridge and it's great that so many people can watch it come together.
"I think some people were a bit sceptical that it would happen because it has been talked about for about 30 years.
"This stage is key because now we will actually be able to see it across the river – you'll physically see the structure and I think it will be iconic."