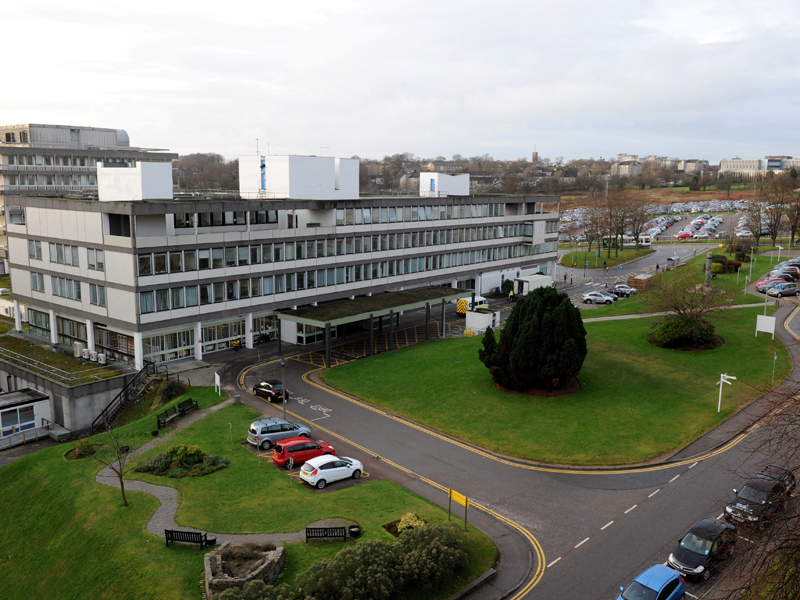 Legal highs users are being admitted to the north-east's biggest hospital with internal injuries as severe as those suffered by car crash victims.
Medics at Aberdeen Royal Infirmary are treating someone every single day for the after-effects of risking their lives by taking over-the-counter psychoactive substances.
Last night, one senior doctor said concern was growing about the extent of the damage being suffered by some users and the long-term impact on their health.
Professor James Ferguson revealed four men in their 30s have been admitted to the hospital in the past few weeks with levels of muscle breakdown normally seen in people who have suffered crush injuries – such as those sustained in road accidents or earthquakes.
Healthy muscle would return an enzyme test result of 300 or under – but one man returned a result of 167,000 after taking legal highs.
Prof Ferguson, a consultant surgeon in emergency medicine at ARI, said: "We are seeing some really ridiculously high levels.
"If you are using these legal highs again and again and again, you have to know what the long-term effects are going to be.
"This is a significant workload for us just now and it is a regular workload."
He said the four cases indicated that a new batch of New Psychoactive Substances (NPS) had arrived in the north east.
Prof Ferguson said: "Obviously, I am worried about the people who we see at hospital, but I am also worried about those who use legal highs who we don't see."
He warned that muscle breakdown could lead to tissue in the blood stream, which could ultimately lead to liver problems, renal failure – and potentially death.
He said some users had suffered muscle damage after just one dose of NPS and that it was not uncommon to see people in the 40s or 50s in casualty who had taken legal highs.
The surgeon added that NPSs were often taken by those who had historically used illegal drugs.
And he revealed that more people were now being treated in Aberdeen after taking legal highs than after using illicit substances.
Prof Ferguson said: "Folk are buying these drugs in professional-looking packets, they have flash names which makes them more attractive and adds to the mystique that it is a safe thing to do.
"The problem is that no one checks what is in that packet."
A number of legal high shops are operating in Aberdeen.
Harminasion in George Street was shut after police applied for an antisocial behaviour closure order last month but its owners have reopened at another premises in King Street.
Last week, new shop Happy Haze was getting ready to open in Skene Square.
The UK Government is currently working on a bill to tackle the growing use of legal highs, which have been linked to 132 deaths between 2009 and 2014.
Luan Grugeon, of Drugs Action in Aberdeen, said the service was now seeing around 30 people a month with issues linked to NPS use.
Ms Grugeon said: "The numbers have increased significantly.
"Because these substances are legal and also very cheap, people assume they can't be very harmful.
"But these substances are not tested and a drug that is sold under one name one week could be sold under a different name the next week.
"There is no information about the long-term health affects of these substances and that is something we are very concerned about.
"As a charity, we don't really use scare tactics but our main message has to be that these drugs are incredibly unpredictable."
Aberdeen Central MSP Kevin Stewart, said: "This is an extremely worrying situation and with more outlets selling new psychoactive substances, it is likely to be a growing problem.
"I have already written to the Scottish and UK governments calling for action as I believe shops selling so-called legal highs should at the very least be licensed.
"I also believe that more must be done to inform young people that although these substances are not illegal they are very dangerous and that taking NPS is a massive gamble that could lead to disaster."