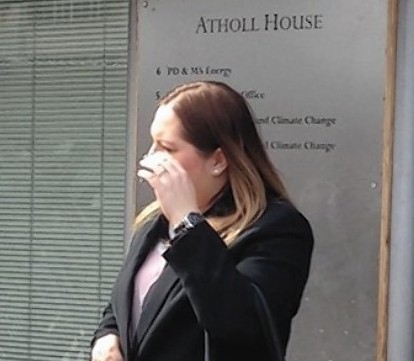 The boss of a north-east fish processing firm yesterday defended the decision to discipline an employee who spoke her native Polish at work.
Whitelink Seafoods in Fraserburgh introduced a new rule last year, banning staff from speaking anything but in English during working hours.
The firm say it is to ensure there is "better communication" on the factory floor and to improve safety.
But payroll administrator Magdalena Knoieczna has accused the firm of race discrimination, and is suing them for unfair dismissal after she was sacked last June shortly after being given a letter containing a number of allegations – one of which referred to her talking to a colleague in Polish in reception.
An employment tribunal got under way in Aberdeen in April, and resumed yesterday.
Director James Sutherland, who oversaw Mrs Knoieczna's appeal against her dismissal, yesterday insisted she had "refused" to follow the rules – despite being able to speak English.
He dismissed her claims that 90% of the workforce could not speak English, and said supervisors had graded their teams as "poor", "basic" and "good" – with about 17% being described as the former.
Asked by solicitor Angela McCracken what impact the policy would have had on her client, Mr Sutherland replied: "I don't think it would have affected her because of her ability to speak English quite fluently even though it's not her mother tongue."
Miss McCracken suggested the aim of creating better communication among workers was being undermined if those with poor English skills feared the consequences of failing to comply with the ban.
But Mr Sutherland insisted: "We have to take every individual person on a case by case basis. If they had no English or are very poor, we can't force them to learn English within a certain period of time.
"But for a person who can speak English but made the choice to speak Polish, there has to be repercussions for that. That's a refusal.
"You can't have a rule in place if you're not going to enforce it."
Tribunal judge Nicol Hosie suggested it depended who Mrs Knoieczna had been talking to, and said it would be the most "natural thing in the world" for her to communicate in Polish if her colleague did not understand her English.
Mr Hosie will consider the evidence, along with written submissions, before making a decision on the case in the coming weeks.