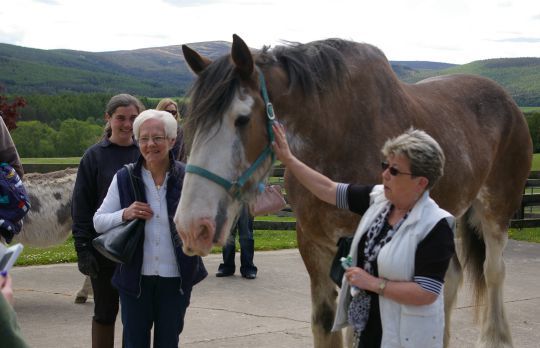 Animals lovers are being given the chance to adopt the north-east's very own gentle giant.
Digger – one of the tallest equines in Europe – lives at World Horse Welfare's Belwade Farm rescue and re-homing centre near Aboyne.
He has been placed on the charity's Adopt a Horse scheme, which gives members of the public the chance to help with his upkeep through monthly donations.
Standing at 6ft 6in, Digger is so big he has to have his bridles and horse-shoes specially-crafted to fit him and wears a rug that measures more than 7ft long.
Towering above his fellow residents at the charity's Deeside base, he is 4in shy of Europe's tallest living horse.
He qualified for a slot on the adoption programme after Whisky the donkey – who arrived seriously underweight and out of condition at the centre in 2013 – found a new home.
And Digger himself couldbe moved on to new pastures after two years on the scheme, when his suitability for re-homing will be assessed.
Manager of Belwade Farm, Eileen Gillen, said: "When we were considering potential equine candidates to replace Whisky on the Adopt a Horse scheme, Digger quite literally stood head and shoulders above the rest.
"He already has a huge following with visitors travelling from all over the UK to meet him and our adopters loved seeing him at the recent adopter's day which we held to welcome him on to the scheme and say goodbye to Whisky.
"Whisky was a great character and we're delighted that he is now in a new home, receiving the love and pampering that he deserves.
"I would say that Digger has some big shoes to fill but I think his shoes are plenty big enough already."
Digger was brought to the farm in 2007 after his previous owner began to struggle with his rapid growth – which led to issues with his hind legs and joints.
Arriving as a four-year-old, he received extensive rehabilitation and veterinary care which brought him into good physical shape.
He caught the eye of the Household Cavalry Mounted Regiment and was accepted on a two-year training programme to become a drum horse.
However, struggling to adapt to life in London he returned to Aberdeenshire in 2012.
For more information on our Adopt a Horse scheme visit:
http://www.worldhorsewelfare.org/Adopt