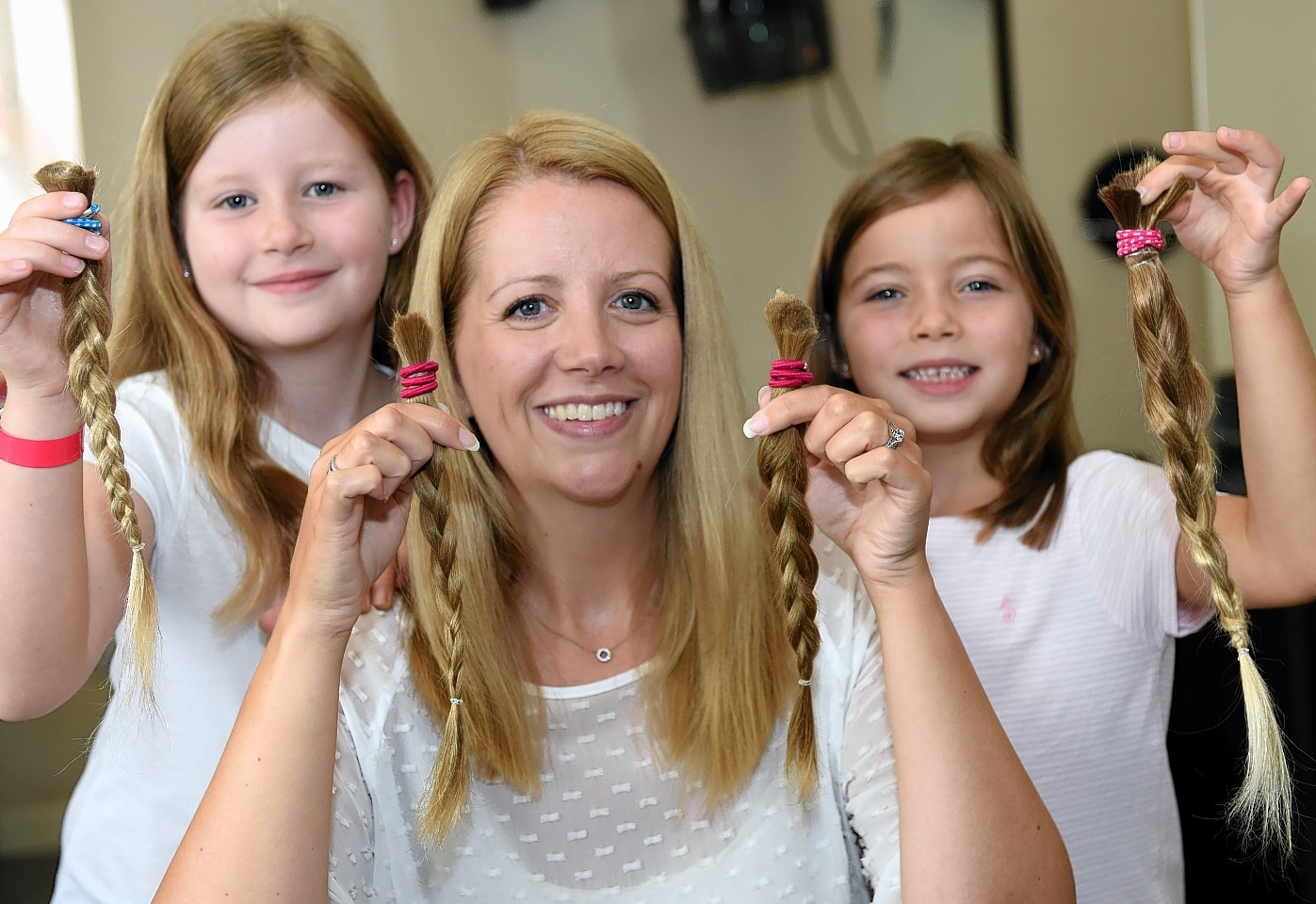 A kind-hearted schoolgirl and her big sister have donated their hair to a charity that makes wigs for children with cancer.
Six-year-old Amber Cameron was watching television last year when she announced to her mother, Pamela, that she wanted to cut her hair to it could be made into a wig.
Her eight-year-old sister Summer also then decided to the same – and their thoughtful actions inspired their mum to also get the chop.
The trio – going by the name Team Cam – got their long blonde locks cut yesterday, after letting their hair grow for a year so they could send as much as possible to the Little Princess Trust, who work to provide wigs for boys and girls going through cancer treatment.
Last night Mrs Cameron said she was very proud of her two daughters, who could sit on their hair before the big cut.
"They're aware of the good that they are doing for other children," she said. "On the way to the hairdressers, Summer said that she was really pleased that, since she's too young to have any money, could donate her hair to children that need it.
"Amber saw something on TV last year and decided she wanted to donate her hair.
"My husband runs marathons for charity and he did one for Children with Cancer, and I think that's where the interest came from as we talked about when people lose their hair and why.
"She was five when she first suggested it, so it was a big decision. I'm incredibly proud of them both."
The girls, who are back home in Inverurie for the summer after recently moving to Norway, got their hair cut at Platform 1 in Oldmeldrum by family friend Mel Walker – who has previously helped local leukaemia survivor Amanda Yule raise thousands for charity.
Amber was first in line, and had about 13in chopped. Mrs Cameron and Summer each donated about seven inches of hair.
Mrs Cameron said they were hoping to raise £1,050 as it costs £350 to make just one child's wig.
She added: "When it was first suggested, I decided to let their grow for an extra year so that there would be plenty to cut.
"Amber has already said when hers grows back she wants to do it again, and will keeping doing it. We're really proud of the girls."
To sponsor Team Cam, visit www.justgiving.com/Pamela-Cameron