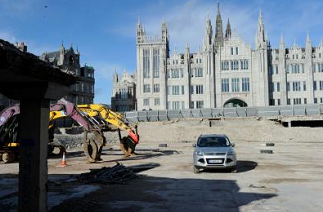 Opponents of Aberdeen's controversial Marischal Square scheme have called for work to be halted immediately amid doubts over building materials.
Muse Developments, the firm behind the £107million office and hotel project, was supposed to provide specific details on the mix of concrete, glass and granite that would be used before construction began.
However, Aberdeen City Council has yet to be given the final specifications, despite work already being under way at the former St Nicholas House site on Broad Street.
The local authority has now agreed to give the developer until September to produce the finalised details.
City-centre MSP Kevin Stewart described the situation as "incredible" last night, and said it was no surprise that many local residents were "cynical and suspicious" about the way the project had been handled by the council.
Lorna McHattie, a senior figure in the Reject Marischal Square Development campaign group, said construction work should be suspended immediately.
"Our view would be that considering the failure to conform to all the conditions as set out in the planning approval there should be an immediate moratorium on all work on site until all the conditions have been met," she said.
"What this shows is that there's just not a tight enough control on what's happening here, and there's not enough enforcement of the conditions as the public would expect."
It is understood that Muse has still to decide on the exact shades of granite to use, as well as the proportion of glass and concrete.
A spokesman for the firm said: "As has been the case throughout the process, we are working closely with Aberdeen City Council on every aspect of the Marischal Square development.
"We are working towards a September deadline to agree the final details on some of the external materials being used on a project which remains on course for a July 2017 completion."
A city council spokesman said: "The initial stages of development have started on Marischal Square but work on the buildings has not yet commenced.
"Planning authorities are required to exercise the principle of 'reasonableness' when considering whether to use their discretionary enforcement powers.
"In this instance, it was judged that these initial works should be allowed to continue and that details of materials and finishes will be presented by the developers in due course."
The Press and Journal reported yesterday that opponents of the Marischal Square development were due to meet the Audit Scotland watchdog next month to express their concerns about the handling of the project.
Mr Stewart, SNP MSP for Aberdeen Central, said: "It is incredible that works have been allowed to progress without finalised plans and building material specifications being agreed.
"The council say that they exercise the principle of 'reasonableness' as a planning authority, and it's a pity they don't apply reasonableness when it comes to answering the questions that opponents of the scheme have posed.
"It is not surprising that many folk in this city are cynical and suspicious about how this entire process has been handled."
City council finance convener Willie Young insisted: "We're progressing well with the initial work on Marischal Square and I'm confident that Muse will comply with the various conditions that the planning department has agreed."