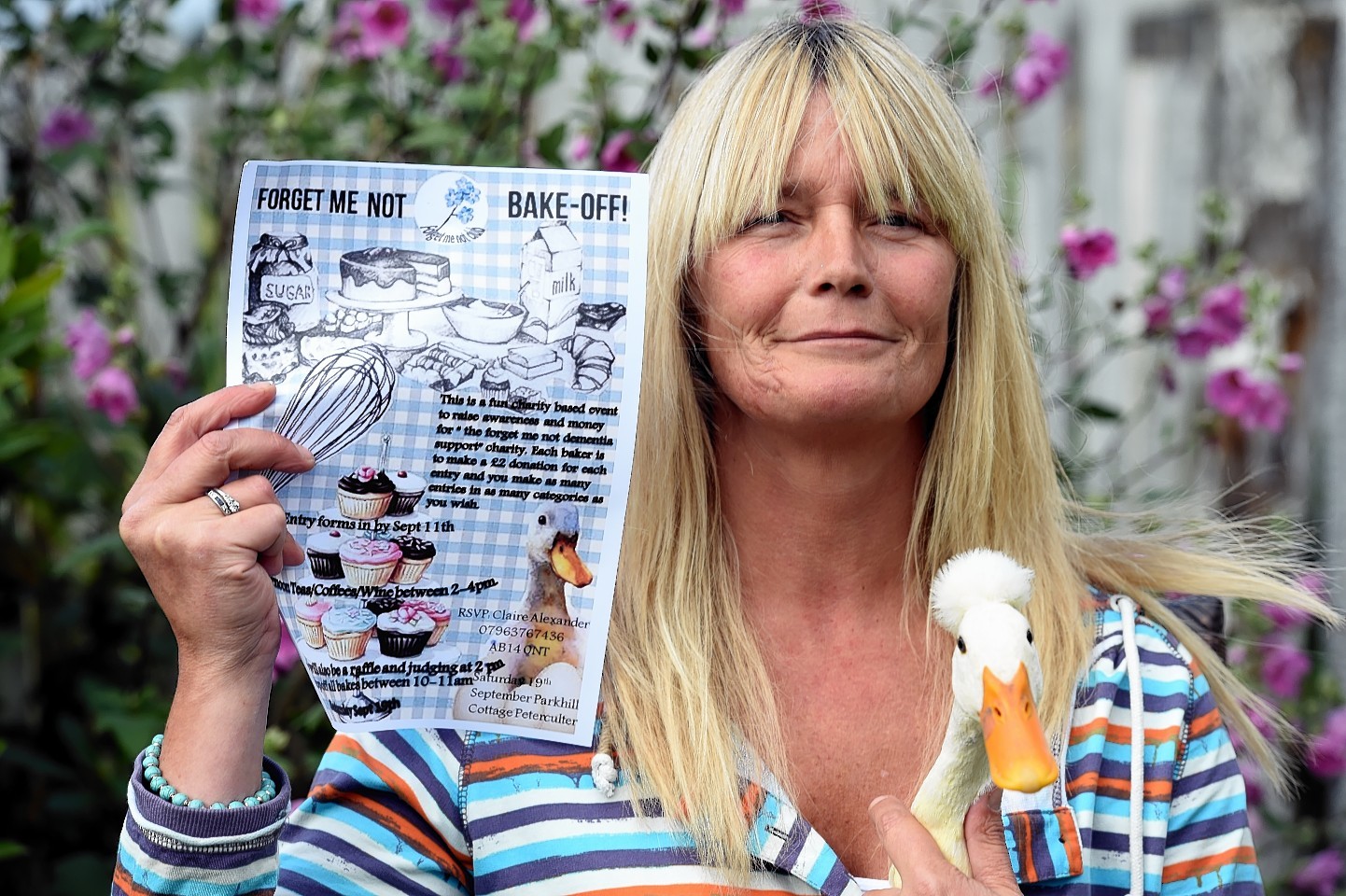 An Aberdeen woman will open up her home for a charity baking challenge today to raise money for charity.
Claire Alexander decided to host the event, inspired by the hugely popular Great British Bake Off, to raise money for Banchory dementia charity the Forget-Me-Not Club.
Participants can choose showing off their talents in a range of categories, including biscuits, cakes and savoury treats.
Entry is £2, and all money raised will go to the charity, which runs a resource centre to give people with dementia a place to meet while their carers have some respite time.
Miss Alexander, who lives at Parkhill Cottage, Culter, has seen firsthand the support the charity offers, and decided to do her bit to repay their kindness.
She said: "I've got a lot of ducks who lay fresh eggs on a daily basis so I thought I'd put them to good use.
"I was inspired to do a bake off to raise money for something close to me.
"A member of my family has been affected by dementia and I've seen the wonderful services which Forget Me Not provides."
As well as the baking competition, there will be a raffle, with prizes including Sunday lunch at the Marcliffe Hotel and vouchers for hair salons and jewellery.
Miss Alexander added: "I was amazed do many people got back to me, around 25 local businesses said they would donate prizes."
Yesterday, Heather Morrison, operations director for the Forget Me Not club, said encouraged people to get involved with the event.
She said: "Forget Me Not looks to support carers by raising awareness of how lonely it can be having dementia and how much people value the support we provide.
"For the charity it is as much about money as awareness, the two go hand in hand.
"We are exceptionally grateful to Miss Alexander for the awareness her day will raise."
Anyone wanting to take part in the event should arrive at Miss Alexander's home, just off Bucklerburn Road – postcode AB14 0NT – at 2pm today.
Meanwhile, the charity has also been given a boost through Business Network International's Bravo Chapter.
Mrs Morrison challenged members to make £20 grow, with Colin Humphries, of Claremont Office Interiors, managing to raise the most – an impressive £650 from a race night.
Others sold baking, or did collections at work, while Andrew Mein, of PiSYS helped set up an IT system at the charity's resource centre and Derek Emslie, of Lamont Design, created them a website.