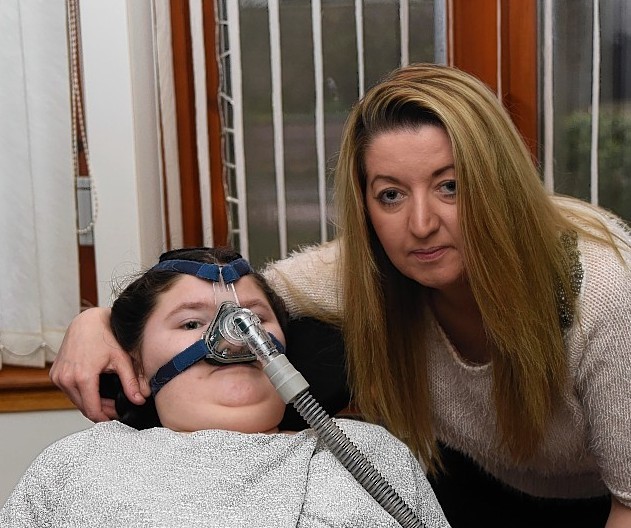 A north-east teenager has finally started receiving life-saving treatment after NHS Grampian agreed to pay for it – despite doctors not agreeing it was the right course of action.
Elysha Robertson suffers from Brown-Vialetto-Van Laere Syndrome, which means she cannot breathe without a ventilator or eat without a gastronomy tube.
The 13-year-old, of Fraserburgh, is also confined to a wheelchair and cannot sit upright.
Her family fought for her to have life-saving intravenous immunoglobulin therapy (IVIG) in the north-east, but NHS Grampian refused to administer it.
They have now moved to Sheffield to secure the therapy, as the health board there believe it is the best course of action.
In a new twist, however, NHS Grampian has agreed to pay the treatment costs, which run into thousands of pounds.
Doctors in the north-east had originally diagnosed the teenager with a different condition and withdrew IVIG, despite it improving the teenager's condition when she first had it five years ago.
Mrs Robertson said she is "relieved" Elysha is to be given a second chance.
"I remember phoning NHS Grampian to say Elysha's life is depending on them to help fund the treatment, so it's now a massive relief to all of us that this is happening," she added.
"All of our hopes are now hanging on this. I really hope this will work miracles for Elysha because it's our last hope. We are just so relieved we are getting the treatment for Elysha."
A spokesman for NHS Grampian said it would now cover the costs associated with treating the brave youngster.
He said: "The foremost priority is the clinical care of Elysha. NHS Grampian will of course pay the costs associated with the treatment judged appropriate by clinicians in Sheffield, but would stress that this is a separate issue form the clinical care.
"The Sheffield team has been explicitly asked to proceed with the treatment."
A spokesman for Sheffield Children's NHS Foundation Trust added that a plan was now being created to treat Elysha.
"With the go-ahead from NHS Grampian, we are putting a clinical plan in place for Elysha and arranging for her to begin IVIG treatment."