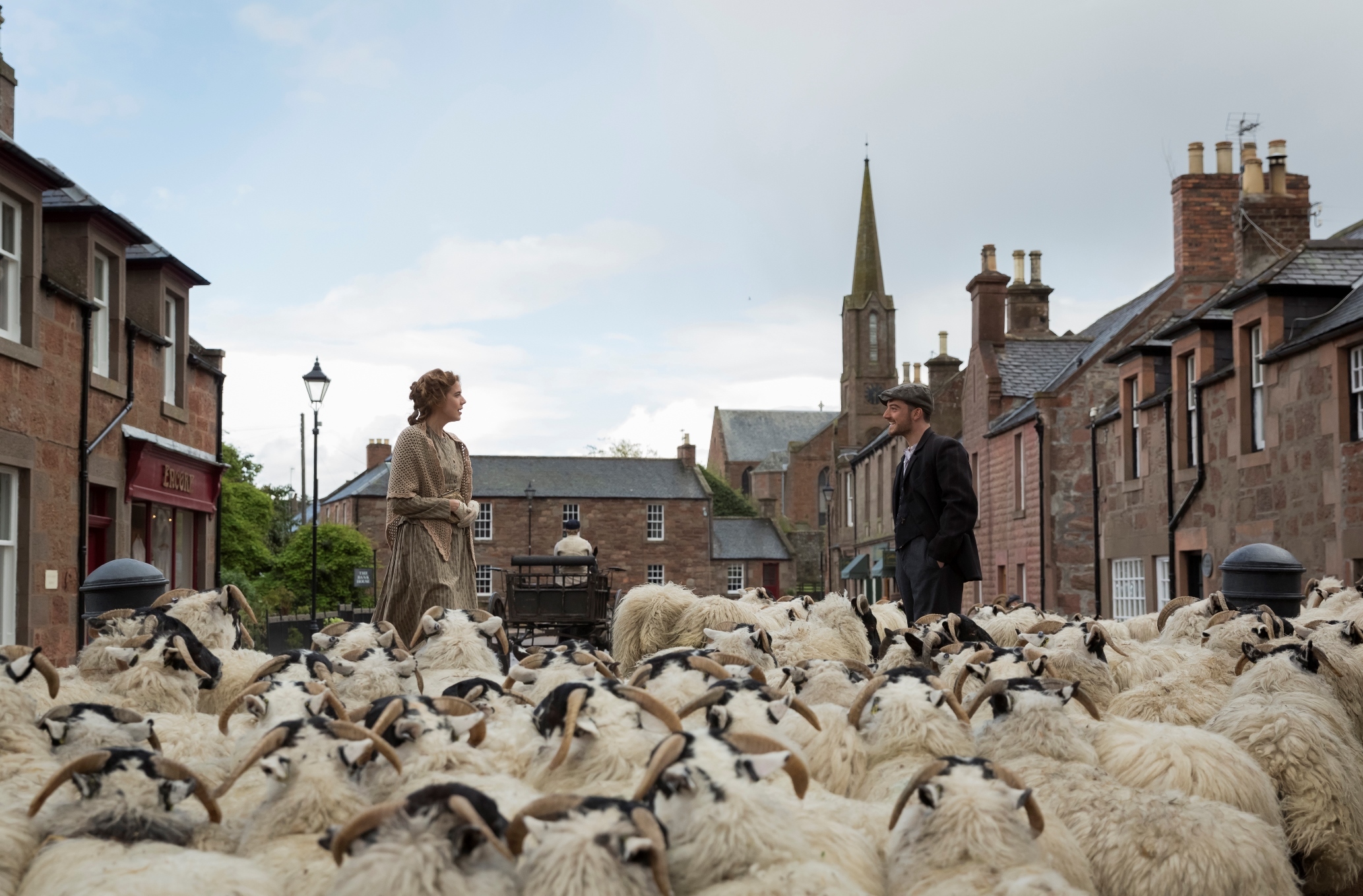 We fade into a field of ripening barley. A bird sings, the crops shudder in a breeze and from out the landscape pops the face of Chris Guthrie – Sunset Song's protagonist.
"You'll need to face men for yourself" says her mother resoundingly in the early stages of the film. And Sunset Song is haunted by these words. An adaptation of Mearns man, Lewis Grassic Gibbon's, classic novel of the same name, it is a tale of ephemeral joys interspersed with arduous sufferings.
The story begins with Agyness Deyn's Chris, a 14-year-old  farmer's daughter in the prime of her youth. This youngster harbours ambitions of becoming a teacher, of a life beyond her homeland in the community of Kinraddie – a fictional Mearns locale somewhere in the region of Drumlithie. When her mother commits suicide – killing also her unborn child – Chris' life spirals. Bullied by their abusive, violent father John Guthrie (Peter Mullan), her brother leaves for abroad and she is forced into a life of household duties imprisoned by the spiteful patriarch.
A glimmer of hope wanders into her life in the form of Ewan Tavendale (Kevin Guthrie), a local farmer whom she falls in love with and later marries. Their ordinary yet idyllic existence is cut short by the outbreak of World War I – a conflict which devastates both their world and their relationship.
Running on natural light – sun rays creeping in through window panes, candelight, fireplace flames – director Terence Davies' film unfolds with his trademark authenticity and realism. As a filmmaker he always strives to depict the lives of everyday, working people in a frank and honest way. Patient, contemplative takes perpetuate Sunset Song; its soundtrack often no more than a ticking clock or a ringing bell.
The film is a stark portrayal of a woman empowered and liberated by death and emboldened by her own hardships and sorrow. Though the story itself is now almost a century old, Chris is very much a character of the here and now. And Deyn cements her acting talents with a measured and captivating performance, which comes to a head in a heart-wrenching scene where the character receives news from the frontline. The Lancaster-born actress also takes a valiant stab at the Scots dialect.
Deyn has great backing from Aberdeen actor, Ian Pirie, as the affable Chae Strachan and a solid, transformative turn from Kevin Guthrie – both sweetheart and villain. Mullan is outstanding as the hypocritically pious John in a performance that grabs you by the throat. The Scots actor brings a physicality to the character and may be the first man in cinema history to make the art of patiently smoking a pipe look aggressive and threatening.
Davies stark depiction of working life in Aberdeenshire conjures up the spirit of Italian neorealism and the films of the great Robert Bresson. Furthermore, Chris is a Davies character in the finest sense of the word. Quiet, self-contained with the air of loneliness engulfing her, even when surrounded by people at her own wedding; these are traits of many of his characters – namely Robert Tucker from his early trilogy.
Deyn's Chris is a character torn between an attachment to the land of her birth and a resentment of it, a subject also explored comprehensively by Davies in Of Time and the City. It is a theme that will hit home to many in the north-east.
That said, the absence of the Doric dialect should be noted, with many cast members – except Pirie – sticking with their West Coast tones. Minor nuances (the hearst is not the hearst, but the harvest; dinna is dinnae) may upset some, with Aberdeenshire's farming industry itself a stronghold of the "mither tongue" which many fear to be in decline.
All in all, it does very little to detract from the film. Sunset Song lives and breathes Aberdeenshire, portraying the vast, changing landscape as a place of both beauty and pain; of elation and toil. Those who know this landscape well will find it hard not to be moved as it draws to a close to the bagpipe's mournful drone.
Whether it is shots of the looming Grampian Mountains, of villagers passing through fields of barley in their Sunday church clothes, or a sweeping take of No Man's Land all dubs and barb wire – Davies succeeds in conveying Gibbon's message; that nothing in this world endures "but the land". Everything else, as Chris reminds us, is "but a breath".
Sunset Song was screened at the Belmont Filmhouse last night and will be released on December 4.