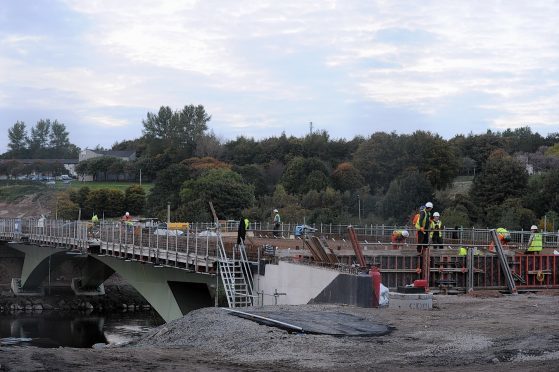 The £18million project to create the Third Don Crossing has been delayed by seven weeks.
Aberdeen City Council has confirmed work to create the bridge will not be finished until March next year, due to engineers having difficulties rerouting underground utilities.
The work is intended to ease traffic congestion in the north of the city and involves the construction of two major bridges on the River Don alongside a new road link between Grandholm and Tillydrone.
Councillor Ross Thomson, vice-convener of Aberdeen City Council's finance committee said that while delays were disappointing, the project would transform transport in the city.
He said: "I am disappointed that the re-routing of utilities to the Aberdeen Western Peripheral Route means that work above and around the immediate area is delayed.
"However, due to the huge size and scale of the project – which is Aberdeen's biggest major new bridge infrastructure for 30 years since Queen Elizabeth Bridge – it is not a surprise that some unexpected issues do crop up from time to time.
"The city council is strongly and robustly encouraging utility companies to avoid unnecessary diversions."
The project involves building a new single carriageway link road between the Parkway and Whitestripes Road junction and the Tillydrone Avenue and St Machar Drive junctions, including the construction of the new bridges.
Mr Thomson added that alongside other projects the Third Don Crossing will give Aberdeen the infrastructure it deserves.
He said: "Work and progress is continuing at a good rate over the rest of the site and once the bridge is open, people at both sides of the River Don will see a tremendous difference getting around the city.
"After 30 years, finally Aberdeen is getting the bridge it needs and deserves and this administration is getting the job done.
"Along with other major projects which Aberdeen City Council is investing in including the Aberdeen Western Peripheral Route, the A96 Park and Choose and Airport Link Road, and the Berryden Corridor, getting around the city will be transformed."