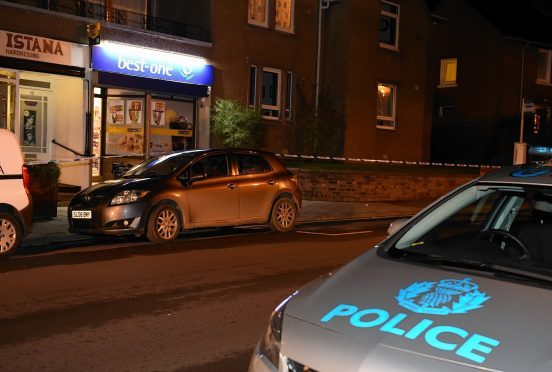 Police officers investigating an armed robbery at an Aberdeenshire shop have issued a renewed appeal for information.
Detectives believe the trio who targeted the Best One newsagent in Stonehaven may be as young as 14.
The owner of the shop was stabbed during the incident at the premises in the town's King's Road – leaving him with a deep wound on his arm.
He was taken to Aberdeen Royal Infirmary and will have to return to hospital on Monday to undergo surgery.
The man was left badly shaken – but was determined it would be business at usual at the store yesterday.
The shopkeeper said; "I was just sorting out my paperwork, when all of a sudden the three guys came.
"One of them stood outside, as the other two guys came inside, showing knives to try and rob me.
"They were very young, surprisingly young.
"They were wearing masks on their faces, they were wearing all black.
"They just started waving them around, and one guy got me from the side and stabbed me, I got hurt.
"I'll be getting major surgery this coming Monday. It's a very deep cut.
"They were only in for about three or four minutes. They took a couple of cigarette cartons, and took all the starter packs of e-cigarettes.
"I could not open my till to give them money, I needed to enter my username and password and that.
"This is the first time something like this has happened in the time I've run this store, it was scary."
Police teams, including dog units, used poles to search nearby gardens and a small grassy park behind the houses opposite the store after Thursday evening's raid.
Officers said the trio involved were aged between 14-19, of slim build and about 5ft.
Inspector Martin Burgess said: "Our inquiries are at an early stage and I am appealing to the community to come forward with information to assist us.
"I would appeal to anyone who saw anything unusual or suspicious to come forward and let us know.
"If you saw anything concerning, or anyone matching the description given, please let us know and we can follow it up.
"This is an unusual incident for Stonehaven and this behaviour will not be tolerated.
"We will be carrying out additional patrols in the area and speaking to people locally to address any concerns."
A police spokeswoman added: "Although dark at the time of the incident, there may have been people returning home from work or out walking who may have seen the suspects in and around the area of the shop.
"Officers are appealing to them to contact them if they recall seeing anything suspicious.
"The three male suspects are described as being white, aged between 14 and 19, of slim build and around five foot tall."
She added: ""This is a highly unusual incident for Stonehaven and additional patrols have, and will, continue to be carried out in the area. Officers will also be speaking to people locally to address any concerns."
Police have urged anyone with information on the robbery to contact them on 101, or Crimestoppers on 0800 555111.