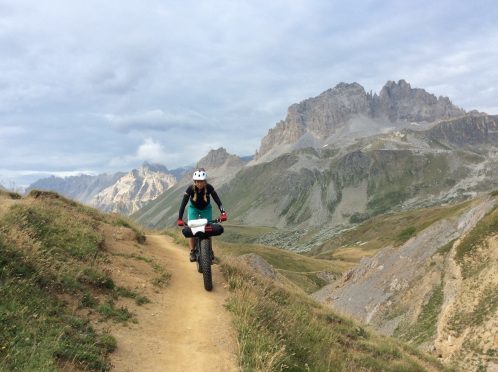 A champion mountain biker will ride into an Aberdeenshire town tomorrow to encourage young and old alike to live an active lifestyle.
Commonwealth athlete Lee Craigie will be in Huntly's Gordon Schools to speak about her life on two wheels competing in the extreme sport.
The 36-year-old won the 2013 British mountain bike championship before going on to represent her country at the 2014 Glasgow Commonwealth Games.
She worked as a mountain guide and participated in a huge range of outdoor activities, both in the UK and abroad, prior to becoming a child and adolescent psychotherapist.
Ms Craigie, originally from Glasgow, did not begin competing until the age of 26 and soon became the fastest female XCracer in Scotland.
Following her talk at the Gordon Schools to S1 and S2 pupils, she will give a speech at Huntly's Gordon Arms from 7.30pm to 9.30pm.
The events were organised as part of the Huntly and District Development Trust (HDDT)'s Tales from the Tyre series.
After coming seventh in the women's mountain bike race at Glasgow 2014 she swapped elite level competition for adventure and exploration.
Recently she became the first person to complete an off-road traverse of the French Alps fully self-supported on a Fatbike.
Spokeswoman for the HDDT, Naomi Mason, said: "We are thrilled to be hosting another of Scotland's leading cyclists as part of our Tales from the Tyre series of talks and events.
"Lee is an inspirational female cyclist, she arrived late into the competitive cycling arena, but went on to excel in her field, becoming the Scottish champion.
"She has also done a lot of work through cycletherapy to encourage those who are disadvantaged and excluded to get out on their bikes, and we hope this will inspire others to see that anything is possible when you put your mind to it."
Tickets for the Gordon Arms talk cost £2.50 and are only available from the HDDT website at:
http://www.huntlydevelopmenttrust.org/shop/#!/Lee-Craigie-Ticket/p/54382326/category=4214140