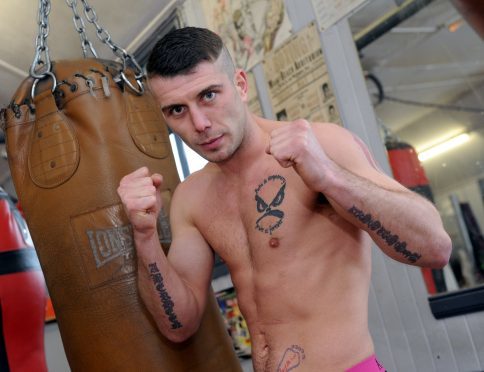 Former Commonwealth boxing champion Lee McAllister will be spending Christmas behind bars – after breaking a man's jaw with a single punch.
The Aberdeen Assassin drunkenly lashed out at Jonathan Hay in a city centre kebab shop this summer.
And yesterday, the former world champion was jailed for nine months after Aberdeen Sheriff Court heard he had punched Mr Hay so hard he left his face numb with significant nerve damage from the fracture.
The court heard McAllister had been "showing off" behind the counter of Marmaris, on Rose Street, on July 17 when Mr Hay's girlfriend made an offensive hand gesture in his direction.
Angered by her actions, McAllister started to pick a fight with Mr Hay, who was in the queue.
But when Mr Hay's partner tried to stick up for him, McAllister turned round and smacked him to the face.
Yesterday, the single father-of-two appeared in court for sentencing after previously admitting his third assault charge.
Solicitor John Hardie said there had been a "degree of provocation" involved in the assault, and insisted McAllister was normally good at controlling his temper.
But Sheriff Graham Buchanan ruled he would not be spending Christmas at home with his young daughters and said he "should have known" his actions could leave someone seriously injured.
He said: "If he punched someone in the face, given his career as a boxer, he must know the consequences of that.
"It is beyond the pale that a boxer would behave like this outside the ring."
The court heard McAllister had been extremely drunk when he carried out the attack, and that he had turned to alcohol shortly before the incident to help him cope with the death of his mother.
Mr Hardie said that just before the incident happened, McAllister had been in a happy and jovial mood and had been "acting the goat" in the kebab shop as he had known the owners for some time.
He told the court Mr Hay's partner clearly thought that he was showing off and made an offensive gesture towards him, which was also accompanied by some "verbal abuse".
Mr Hardie said that when he went to confront the pair Mr Hay stood in front of his girlfriend and McAllister "felt threatened".
He said it was for this reason he lashed out – and insisted that over the years, the boxer – who hung up his gloves in 2013 and now works as a personal trainer – had worked hard to control his temper in confrontational situations.
Mr Hardie added: "He has left himself down and let his profession down very badly.
"The difficulties in his personal life with the death of his mother have made his self-control relax.
"Mr Hay has borne the consequences of his loss of self control."
Mr Hardie tried to convince Sheriff Buchanan to allow his client to keep his liberty, and said he could pay his victim compensation.
However the sheriff said that given his previous convictions there was no alternative than to jail the former boxer.
And last night Inspector Christine Gordon, from the divisional violence reduction unit, welcomed McAllister's sentence.
She said: "This was a vicious assault in which the victim suffered a broken jaw. He required hospital treatment and this incident will have a lasting impact on his life.
"Our message to violent offenders is clear, this behaviour is absolutely not acceptable and we will carry out rigorous investigations to ensure those responsible are brought to justice."
The Aberdeen Assassin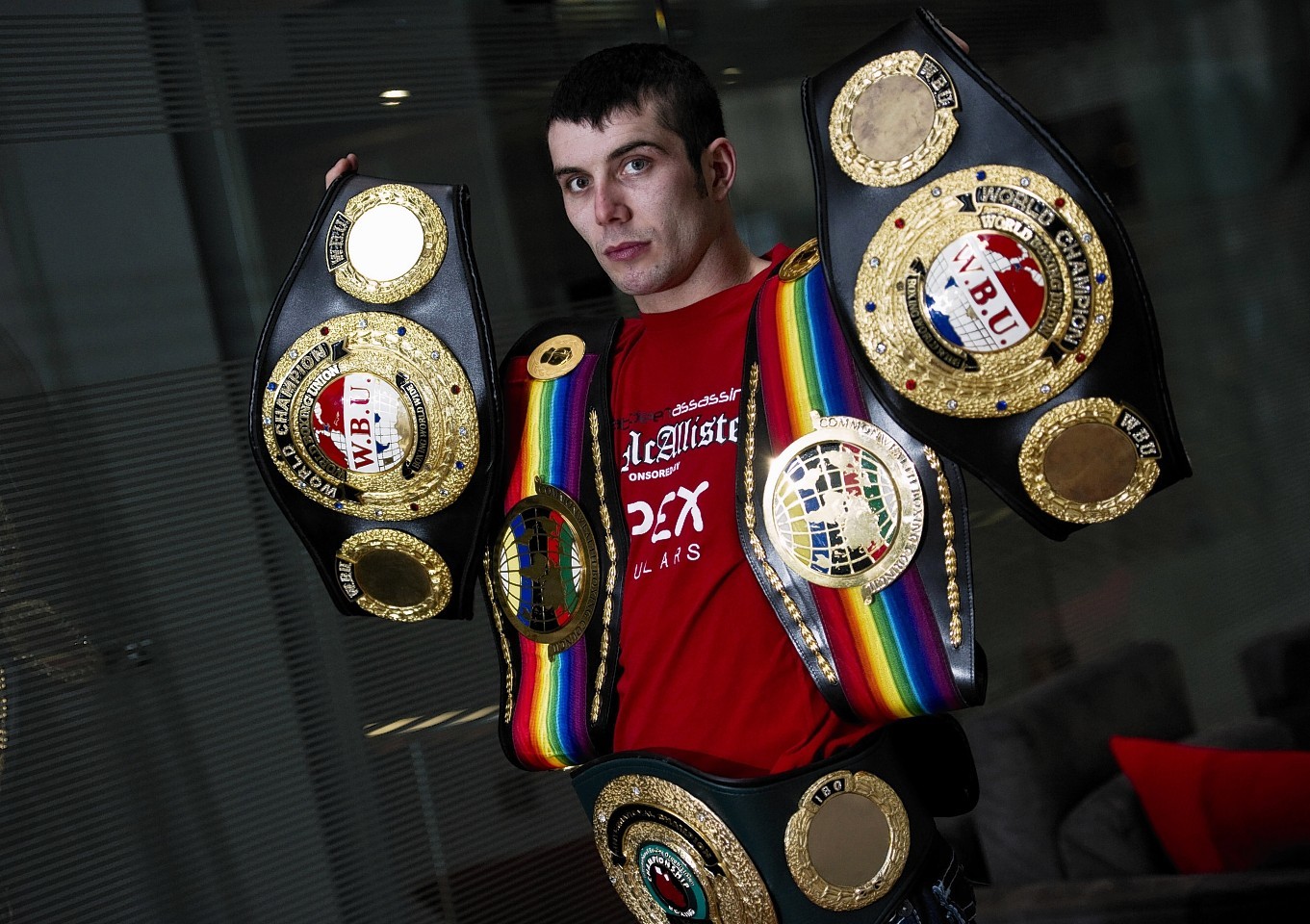 Lee McAllister became one of Scottish boxing's most colourful characters during an 11-year career which came to a premature end because of injury.
The self-proclaimed Aberdeen Assassin hung up his gloves two years ago with a record of 35 wins and three defeats.
McAllister's first professional fight was in 2002 when he defeated journeyman Baz Carey at the Braehead Arena in Glasgow.
After eight wins in his first nine fights, McAllister claimed the British masters light welterweight title against Jeff Thomas at Aberdeen's Beach Ballroom in September 2003.
In May 2006, McAllister fought Stuart Green for the vacant Scottish lightweight title and delighted a noisy home crowd with a stoppage victory in the eighth round.
The following year, McAllister enhanced his reputation by winning the WBF international lightweight title with a points victory against Ghanaian Ben Odamattey before claiming the WBU lightweight title against Govan's Craig Docherty.
McAllister gained his second WBU title at the Beach Ballroom in 2008 with a unanimous decision against France-based Romanian Mihaita Mutu for the vacant super lightweight title.
McAllister vacated his WBU titles in the hope of becoming a British champion in 2009. But his bid for the lightweight title ended in disappointment after he was stopped in the eighth round by the undefeated John Murray in Wigan.
The Aberdonian recovered to claim the Commonwealth lightweight title – vacated by Amir Khan – five months later with a third round victory against Ghana's Godfred Sowah in what was, at the time, dubbed the biggest fight to take place in Aberdeen.
In 2011 he became the first Scot to simultaneously hold two Commonwealth titles by claiming the super lightweight title with a triumph against Isaac Quartey.
McAllister fought Russian Denis Shafikov in February 2012 for the European super lightweight title at the Aberdeen Exhibition and Conference Centre but lost when he failed to emerge from his corner for the eighth round because of a shoulder injury.
In the aftermath of the fight, promoter Frank Warren criticised McAllister for not carrying on and the Aberdonian would fight just once more, a points win against Ivan Godor in April 2013, before retiring.