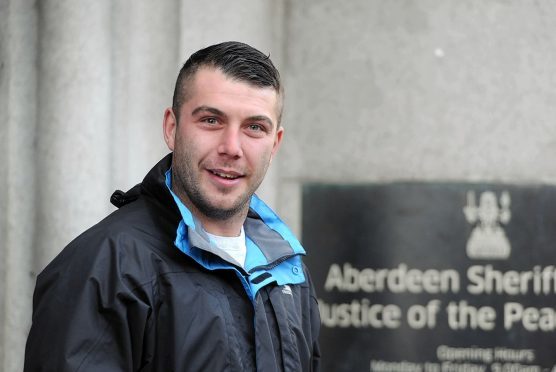 Former Commonwealth boxing champion Lee McAllister is to lodge a bid for freedom after he was jailed for breaking a man's jaw with a single punch.
The Aberdeen Assassin was jailed for nine months last week after he drunkenly lashed out at Jonathan Hay in a city centre kebab shop this summer.
Sentencing the repeat offender last week Sheriff Graham Buchanan said it was "beyond the pale" for a boxer to act in that manner outside the of ring, and said there was no alternative than to impose a custodial sentence.
But yesterday the 33-year-old's solicitor, Graham Morrison, said his legal team was poised to lodge an appeal against the sentence.
Papers are expected to be sent to the appeal court this week. Normally it takes around two months for a date for the appeal to be set.
Meanwhile, McAllister can apply for bail pending the decision.
On Friday, the court heard the single dad-of-two punched Mr Hay so hard he left his face numb with significant nerve damage from the fracture.
Fiscal depute Saima Rasheed said McAllister had been "showing off" behind the counter of Marmaris, on Rose Street, on July 17 when Mr Hay's girlfriend made an offensive hand gesture in his direction.
Angered by her actions, the former boxer started to pick a fight with Mr Hay, who was in the queue.
But when Mr Hay's partner tried to stick up for him, McAllister turned round and smacked him to the face.
Representing the sportsman at the hearing, solicitor John Hardie said just before the incident happened, McAllister had been in a happy and jovial mood and had been "acting the goat" in the kebab shop as he had known the owners for some time.
He told the court Mr Hay's partner clearly thought he was showing off and made an offensive gesture towards him, which was also accompanied by some "verbal abuse".
Mr Hardie said when he went to confront the pair Mr Hay stood in front of his girlfriend and McAllister – who hung up his gloves in 2013 – "felt threatened".
Mr Hardie tried to convince Sheriff Buchanan to allow his client to keep his liberty, and said he could pay his victim compensation, but given his three previous convictions for assault he was jailed.