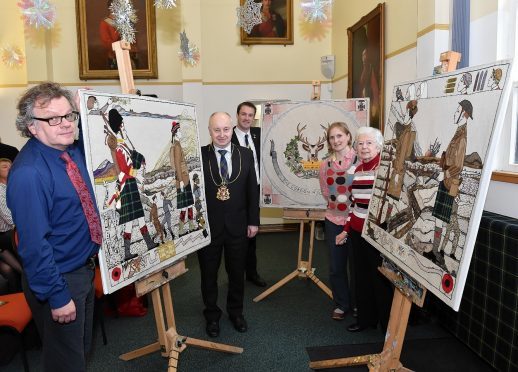 Intricate artwork which pays tribute to the role of the Gordon Highlanders in the First World War was unveiled in Aberdeen yesterday.
The "breathtaking" Great War Tapestry – created by an "army of volunteers" – features soldiers from the regiment carrying bagpipes and wearing kilts on the trenches.
The mammoth project was launched after the Gordon Highlanders Museum and Aberdeen City council's Creative Learning Team were awarded £9,800 from the Heritage Lottery Fund.
And after two years of work and thousands of stitches the final product was unveiled at the museum yesterday.
The Lord Provost George Adam, who attended the unveiling, said the tapestry was a wonderful tribute to the infantry regiment.
He said: "Thousands of hours of exceptional stitching work have been completed by an army of volunteers to create the panels.
"The finished work is a testament to the unfailing commitment and incredible skill level of the stitchers.
"The intricacy and detail in the stitching is a breathtaking tribute to the Regiment."
Andrew Crummy, the artist behind the design, was full of praise for others who were involved in the project.
He said: "It has been great to see how the tapestry has evolved.
"The idea was to encompass history of the First World War and create something that people could enjoy.
"We had to do lots of research into the uniforms and how the trenches appeared, I just came up with the design but there wore than 30 stitchers involved and they were great."
The tapestry will now move to Huntly Library before returning to the Gordon Highlander's Museum in February, where it will remain throughout 2016.
It will be used as an educational tool, travelling between schools and museums to educate people about the First World War.
Bryan Snelling, chief executive of The Gordon Highlanders Museum, said he was looking forward to displaying the tapestry next year.
He said: "The museum is extremely pleased to be able to exhibit and use as an educational piece, the Great War Tapestry.
"It has been a wonderful joint project between us, Aberdeen City Council and the Heritage Lottery Fund and along with our Somme exhibition will form a large part of our display in 2016."